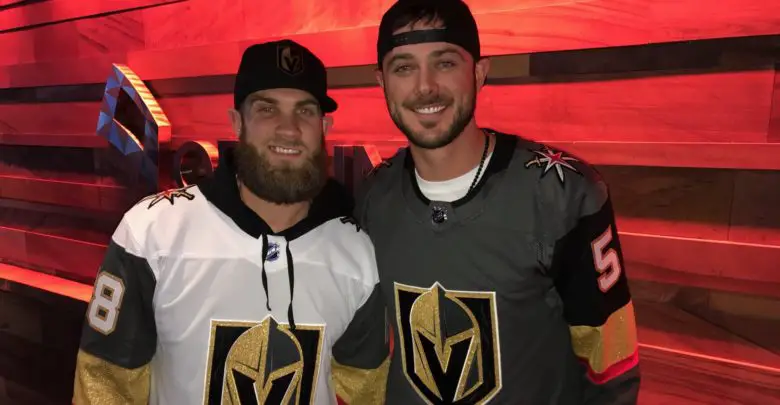 The Rundown: Beltre Would Accept Cubs Trade, Harper Hoopla, Hendricks Attacking with Curve
Boy, these afternoon games really put you in a content crunch. With that in mind, I'm going super quick on today's Rundown. I know I say that all the time but this time I really mean it. So let's get into this and get you back to your weekend plans.
• Adrian Beltre would almost certainly clear waivers, but he's a 10-5 player and has full control over whether and where he'd be traded. According to Jon Heyman, the eventual Hall of Fame third baseman would not accept a deal to the Braves, but would welcome a move to Chicago's North Side. That's the Cubs, for those of you who are completely oblivious to geography or the Cubs' nickname.
It's highly unlikely at this point, since the Cubs anticipate getting Kris Bryant back prior to the end of the season and already boast a competent replacement in David Bote. But it's still pretty awesome to imagine someone like Beltre joining the team for the stretch run.
Beltre isn't nearly the hitter he once was, particularly when it comes to his plummeting power numbers, but he's got tons of experience and embodies the fun of baseball in a way few others do. File this under "Things that would be really cool if they happened but they won't happen so don't bother thinking about them to much."
• The Cubs are hosting Bryce Harper on an unofficial recruiting trip this weekend. Wait, no, the Nationals are just in town to play the Cubs. Okay, that makes more sense and probably is less tamper-ific. In any case, I'd suggest listening to the radio broadcast of Sunday night's game because ESPN's coverage is going to be insufferable.
I'm actually interested to hear whether A-Rod goes back in on the Yu Darvish thing, but even that isn't worth sitting through tired tropes and silliness.
When it comes to Harper, I've gone back and forth a little bit on the matter. At the beginning of the season, I was gung-ho and figured it was a no-brainer. Then Jason Heyward started to hit and I had second thoughts. What it comes down to in the end is this: If you have a chance to get one of the best players in the game, you do it.
And for those worried about how the Cubs will pay their young guys down the road, stop. Don't cite the luxury tax or coming arbitration raises or extensions. The Cubs have indeed tried to stay under the cap this season, but that was likely in anticipation of blowing through it in a monster way going forward.
Even though the threshold goes up steadily over the next few seasons, it's probably not enough to keep pace with increasing arb raises and the need to sign free agents. As such, it's going to be hard to stay under the level. And if you're going to go over, you might as well go way over.
With their Wrigleyville takeover all but complete, the Ricketts family will have more than enough cash to fund a bigger payroll and any overage fees that come their way. And winning, as we know, has a way of putting money in the coffers. If they can succeed in ousting alderman Tom Tunney, they could up their earning capacity even further.
• Kyle Hendricks has increased his strikeouts over the last few games, largely due to the way he's attacking hitters with the curveball. Our Brendan Miller took a look at that trend a few days ago, pointing specifically to the way Hendricks is throwing more curves to righties.
The Athletic's Sahadev Sharma wrote about it as well (subscription required/recommended), citing a new grip on the curve that Hendricks has only recently had enough confidence in to throw regularly. Pay attention to that in Friday's game as ol' Hendo faces a team that strikes out less than all but three others in the NL.