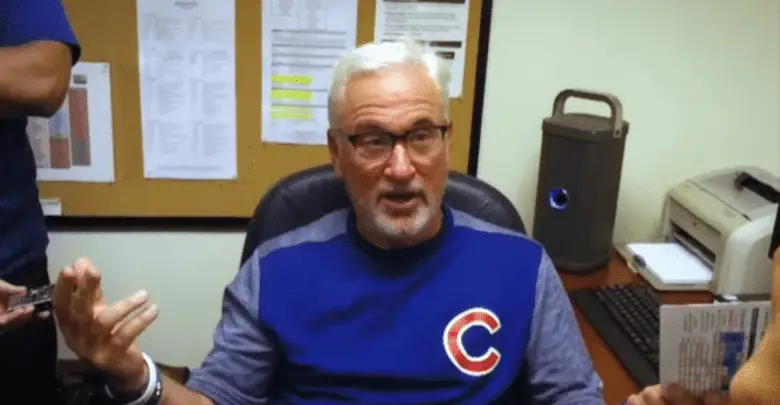 Joe Maddon Changing Style Following Challenge from Front Office, Considers Himself 'Free Agent'
Joe Maddon's annual Thanksmas event is about giving back to the community, but he can't avoid addressing the reason his Respect 90 foundation is able to be so active. Speaking to members of the media Monday in Tampa, Maddon discussed a number of topics regarding his (potentially limited) future with the Cubs.
While most of the conversation dealt with ancillary items and behind-the-scenes stuff, there was a least one bit of significance that speaks to the expectations Theo Epstein set forth in his postmortem press conference. It was clear that many of Epstein's remarks were directed at his manager, and Maddon has taken due note. Expect a shift in how Maddon uses his prep time prior to games, with less talking and more instruction.
"That will be the part that will be different," Maddon told Mark Topkin of the Tampa Bay Times. "I've always kind of stayed free of coaching because I really want to stay out of coaches' way so they can do their job. I've always felt that is the right way to do it. But this year I'm going to get a little more hands-on involved in actually coaching.
"I think that's where the comment [from Epstein] came from. I actually want to do less before the game talking to the media and whatever and try to get on the field more often."
Despite his unprecedented success at Wrigley over the past four seasons, Maddon is essentially auditioning for a new contract in 2019. The Cubs want to see if he's willing and able to implement some of the adjustments mandated by a front office that appears to be exerting more control over some of the on-field operations.
Whether he's bought into that idea wholeheartedly or is simply putting on a brave face, Maddon took no issue with the Cubs' decision to table extension talks and even likened himself to an elite player heading into a contract year.
"Lame duck or free agent, are they synonymous terms?" Maddon asked rhetorically. "Players go into that year annually. Good players go into a season without a contract for the next year. Why would I feel any different as a manager than a good player does, a (Manny) Machado or a (Bryce) Harper, whatever.
"You could say 'lame duck' or you could use 'free agent.' I think they are both the same term."
This makes it clear that Maddon does have the desire to keep managing, something he went on to state plainly, so the lack of an extension is not a matter of him being uncertain about things. One thing that still isn't entirely clear, though, is the reason for Jim Hickey's departure as pitching coach. Maddon would not delve into specifics, saying only that the resignation was not health-related.
I'll leave it up to you to make of Maddon's comments what you like. Given the setting and timing, it's really about as much as you could expect. But this is really the first time we've heard from the manager publicly since the season ended, certainly the first time since another round of seismic changes to his coaching staff, so it's good to have a little dialogue on the record.
Maddon always approaches things with a positive bent, so of course he's going to do the same when it comes to his discourse here. As for how he actually feels about sort of be told how to go about his business, well, that is reserved for those who talk to him off the record. And maybe it's all the same and he's relishing the opportunity to make the Cubs even better next season.