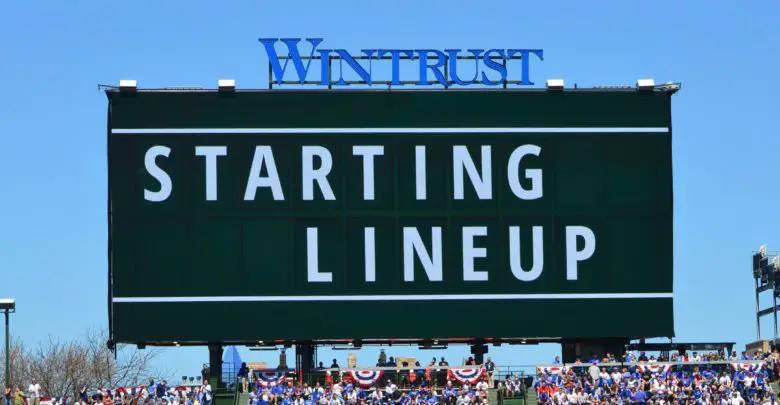 Chicago Cubs Lineup (3/30/19): Zobrist Leads Off, Bryant in LF, Darvish Takes Familiar Mound
Remember when people were up in arms about Mark Zagunis starting in left over Kyle Schwarber on Opening Day? Feels like at least a week ago already, what with the whole off day after Opening Day thing. And in case you're looking for more reason to be upset about that, I have it on good authority that new MLB.com Cubs beat writer, Michigan State alum Jordan Bastian, actually negotiated yesterday's reprieve just so he could watch his alma mater in the NCAA tourney.
It is my sincere hope that at least one person takes that seriously.
One of the many things the Cubs are taking more seriously is lineup construction. Joe Maddon has vowed to set his starting nine a series at a time so as not to take certain games off, whether its because they like meatloaf or are looking forward to getting out of town.
Ben Zobrist is leading off at second with a righty on the mound, Kris Bryant is in left field (what, no Schwarber?), Anthony Rizzo is at first, and Javy Báez cleans up at short. Kyle Schwarber is in the lineup as DH, followed by Willson Contreras catching, Jason Heyward in right, and David Bote at third.
Albert Almora Jr. is batting last in center after leading off the opener, so he's sort of the second leadoff. Seeing Bote in there again is worth noting, as it indicates a real affinity for last year's breakout clutch hero. Bote represents the kind of attitude the Cubs want to see and it feels as though Joe Maddon and the front office want to give him every chance to succeed.
Opposing the Cubs will 35-year-old Edinson Vólquez, who's making his first start in over a year after Tommy John surgery forced him to miss 2018. The crafty righty has faced the Cubs 13 times before (12 starts) and has compiled a 3.10 ERA over 69.2 innings. What not nice for the visiting team is the 8-0 record Vólquez boasts against them. Say what you will about the frivolity of pitcher wins, but going 8-0 means you're doing something right.
But this is a different Cubs team from the ones Vólquez got fat on in his Reds days, and he's a much different pitcher now. Besides, his current digs aren't exactly conducive to low offensive output.
Going for the Cubs is Yu Darvish, who's got a little familiarity of his own going on in this one. The longtime Ranger should feel right at home, something we've already seen from him with the Cubs this spring. Darvish has a little scare near the end of camp when a blister developed on his right ring finger, but he's been given the all-clear and is not on a restricted pitch count in this one.
Boy, if he can go out and really shove — that's pitching parlance for performing well — it could really set the tone for not just Darvish, but the rest of the staff. And if he doesn't, well, we're not even going to worry about that. Watch his velocity, which was touching 97 and sitting a couple ticks lower all spring, and his location. Darvish's control was a little off, but if he can command cheese at the knees…oooooh.
First pitch from Arlington is at 7:05pm CT and can consumed via NBC Sports Chicago or 670 The Score.