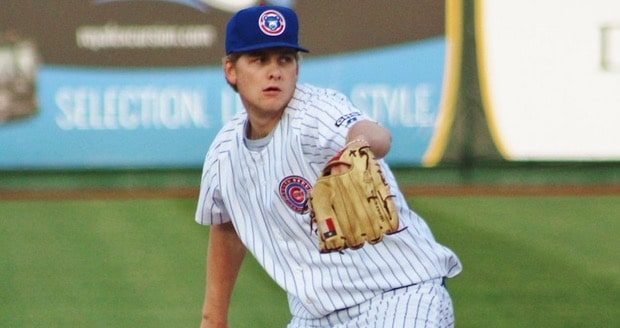 Cubs Prospect Profile: Dartmouth Not Only Thing Duncan Robinson Has in Common with Kyle Hendricks
Kyle Hendricks has been one of the most impressive pitchers in Major League Baseball over the course of the last three seasons. He has become a Cy Young candidate and staff stalwart with a fastball that doesn't even reach 90 mph. Instead of overpowering hitters, he relies completely on changing speeds, working low in the zone, hitting his spots on the corners, and getting impressive movement on every single one of his offerings.
Comparing any prospect to Hendricks is nearly impossible because guys like The Professor don't just grow on trees. The style with which he pitches is not something that any scout could predict out of a young kid in the minor leagues, nor should they.
But since we aren't professional scouts here and no one is going to come crying to me when he doesn't pan out to be the next Hendricks, I'll go ahead and say it: Duncan Robinson is as close to being Kyle Hendricks as any prospect you are going to find.
Drafted in 2016 in the 9th round out of Hendricks' alma mater of Dartmouth, Robinson has climbed the ladder through the system in a similar in a similar fashion to his predecessor. He spent the majority of that first season at short-season Eugene before splitting time in 2017 between the two single-A affiliates. Last season, he made his presence felt at both double-A Tennessee and triple-A Iowa, posting good enough numbers to position himself for a non-roster invitation to MLB spring training.
Robinson has gotten to this point without electric offerings, mostly because of his pinpoint command that is arguably the most impressive in the entire system. Much like Hendricks, Robinson works with his high-80's sinker low in the zone in a way that limits hard contact and keeps the ball in the park.
The big righty stands tall on the mound at 6-foot-6 and 220 pounds, using that size and his over-the-top arm motion to work on a downward plane that contributes to the "bowling-ball effect" on his sinker. He couples that with three more pitches that can be classified as average in terms of movement, but he locates his curveball, slider, and changeup with the best of them.
The biggest difference between the two Dartmouth boys might be their changeups, a pitch that Hendricks has become famous for because of the insane movement and swing-and-miss ability. Robinson, on the other hand, has relied more on his big curveball and much improved slider to this point in his career.
While his command, pitch repertoire, education, and minor league background are on par in every way with how Hendricks began his career, Robinson falls short when it comes to the movement on his pitches. Hendricks heavily relies on his ability to spin the ball in every direction imaginable, which is where Robinson will need to improve in order to survive in the big leagues. If he can generate more swings and misses with offspeed pitches, he will likely see an increase in his strikeout numbers.
To this point in his minor league career, Robinson has exceeded expectations at every stop along the way. After putting up an 2.21 ERA between South Bend and Myrtle Beach in 2017, he following that up with an impressive 3.11 ERA in his 26 starts between Tennessee and Iowa just a year ago.
It appears as though the front office has quite a bit of confidence in Robinson based off of results thus far, with Jason McLeod bringing his name up on several occasions during the Cubs Convention. That confidence was on display with his invite to MLB camp this spring.
Robinson will begin his 2019 campaign at Triple-A Iowa and he could be one of the first guys called up to Chicago this season if the team is in need of a spot starter for a game or two. But moving forward, keep an eye on more than just the results by way of numbers. If Robinson can improve the bite on his pitches enough to get outs at the next level, he could be a force to be reckoned with in Chicago.