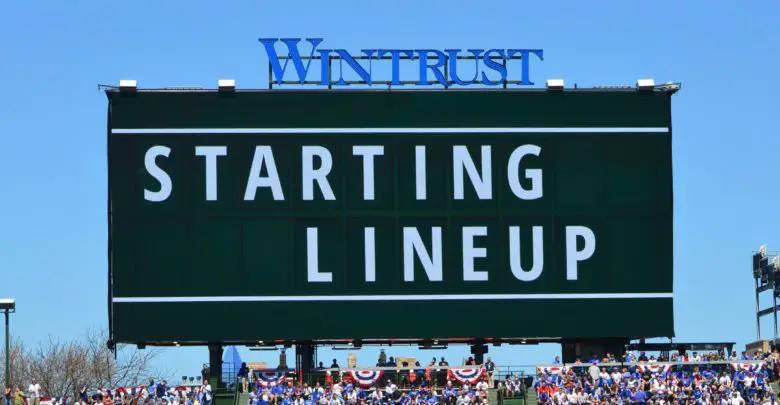 Chicago Cubs Lineup (4/3/19): Zobrist Leads Off, Heyward in CF, Descalso at 2B, Lester Back on Bump
Ben Zobrist is leading off in right with a righty on the mound, Kris Bryant is at third, and Anthony Rizzo is at the other corner. Javy Baez cleans up at short, Kyle Schwarber is back in the lineup playing left, and Willson Contreras sets up behind the plate.
Daniel Descalso gets another start at second with Zobrist in the outfield, which also means sliding Jason Heyward over to center in this one. That spot has been held down by Albert Almora Jr., though it's not surprising to see him benched with a righty on the mound. Well, except maybe for one thing we'll see in a bit.
Here is tonight's #Cubs lineup against the Braves. #EverybodyIn

Game preview: https://t.co/fTigkrNnrj pic.twitter.com/C9gKqtG6Y1

— Chicago Cubs (@Cubs) April 3, 2019
Facing that group will be 28-year-old righty Julio Teheran, who gave up a lot of hard contact in his first start. Not an overpowering pitcher, Teheran's fastball should sit 91-92 and he'll go to the slider quite a bit. He leaned really heavily on the breaking ball that last time out, so watch for that trend again in this one.
Wednesday will actually mark Teheran's ninth start against the Cubs, over which time he's 3-1 with a 3.44 ERA and 1.047 WHIP. He's struck out 44 against 16 walks and has allowed seven homers, only two of which have come in the last three seasons. Both were hit by righties, with Bryant and — you guess it — Almora connecting.
Jon Lester is on the mound for the second time as he looks to lead the Cubs to their second win. He wasn't spectacular by any stretch on Opening Day in Texas, but it was more than enough to cruise when his offense hung crooked numbers. A more pitcher-friendly ballpark and a lineup with less punch should help as well.
First pitch from SunTrust Park is at 6:20pm CT and can be seen on WGN for those in Chicagoland or who have a local provider syndicating the broadcast. If you're inside the blackout zone and don't have access via those routes, you're as hosed as a desert golf course. Those of you outside MLB's territorial pissings can watch on ESPN. And as always, 670 The Score has the radio broadcast.