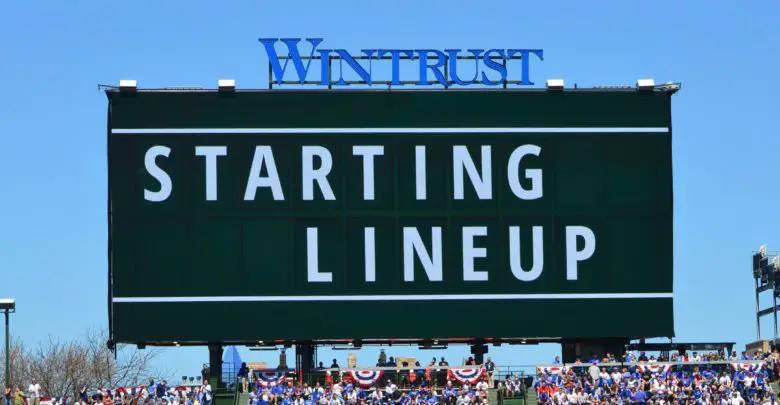 Chicago Cubs Lineup (4/6/19): Daniel Descalso Leads Off, Caratini Catching, Hamels Pitching
Daniel Descalso, who homered for the first time as a Cub Friday night, will be leading off at second base. So, uh, that's not something anyone expected. The next several spots are what you'd guess, with Kris Bryant, Anthony Rizzo, Javier Baez, and Kyle Schwarber all assuming their standard roles.
Albert Almora Jr. is in center, Jason Heyward is in right, and Victor Caratini is catching in this one. Heyward hit a homer of his own and narrowly missed another Friday night, so perhaps he'll be able to ambush a fastball.
Corbin Burnes (no relation to the actor who played Roger Dorn in Major League) faces the Cubs coming off of a stellar 2018 debut in which he struck out 12 Cardinals and walked only one. He did, however, give up four runs on three homers, so the Cubs would be more than happy to trade whiffs for dingers. The 24-year-old righty has posted very even splits over the course of his brief career and the Cards tuned him up from both sides, which portends big things in hitter-friendly environs.
This is only Burnes' second career start after 30 relief appearances last season, so stamina could still be an issue. He leaned heavily on his 94 mph fastball in that first start, throwing it 70% of the time after only throwing it 59% last year. He's also got a slider that he'll use for strikeouts, but that's really his only secondary since his curve is almost nonexistent. If that slider isn't biting, the Cubs could really get off.
Colbert Michael Hamels will be on the mound for the second time this season and he'll be trying to go just a wee bit longer than last weekend's outing in Texas. Hamels had been looking good until the bottom of the 4th, when a pair of singles, a sac fly, and two walks gave the Rangers a run and loaded the bases for Delino DeShields. The ensuing grand slam didn't decide the game, but it was deleterious to the Cubs' efforts.
A good start from Hamels is imperative in this one, and not only because the Cubs would like to avoid a seven-game losing streak. I mean, yeah, I guess that's really the only thing that matters. Keeping Joe Maddon from dipping into a mildly revamped bullpen for as long as possible would be cool too.
Speaking of which, Carl Edwards Jr. was optioned to Triple-A Iowa this afternoon and Mike Montgomery was placed on the injured list. Allen Webster and Kyle Ryan have been promoted to assume the vacated spots, with Webster perhaps taking a more permanent role if he pitches well. Edwards is going to require far more than 10 days to fix his performance issues, if he's indeed able to.
First pitch from Miller Park is set for 6:10pm CT and can be seen on NBC Sports Chicago+ or FS1, with 670 The Score carrying the radio call.