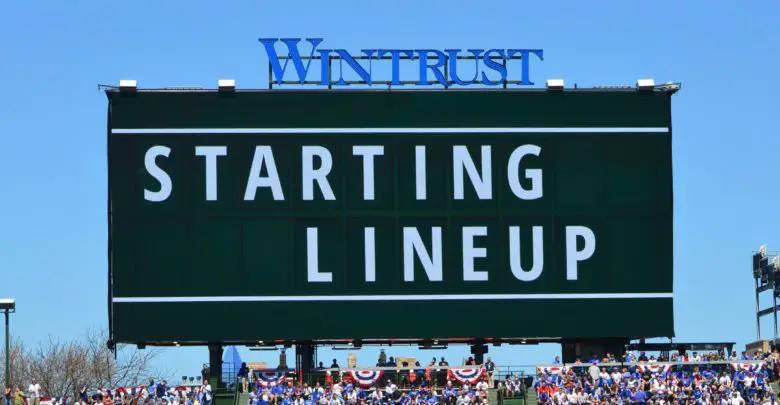 Chicago Cubs Lineup (4/20/19): ZoBryzzo at Top, Descalso at 2B, Darvish Tries to Blunt D-backs
Ben Zobrist will be out in the right field grass as he tries to spark the offense from the leadoff spot, followed by Kris Bryant at third. KB hasn't been smoking line drives all over, but a little favor from the BABIP gods yesterday may get him going. Anthony Rizzo's production has been similarly blunted, though that rare triple may get him going as well.
Javy Báez continues to make plays that have viewers thinking they're hallucinating, Willson Contreras rolls up behind the plate, Jason Heyward classes up the joint in center, and Daniel Descalso bats seventh at second base. Kyle Schwarber rounds things out in left as he seeks to get out of the weeds and recover his early-season form.
They'll be trying to get over on Zack Greinke, something the Cubs have been able to do in the past against one of the game's best pitchers. Greinke owns a career 4.50 ERA with a 1.242 WHIP against the Cubs, though he's also tallied an 11.3 K/9 mark that's easily his highest against any team. With 78 strikeouts to only 18 walks, perhaps the key is just to go up there swinging.
The unassuming righty has been just as good as ever so far in 2019, at least when it comes to strikeouts (10.8 K/9) and walks (1.54 BB/9). But he's also given up eight(!) home runs, including two or more in three of four starts. Greinke's velocity is way down, with his average fastball is below 90 for the first time, which explains why he's missing fewer bats and giving up a ton of hard contact.
But wait, what's up with the strikeouts if the whiffs are down? Well, we're still talking about a guy who knows how to pitch, so he'll locate his way to some big strikes. With his margin for error reduced to virtually nothing, though, his mistakes can and will be tagged. The change and slider are Greinke's preferred secondaries, with a curve and sinker rounding out the mix.
Whether it's the reduced velo or a product of the early going, Greinke has morphed into a reverse-split guy this season. Righty batters are flat crushing against him, slashing .278/.304/.630 with six homers. If he keeps soft-tossing in the zone, those numbers are going to increase today. The Cubs can't expect to take their walks, but need to go up there hunting mistakes and making Greinke pay for them
Yu Darvish has had a chronic case of poor control this season, but he showed the last time out that he's still got a blazing fastball. Don't expect him to throw 99 mph or to hit any batters in the naughty bits, but don't be surprised if the righty does come out smoking.
First pitch is set for 1:20pm CT and can be seen on ABC-7 for those in Chicagoland or who have a local station syndicating the broadcast. The rest of you heathens can listen to the game on 670 The Score. And if the Cubs put together another efficient effort, they should be in done in time for you to…well, you know.
Here is today's #Cubs starting lineup. #EverybodyIn

Game preview: https://t.co/YZpaqc5zBQ pic.twitter.com/bjYHY6oVQH

— Chicago Cubs (@Cubs) April 20, 2019