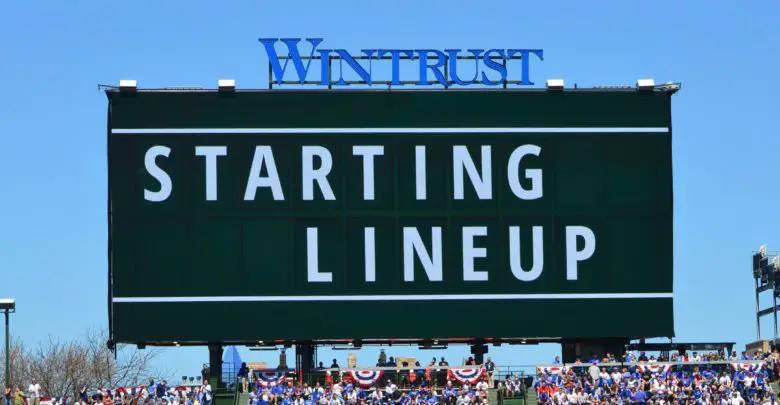 Chicago Cubs Lineup (5/4/19): Descalso Leadoff, Bryant RF, Davis and Darvish Battery
Daniel Descalso is leading off at second base, Kris Bryant is in right, Anthony Rizzo is at first, and Javy Báez is at short cleaning up. David Bote bats fifth at third, Albert Almora Jr. is in center, Kyle Schwarber is in left, and Taylor Davis gets the start behind the plate.
That latter alignment is probably something we're likely to see for as long as Davis is with the Cubs, since he is a little quieter and seems to work well with Yu Darvish. A set battery with a backup catcher not only helps the pitcher's comfort level, but it builds in regular rest for Willson Contreras, who was clearly overused last season.
It only feels as though today's opposing pitcher, Michael Wacha, has been around forever. Now in his seventh season with the Cardinals, the Cubs are hoping he remains in St. Louis for many years to come. That's because he carries a 6.65 ERA and 1.556 WHIP into this game from 18 previous appearances against his division rival.
The Cubs have launched 20 homers against Wacha, almost as many as he's allowed to the other three division opponents combined (23). He's walked 40 Cubs against 90 strikeouts, so his 2.25 K/BB mark isn't much worse than his 2.67 career average. Even the WHIP isn't terribly far from his 1.29 career tally. The homers have just crushed him.
Wacha's ERA has fluctuated noticeably just about every year, but his FIP has conducted a pretty steady upward climb over the last seven seasons as his walk and homer numbers have increased. His strikeouts are up, though, perhaps because he's making better use of the cutter this season. The four-seam and changeup had been his best weapons, but both have lost a tick and aren't as effective.
The change will still get a lot of swings and misses, far more than any other pitch on a percentage basis, but opponents have a .794 OPS against it this season. That's more than 200 points higher than his career average with it. Because it gets those whiffs, though, the change gets heavy usage in two-strike counts to all batters.
The pitch gets its name for a reason, and Wacha is all about making hitters guess. That's why lefties will see either four-seam (54%) or changeup (34%) at a high rate when they're down to their last strike. Righties are very much the same, but with the cutter coming into play more frequently. So hitters can basically sit dead red and they'll be right more often than not.
Or, and this is probably a better strategy, the Cubs could utilize what they learned from that "opportunity hitting" drill from spring training. Joe Maddon set up a pitching machine to fire smaller balls at close distance, simulating the reaction time of a 115 mph pitch. Which means a shorter, quicker swing, like the one utilized by a batter who's sitting offspeed and adjusting to heat.
Darvish takes the mound coming off a start in which he pushed through a brutal first two innings to regain his control and record the win. It was satisfying for what he was able to get done, throwing fewer pitches in his final four innings than he had in his first two, but it was frustrating just the same. The stuff is there in spades, it's just control of the fastball that has escaped him.
Finding that this afternoon, especially after the Cards were mesmerized by a very different bag of tricks from Kyle Hendricks. And given Maddon's back-handed compliment about Darvish being a "frontrunner," the Cubs' track record of success against Wacha could be a boon to their starter.
First pitch is set for 3:05pm CT and can be seen on WGN or FS1 (out-of-market only) or heard on 670 The Score.
The North Side vs. the Dark Side.

Game preview: https://t.co/8NFL3CnHjj #EverybodyIn pic.twitter.com/CeWAeYguix

— Chicago Cubs (@Cubs) May 4, 2019