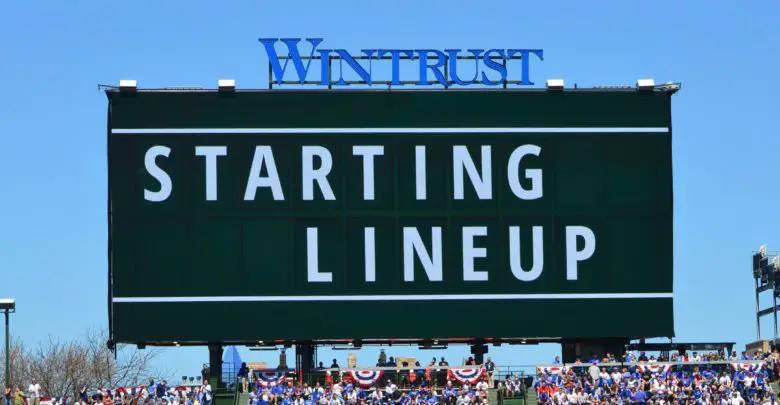 Chicago Cubs Lineup (5/5/19): Quintana Goes for Sweep, Zobrist Leads Off Against Wainwright
For the throne.

Game preview: https://t.co/dNohI54hxD #EverybodyIn pic.twitter.com/NBEXrAz6a3

— Chicago Cubs (@Cubs) May 5, 2019
Adam Wainwright was apparently snapped back into existence at some point in the offseason, because the 37-year-old looks like he's been resurrected to his former self. Or maybe that's just a trick of eyes looking from at his ERA without checking the peripherals. Waino's 3.73 in the main box score category is better than he's put up in years, but his 4.91 FIP and 4.60 xFIP are higher than in any previous season.
That'll happen when you give up more homers and hard contact than ever, which is exactly what's going on through six starts so far. Wainwright's velocity hasn't really dropped off much, though he was never a power pitcher to begin with. He has changed his repertoire lately, however, dialing back the sinker and upping his usage of the curve.
Wainwright's hook comprises almost 38% of his offerings at this point, making it by far his most used pitch. Lefties really get a heavy dose of spin, with the curve comprising 70% of what they'll see when they fall behind. Righties will see it nearly half the time, so they'd best get ready for it. But the Cubs can't get overzealous about it, since Wainwright doesn't throw many first-pitch strikes and doesn't hammer the zone.
He's been able to get over on the Cubs over the course of his career, holding the current members of the roster to a .215/.301/.362 slash over 163 at-bats. He's only struck out 32 against 19 walks, though, and his best years are very clearly behind him. With the sweep and division lead on the line, this has all the earmarks of a big offensive output.
One might have expected more lefties loaded into the lineup tonight as Wainwright's handedness splits are fairly drastic so far in 2019 (.424 wOBA vs LHB, .278 vs RHB). However, with Daniel Descalso leaving yesterday's game with ankle soreness, Joe opted for David Bote at second base. Ben Zobrist will lead things off as a lefty, though, and he is 5-17 lifetime against Wainwright. As for why Kyle Schwarber is sitting this one out, I'm not sure I have an answer on that one. He and Albert Almora are both hitless in their career against Wainwright, so perhaps Joe is opting for a defense-heavy lineup this evening.
Hoping to limit that to one side is José Quintana, who is coming off of a relatively rough start that broke up the best three-game stretch of his career. And it's really saying something when giving up three runs is a rough start. Q has been straight-up nails this season and another vintage performance would really put the Cubs up over the top.
This one was chosen for Sunday Night Baseball, so first pitch from Wrigley is at 6:05pm ET on ESPN. If you've can sync up the radio call to the broadcast, even if it's off by a few seconds, you may just want to tune in 670 The Score.