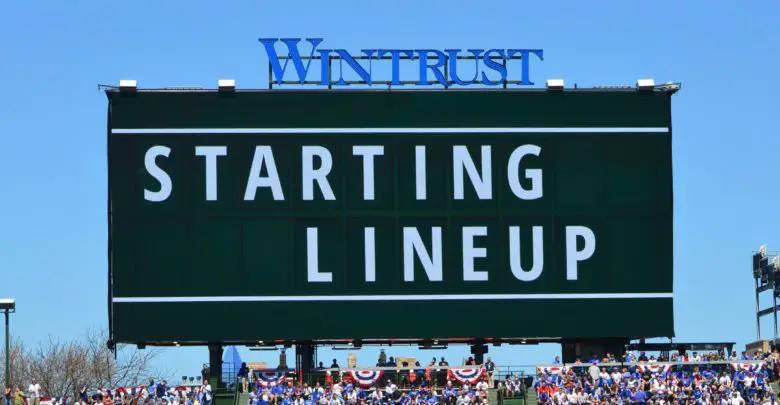 Chicago Cubs Lineup (5/17/19): Schwarber Leads Off, Rizzo Returns, Hamels Pitching
Kyle Schwarber is back in the leadoff spot and playing left as Joe Maddon stacks as many lefties as possible against a tough opponent. Kris Bryant bats second at third base and Anthony Rizzo returns to the lineup after missing four games with a stiff back.
Javy Báez cleans up at short, Willson Contreras is behind the plate, Daniel Descalso handles second base, Jason Heyward is in right, and Albert Almora Jr. rounds things out in center.
Opposing them in this one will be one of the world's most famous examples of heterochromia iridium, the incomparable Max Scherzer. Just as you were probably already aware of ol' dude's different colored eyes, there isn't much I can tell you about his pitching prowess that you don't already know. He's one of the best and most consistent pitchers in the game and is still going strong as he approaches his 35th birthday.
My favorite addition to Nats Park: Scherzer Eyes above Shake Shack pic.twitter.com/DpikuW6ymo

— Scott Allen (@ScottSAllen) April 3, 2017
Don't let Scherzer's 3.64 ERA — his highest since 2012 with Detroit — fool you, his 2.25 FIP is lower than he's ever posted. He's getting more grounders than ever and his home run per fly ball rate is below his career average, but batters are generating more hard contact against him. That's been a common theme across the league and is a contributor to an inflated .361 BABIP against this season.
Scherzer has struck out at least seven in each of his nine previous starts and has not walked more than two batters in any of his last eight trips to the mound. He's throwing as hard as ever, featuring a 95 mph fastball and an 86 mph slider that he offsets with a change, curve, and cutter.
As with many power pitchers, Scherzer has been much tougher on right-handed batters. That has continued this season, though righties are hitting a robust .228 against him after only putting up a .199 career average coming into this season. Lefties have really taken advantage, though, posting an .841 OPS and .361 wOBA against him.
Over the course of eight previous starts against the Cubs, Scherzer is 4-1 with a 2.55 ERA and 73 strikeouts to 11 walks. He's going to increase that K total against a team that has gone down on strikes 35 times over the last three games, so you'll be doing yourself a favor by just accepting the inevitable now. Because he walks so few batters and has such good stuff, the best way to beat him may be to go up there hacking.
If you're passive at the plate, Scherzer will eat you alive. So look for something you can drive and put a good swing on it. Yes, I've shifted from talking to you, Dear Reader, and have begun to address the Cubs directly. CI has become mandatory pre-game reading in the clubhouse, so I felt obliged to acknowledge that. And if you believe me, I've got a bridge to sell you.
Lefties will mainly need to choose between fastball and change, while righties will get the slide-piece in addition to the heat. Part of the reason left-handed batters have found more success this season is that the fastball has tended to stay over the plate more than in the past, with the change acting similarly. Scherzer's offspeed pitch still has some tumble, it just doesn't have as much arm-side fade as before. So sit fastball and adjust.
The slider is still super nasty, so righties are pretty much screwed if they fall for it. They're probably better off just trying to ambush one of the four-seamers Scherzer will throw about two-thirds of the time early in counts. He doesn't make many mistakes, so it's all about taking advantage if and when he does.
It's going to be important for the Cubs to hang some runs on Scherzer because the Nationals have done really well against lefties and Cole Hamels is on the mound. Hamels hasn't been incredibly sharp over his last four starts, walking 14 in 23.2 innings, though he's struck out 26 in that time. The Nats don't walk a ton, so that's good, but they slug like a mug and their .799 OPS against southpaws is second in the NL.
Coming off of consecutive losses in Cincy, it's imperative for Hamels to come out firing in this one to keep the Cubs in the game as long as possible. Chicago has the advantage this weekend if it comes down to the bullpens, so the starters will need to hold the line.
First pitch from Nationals Park is at 6:05pm CT and can be seen on WGN or MLB Network (out-of-market only) and heard on 670 The Score. Those of you who are fans of the latter medium, which should be pretty much all of you, may appreciate this new shirt we came up with recently. Perhaps you prefer the turning point, or this even more esoteric nod to the third man in the radio booth.
.@ARizzo44 returns to the #Cubs lineup tonight in DC!

Game preview: https://t.co/dgfGoGUvPu #EverybodyIn pic.twitter.com/EhixF7L0Dz

— Chicago Cubs (@Cubs) May 17, 2019