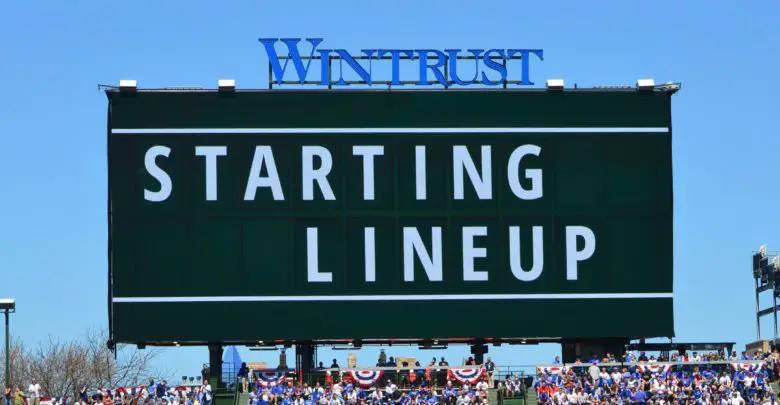 Chicago Cubs Lineup (5/25/19): Schwarber Leads Off, Caratini Catching, Darvish Pitching
There's really no way to put it gently, late losses to mediocre teams are metaphorical five point palm exploding heart techniques. Especially when said losses come as the result of an overtaxed and undertalented bullpen. No disrespect to the individual pitchers in the 'pen, they're all just being pressed into action in spots they wouldn't normally be asked to handle.
Perhaps today's results will wash away the pain of Friday's wet fart.
Kyle Schwarber maintains his No. 1 spot, followed by the familiar trio of Kris Bryant at third base, Anthony Rizzo at first, and Javy Báez at short. Jason Heyward bats fifth in right, Vic Caratini is catching for the second game in a row,  Albert Almora Jr. is in center, and Addison Russell plays second.
I'd prefer to write more, but I took an exit in I-65 to post this before heading to the game.
Attempting to quiet those bats is Tyler Mahle, a 24-year-old righty who faced the Cubs three times last season. He dominated them in two of those starts and gave up three homers in the other, so let's hope he's feeling generous with the meatballs this afternoon.
The only problem is that it feels like this dude is due to go off on an opponent, what with his 1-5 record despite a 3.51 ERA and nearly 9.5 K/9 so far. Mahle is a strike-throwing machine and has walked zero or one batter in six of nine starts so far, which means the Cubs need to go up there hunting fastballs.
As much as I legitimately enjoy breaking stuff down for these lineup posts, I'm going to stay really simple on this one. I just got a new car (on which the touchscreen system already got wonky), my daughter has a soccer game first thing Saturday morning, and I'm heading to Wrigley with my son for the first time this season.
So how about the Cubs lefties keep hammering Mahle like their counterparts have so far, to the tune of five home runs? The righties should get in on the party too.
Yu Darvish will be on the bump coming off of a pair of starts that were good for different reasons. He battled a tough Philly team with Jake Arrieta on the other side, but was the victim of some mistakes and bad luck. Prior to that, he shut the Reds down with 11 strikeouts and no walks.
I remain thoroughly convinced that Darvish has the best pure stuff of any Cubs starter, so I'm very much looking forward to seeing him harness it in this one. Calling the shot here.
First pitch from Wrigley is at 1:20pm CT and can be seen on ABC-7 and MLB Network (out-of-market) or heard on 670 The Score.