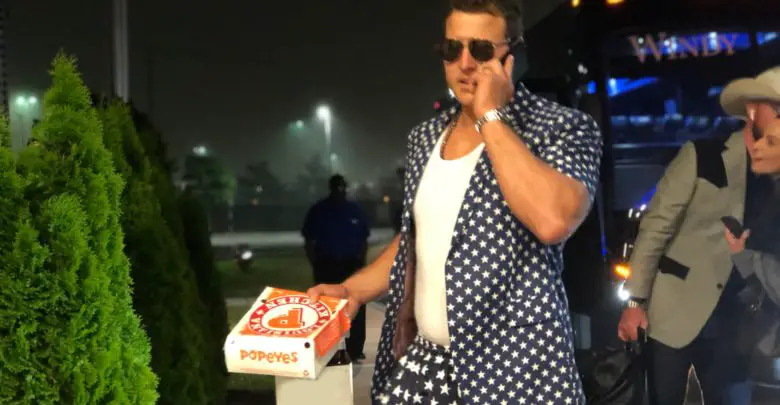 The Rundown: Cubs Sweep Cardinals, Big Papi Stable After Shooting, Rizzo Goes Full Lester on Themed Road Trip
It was a great week for Cubs fans. The team has won six of its last seven games, signed one of the best closers of all time, and swept the Cardinals out of Wrigley Field with last night's 5-1 win. I could wrap up this column right now and call it a success. But you and I know I that's not going to happen.
I had supreme confidence the Cubs would get the win last night starting with the first pitch Kyle Hendricks threw. The Cardinals never really felt like they threatened to win any of the three games, even with Jon Lester pitching an inning of batting practice on Saturday night. By the time Carlos González closed the weekend with a little North Side fireworks, the Cubs and all of their fans had their minds on the upcoming road trip to Colorado and Los Angeles.
.@CarGo5 swats his first #Cubs home run!#EverybodyIn pic.twitter.com/JrXYS95erX

— Chicago Cubs (@Cubs) June 10, 2019
Within hours, everyone was dressed like Lester and off to the airport. Everybody in, right? I suppose Anthony Rizzo was the hands down winner, if an award for these themed road trips exists, though he looked as much like John Lackey as he did the Cubs current ace. The aviator sunglasses were a fantastic touch. Let that be a lesson to you: When dressing like a cowboy always remember to accessorize, and don't forget your drawl.
Hendricks was simply amazing and has been nothing short of dominant against the Redbirds throughout his career. Of course he has been dominant against everybody lately.
https://twitter.com/MLBastian/status/1137893072992460800
Alex Rodriguez sure was impressed by his performance. In fact, he was impressed by the entire Cubs team and laid out a simple plan of what it takes to be a champion with a few not-so-subtle pointers throughout the telecast:
You have to be a good bunting team to be a champion;
Champions don't necessarily need to steal bases, but they have to be better than everybody else at running the bases. The Cubs are last in the NL in steals by the way;
You have to know when strategically to give up an at-bat, even if it means hitting into the shift; and
Champions never take their division opponents lightly.
I thought the key was to win as many games as possible, get into the playoffs, and then make sure that the last game you play is a victory. That formula has worked every single season since the World Series existed. Then again, I am not an analyst on the biggest sports and entertainment network in the world, broadcasting their flagship game of the week.
Jeff Garlin, who is as annoying in the broadcast booth as anybody, wants Rodriguez to go away. If I had to choose between the two, I'd be okay if the Cubs never allowed Garlin in their broadcast booth again. Why couldn't that guy be a White Sox fan instead?
Anyway, It is imperative that the Cubs remain hot on this seven-game road trip. The Brewers continue to breathe down their necks, and as much fun as division races are, I think after last season we'd all like to see the Cubs build a comfortable lead and then just hold it.
Cubs News & Notes
How About That!
Max Muncy put a charge into a pitch by Madison Bumgarner and the exchange between the two was priceless. Bumgarner would rather not "let the kids play" it seems.
"If you don't want me to watch the ball, you can get it out of the ocean." 😂@maxmuncy9 on his 1st inning HR off Madison Bumgarner. pic.twitter.com/lBSkGADMQd

— SportsNet LA (@SportsNetLA) June 9, 2019
Astros rookie outfielder Yordan Álvarez hit a 413-foot homer off of Orioles' starter Dylan Bundy that left the bat at 107.3 mph. Yesterday was his major league debut. In 56 games at Triple-A, Álvarez batted an absurd .343/.443/.742 with an even more absurd 23 home runs.
The Nationals hit back-to-back-to-back-to-back home runs in the 8th inning yesterday to turn a 1-1 tie into a 5-1 lead. Washington won the historic game 5-2.
The Yankees reportedly have some interest in trading for Bumgarner or Blue Jays RHP Marcus Stroman.
Eloy Jiménez can hit a baseball very, very far.
Sunday's Three Stars
Edwin Encarnación – The Mariners' slugging first baseman clubbed a pair of homers yesterday and now has 400 for his career. He is the 56th player in MLB history with that many home runs.
Mark Gruber – This lucky fan won a brand new vehicle at Miller Park yesterday when Mike Moustakas connected for his 20th tater of the season, a two-run drive in the 8th inning that hit the roof of a metallic gray SUV, a promotional vehicle perched above the fence in right-center.
Top of the Nationals batting order – Pinch-hitter Howie Kendrick came to the plate against Padres reliever Craig Stammen and homered. He would be followed by Trea Turner, Adam Eaton and Anthony Rendon. Yes, four consecutive home runs.
On Deck
Prayers and happy thoughts to David Ortiz. Big Papi was injured but remains in stable condition after being shot in the back and through the abdomen during a robbery attempt over the weekend.
"Late last night we were made aware of an incident involving David Ortiz in the Dominican Republic. David's family has confirmed that he sustained a gunshot wound to the lower back/abdominal region. David is being treated at Clinica Abel Gonzalez in Santo Domingo where he is recovering after surgery. We have offered David's family all available resources to aid in his recovery and will continue to keep them in our hearts." – Red Sox team statement.
Extra Innings
Nothing better than remembering Harry Caray while you're steamrolling St. Louis.
"You know a lot of people think I have the best seat in the house" ~ Legendary Chicago #Cubs announcer Harry Caray at Wrigley Field! (Classic 1984 Budweiser Beer Commercial) #HolyCow #MLB #History pic.twitter.com/JUVCNjkG9g

— Baseball by BSmile (@BSmile) June 10, 2019
They Said It
"Today, I wasn't super sharp, especially early. My fastball command, I was pulling heaters, but Willson [Contreras] was locked in. His pitch selection was really good. He kept me into it and got me mentally into it by the fifth inning." – Kyle Hendricks
"That's as good as I've seen [Schwarber], ever. If we could put this in a little bit of time capsule, heads up." – Joe Maddon
"Being in the moment is my superpower. Being able to see things that most people aren't seeing." – Alex Rodriguez
"If you don't want me to watch the ball, you can go get it out of the ocean." – Max Muncy
"I didn't know that I actually won somebody a car until afterward. [To come to ballgame] and leave with a car is pretty cool." – Mike Moustakas
Monday Walk Up Song
Beginnings by Chicago. Let's hope the Cubs' 6-1 streak portends to some great baseball against the Rockies and Dodgers.