Chicago Cubs Prospect Update: Aramis Ademan Leading Pelicans After Down Year
At one point two years ago, Aramis Ademan was the Cubs' number one prospect. At the time, the young shortstop had just turned 18 and was turning it on for Eugene in the month of July. He flashed a solid bat, hitting .320 with a .391 OBP and 18 RBI for the month and showed decent defensive skills with the potential to be a solid defender in the future.
Ademan got a sneak peek at South Bend at the end of the 2017 season for only 29 games, but that was enough for the Cubs to feel an aggressive development plan was warranted. MLB Pipeline seemed to agree, praising his advanced skills at the plate.
An advanced left-handed hitter with a mature approach, Ademan already recognizes pitches well and uses the whole field. He lacks size and strength but understands his limitations, focusing on stroking line drives and not worrying about driving the ball. With his hitting ability and bat speed, he could grow into double-digit home run power while providing high batting averages and on-base percentages.
Then came 2018.
Ademan was assigned to Myrtle Beach at the age of 19 despite concerns that he hadn't gotten enough time at South Bend to continue to develop his bat. He hit only .244 in that month at Low-A and was pulling over 50% of his batted balls. That should have been a red light.
At Myrtle Beach, Ademan looked overmatched as he struggled to even hit his weight for most of the season. His splits did not improve from month to month, even getting worse from April to August. When the season ended, two things were clear: First, Ademan needed to muscle up and gain some strength; second, he would not be going to Tennessee to start to 2019 season.
Sure enough, he put in the work over the offseason and has turned things around this year. He's walking at a higher rate (8.4% to 14.4%), striking out less (21% to 19%), and he's putting the ball in play all over, (44% pull). His wRC+ has gone from a lowly 65 last year to a robust 134 this spring.
It looks as though he's gained 10 to 15 pounds, but what's even more important is that he just looks more relaxed at the plate. There was even a stretch beginning on Memorial Day where he hit almost .450 over 10 games to raise his average 20 points. As of June 11, all three components of his .281/.392/.406 slash lead the Pelicans, putting his .798 OPS nearly 60 points above his next-highest teammate (Cam Balego – .740).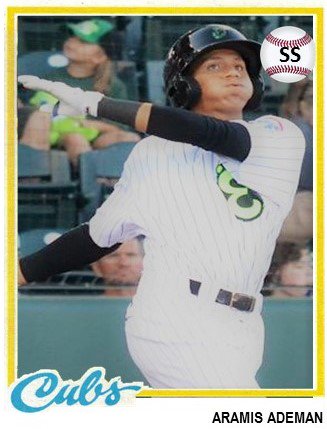 If he gets the call to move up to Tennessee this month, which is entirely likely, the 20-year-old is going to have to maintain his performance and he's probably going to be playing second base some more. So far, he's only played the position five times in his career and all have come this year.
Ademan's resurgence has been one of the most positive stories in the system this year. His hands still move quickly through the zone and he just kills pitches on the inner half of the plate. He's not going to hit a lot of home runs, but he can drop his hands and barrel up when he gets a ball down and in. A more complete hitter than what we've seen in the past, Ademan was able to learn from that sluggish 2018 campaign to make himself even better than we saw two years ago.