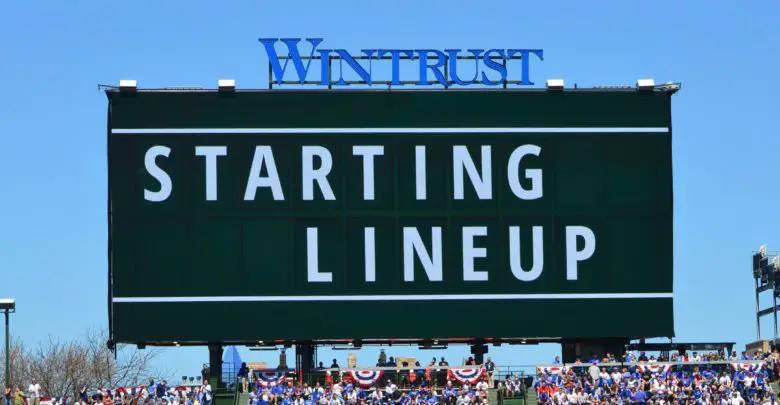 Chicago Cubs Lineup (6/20/19): CarGo in RF, Descalso at 2B, Chatwood Piggybacks Alzolay
It's totally normal to be in the 50's and rainy as the season officially changes to summer, right? At least the forecast calls for a departure of the lingering gloom in Chicago just in time for tonight's series opener with the Mets. Then again, the Cubs hit just fine in last night's damp conditions, so maybe there's something to it.
Kyle Schwarber has hit the first pitch he's seen in each of the last two games for extra bases, part of a more aggressive plate approach that's yielding better numbers. He'll lead off in left, followed by Kris Bryant at third, Anthony Rizzo at first, and Javy Báez at short.
Willson Contreras looks to continue pacing all MLB catchers after last night's explosion, Jason Heyward handles center, Carlos Gonzales is in right, and Daniel Descalso will try to pick up his first hit since June 1 as he bats last at second base.
The Cubs are facing 25 righty Walker Lockett, who's making his Mets debut as something of a surprise replacement for the injured Noah Syndergaard (hamstring). Lockett was acquired by the Mets from the Indians this winter as part of the Kevin Plawecki trade not long after Cleveland had acquired Lockett from the Padres. FanGraphs had him rated the Mets' No. 17 prospect and sixth best pitcher heading into the season, but he was the only one above Double-A.
He has a mid-90s sinker that has significant tail when Lockett is locating it to his arm side, but it's hittable and straight in most parts of the strike zone. His fastball's movement pairs well with a power, mid-80s changeup that also has arm side action; Lockett works left-handed hitters away with these two offerings. His curveball has good shape and bite, but Lockett struggles to set it up for whiffs because his fastball is hittable in the top of the zone. He needs a weapon that works in on the hands of lefties, like a cutter. If he can find one, he'll be a fine backend starter.
Lockett posted a 9.60 ERA in four appearances (three starts) for the Dads last season, striking out 12 and walking 10 while allowing two home runs in each of his final two starts. He's made only six minor-league appearances this season (five starts) after opening the campaign on the IL, but he's put together a 3.28 ERA across 24.2 innings at Triple-A.
That solid ERA could be a little misleading, as Lockett allowed a .271 average on 26 hits, three of which have left the yard. There is absolutely nothing in either his recent or historical performance to indicate an ability to shut the Cubs down, which of course means he'll go seven strong with just one or two runs allowed. But the Cubs really should be able to get over on the big righty.
Debuts could be the theme of the day and we may see one for the Cubs once Tyler Chatwood is done. The bearded righty earned the start with improved performance out of the bullpen and an excellent spot-start when Jon Lester went to the IL. He's throwing the sinker much more than last year and his velocity is up around 96 mph to boot.
You have to think Joe Maddon and the Cubs will be content to see Chatwood turn the Mets' lineup over and maybe get through the heart of the order a second time. That would give him maybe 3-4 innings of work and would set the stage for Adbert Alzolay's first MLB action. The 24-year-old righty joins the Cubs after blowing away the competition at Triple-A Iowa and could be in line for another start depending on Kyle Hendricks' shoulder.
Ed. note: Adbert is pronounced either Ad-bear or Ad-berr, he answers to both. The proper pronunciation is probably somewhere between those two, but this will get you close to being accurate.
Alzolay gave up 12 runs (10 earned) in his first two starts back, but has since given up only six earned over 28 innings in his last five starts. That run includes 40 strikeouts (12.86 K/9) and only three walks (0.96 BB/9). Remember how the Cubs have talked for years about getting reliable strike-throwers? If Alzolay can display that same precision following Chatwood's liberal use of the zone…look out.
First pitch is slated for 7:05pm CT and can be seen on WGN and MLB Network (out-of-market). Pat Hughes will be calling the game on 670 The Score while Ron Coomer agrees with him and Zack Zaidman laughs hysterically at each of Pat's jokes.
Here is tonight's #Cubs starting lineup.

Game preview: https://t.co/qXQOtgEOOQ #EverybodyIn pic.twitter.com/hm24wKr56a

— Chicago Cubs (@Cubs) June 20, 2019