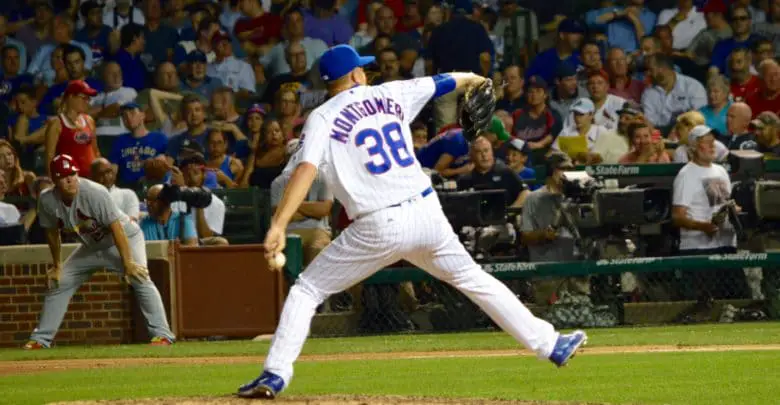 Mike Montgomery Needs to Change Things Up
Mike Montgomery has thrown his changeup more this year than ever before. He's thrown it harder than ever before. And he's gotten worse results than ever before, as evidenced in part by an emergency long-relief appearance following Cole Hamels' early exit Friday night in Cincinnati.
Montgomery said his change-up may have been as bad as he's ever had it.

— Jesse Rogers (@ESPNChiCubs) June 29, 2019
It's easy to see why Monty would have had issues in his most recent appearance, what with the abbreviated prep period and entirely different mindset. Though he's obviously used to replacing the starting pitcher or another reliever, his prep period is typically longer than two warmup pitches prior to the second inning.
"Mentally, you be ready the best you can, but at the end of the day I just didn't make the pitches," Montgomery said after the game.
That was evident from his very first pitch, a 91 mph four-seamer that got missile lock on Phillip Ervin's happy zone and turned into a leadoff home run. While Montgomery's fastball velocity, a focal point for him coming into the season, is up slightly over the past two seasons, his 92.6 mph average isn't close to the 94.3 he averaged when he was acquired from the Mariners in 2016.
At only 91.8 mph Friday night, Monty's average four-seam was among his three lowest of the season. And one of those came immediately prior to the IL stint that kept him out for over a month from early April to early May. Making matters worse, Montgomery's sinker was a mere 92 mph, slower than he's thrown it since coming back from the IL.
His changeup was sitting around 85, harder than usual, and he threw it more frequently than ever before depending on how you look at it. Per Statcast, the 20 offspeed pitches thrown against the Reds easily represents Monty's highest tally of the season and its 32.8% usage was the highest of career when throwing more than three of them in a game.
According to FanGraphs, Montgomery's change cost the Cubs just under half a run Friday night, nowhere near his worst of the season. But it's been worth -3.4 runs in 2019, tied with the fastball for his worst pitch among his five offerings, all of which have produced negative value in 2019. It's reached the point where we have to consider that the problem is more than just mechanical.
Montgomery has been vocal in the past about his desire to start, even reportedly asking for a trade to a team that would allow him to be a rotation fixture. And while he's stated both publicly and privately that he's willing to do whatever the team needs, you have to wonder whether being repeatedly passed over in favor of Tyler Chatwood and Adbert Alzolay has weighed on him.
The lefty was clearly not focused on the mound in Cincy as he allowed two steals, one of which came from noted speedster Joey Votto. A mental hiccup would be one thing, but this is a problem the Cubs are well aware of and have tried to correct.
"He does get caught up in it sometimes and he does have to do a better job with runners on base, no question," Joe Maddon said Friday. We've talked to him about that."
You don't need to look at the numbers to understand that Montgomery has not been the pitcher either he or the Cubs expected him to be this season. Some of that could be corrected with grip changes and better pitch sequencing, like dialing back the changeup for which yours truly may bear partial blame. Okay, I highly doubt my adamant request for him to throw the change more as a swing-and-miss pitch is the real reason for its increased use, but still.
Even with a few tweaks to his mechanics and overall approach, there may be some changes the lefty simply can't make under current circumstances. Which is to say it may be time for a change of scenery that would allow both pitcher and team to reap the benefits of more ideal situations. That's a really nebulous concept and can only be adequately judged in hindsight, but Montgomery's value right now may be greater in a trade than in a Cubs uniform.
Not that there's a great deal of demand for a southpaw who allows a 1.338 OPS and .541 wOBA to left-handed batters. Or who's giving up respective marks of .877 and .364 to righties, for that matter. That's strictly as a reliever this season, though, so Monty's career 4.03 ERA as a starter (3.81 in 191.1 IP as a Cub) gives him a lot more cachet.
And unless the Cubs are planning to move him into a starting role over those two years of club control remaining, another team would surely be willing to. Even if the Cubs do see that as a possibility, it's become all too evident that waiting on it has taken a toll on Montgomery that may never be repaid in Chicago.
I certainly hope to be proven wrong, but it's looking more and more like a trade might just be in the best interest of everyone involved.