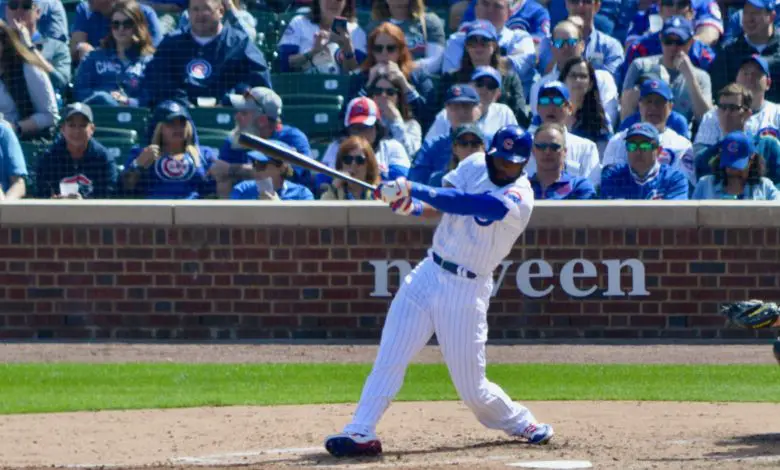 Jason Heyward Providing Spark Cubs Have Lacked Since 2016
Could Jason Heyward be the answer the Cubs have been looking for at leadoff? The Cubs continued their home dominance with a weekend sweep of the Brewers, due in no small part to a spark at the top of the order. Heyward hit two leadoff homers in the series, adding a triple and a walk in the process, and maintaining anything close to his .353 OBP is much better than the Cubs' league-worst .288 leadoff OBP this season.
"He's leading us," Joe Maddon said of Heyward this past weekend. "He's absolutely leading the offense right now."
Though Heyward had previously been reluctant to accept the responsibility of leading off, Theo Epstein said he's "embraced" the new role. That includes playing center field more often following the team's acquisition of corner outfielder Nicholas Castellanos.
"It's about me wanting to make the most of my time playing baseball," Heyward told MLB.com. "Whatever works best, I'm going to try and do that. And right now, that's what they feel is best, so let's go. I just asked Joe to be patient with me. Just give me a shot and here we go."
https://twitter.com/MLBastian/status/1157359066206937088
Patience can be a precious commodity this time of year as players adjust to the switch to Big Boy Time, but Heyward doesn't seem to be feeling any ill effects. Even if his hot weekend cools, the Cubs have already tried everybody else and don't have much of a choice at this point unless they want to really leverage platoon splits.
Heyward has a .376 OBP this season against right-handed pitching and is the obvious choice with a righty on the mound. Should the Cubs go with someone else against a southpaw, or keep things consistent every day? Among other deficiencies, that kind of everyday presence is something they've lacked over the last three years.
The Cubs miss the fire and consistency Jake Arrieta brought to the mound every five days. They have openly lamented the leadership void, not to mention the drop in pitch-framing skill, left when David Ross retired. For whatever reason, these recent Cubs teams seem to be missing the same focus that was so evident in those 2015 and '16 squads.
But perhaps more than anything else, the biggest pain point is production from the leadoff spot.
"You go, we go" wasn't just a cute saying, it was a very accurate description of how Dexter Fowler jump-started the offense. His OBP was nearly .370 in his two years as a Cub, including a ridiculous .393 in 2016. The Cubs went 58-15 (.795)when Fowler scored a run in a game during that World Series season. That's a 129-win pace, far better than you'd expect even for such a great team.
Not that re-signing Fowler would have been the answer, since his age and cost didn't make much sense and he has declined since defecting to Boringsville. But the Cubs have had several seasons now to find the next Dexter Fowler and they've failed miserably. Despite auditioning the second-most leadoff hitters in baseball this year (9), they continue to get minimal production from that spot.
That includes the greatest leadoff hitter of all time, though Anthony Rizzo is still needed in the middle of the lineup instead of at the top. Ben Zobrist batted first several times prior to his departure, but his .338 career OBP there is the second-lowest for him out of the nine spots in the order. Kyle Schwarber wasn't the answer despite prolonged use, nor were any other hitters Maddon has deployed prior to Heyward.
The Cubs have tried just about everybody in the leadoff spot and nothing has stuck because nothing has really worked. If they want to have a shot this year and beyond, especially in light of their abysmal road performance, they need to find the next "You go, we go" candidate. It's still early in his tenure, but maybe J-Hey is the answer they've been searching for.