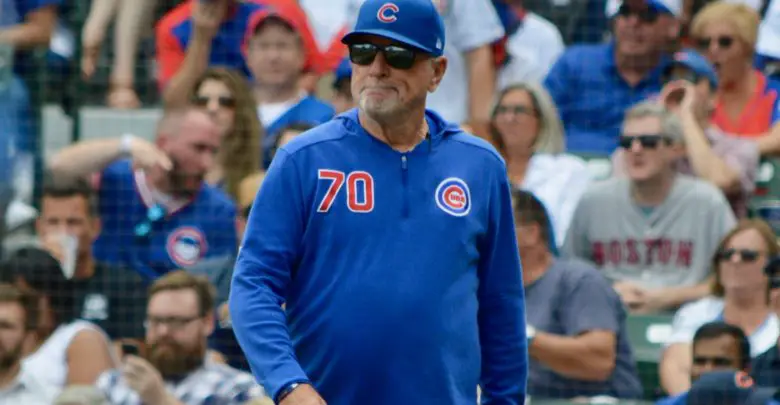 Jed Hoyer Won't Comment on Notion That David Ross Will Replace Joe Maddon
Cubs GM Jed Hoyer joined 670 The Score's Bernstein & McKnight Thursday morning to discuss his team's inconsistent play and what has led to it. Talk then turned to what that inconsistent play will likely lead to, namely a new manager. While obviously not finalized, just about everyone believes Joe Maddon will not be signed to a new contract when his current $6 million annual pact expires at the end of the season.
But you can't talk about Maddon being gone without speculating on who takes over, right? Ken Rosenthal had recently indicated that David Ross had a better shot at replacing Maddon than fellow former Cubs catcher Joe Girardi, but USA Today's Bob Nightengale took it a step further.
The biggest surprise in Chicago this winter will be if David Ross is not named their next manager by Thanksgiving.

 

The Cubs have been preparing Ross, who helped lead them to the 2016 World Series championship and four consecutive division titles, to the heir apparent, and although bench coach Mark Loretta can't be completely ruled out, they believe Ross will be the perfect fit.
I can think of bigger surprises, though this kind of hyperbole from the man who once referred to the Dodgers as the "Golden State Warriors in spikes" is not among them. Maybe he just meant the Dodgers were like the Dubs during the seasons in which they've lost in the finals. That would actually be more fitting.
Anyway, Nightengale goes on to say that Maddon will absolutely be managing in 2020, just not in Chicago. Citing the "shade" Theo Epstein threw at his manager during a 670 appearance of his own, the McPaper scribe connected a dot or two and considered it a done deal.
"That's something of course I'm never going to comment on," Hoyer deadpanned on the radio.
He sidestepped other questions about Maddon's future, saying that the uncertainty of it has not had any impact on the team. Which, of course he said that, even though Kris Bryant recently admitted that distractions have caused the Cubs to press at times. It's all chicken-and-egg stuff at this point, but the last few seasons have served to erode nearly all of the goodwill Maddon built during his first two campaigns.
The same can be said for ownership and the front office, though it's easier to saddle a big portion of the blame on the one guy whose deal expiring. Hoyer didn't shy away from any accountability, though, admitting that there's more to it than one season or any individual effort.
"For all of us, you're always looking at the total body of work and what happened most recently," the GM explained.
The fact of the matter is that the Cubs have produced disappointing results this season by nearly any measure. They just completed a series against the Reds in which they dropped two of three to take them to 8-11 against their division rivals on the season. Even though you can't boil the season down to the results against one opponent, those struggles could well end up costing the Cubs the division and even a postseason berth.
If that happens, it really doesn't matter what Maddon did in 2016 or how many wins he's racked up as the Cubs skipper. He was absolutely the right man at the right time, but diminishing returns and a need to shake things up have him looking like the odd man out for 2020 and beyond.
So is Ross really waiting in the wings? I still believe that's too simple an answer, but I guess we'll learn one way or the other here before too long.