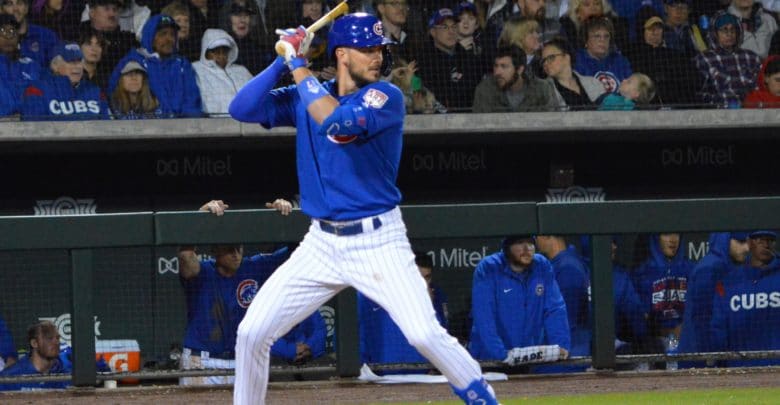 Kris Bryant Grievance Decision Expected by Month's End, Which Isn't Really an Update
Entire civilizations have risen and fallen in the time since the union filed a grievance on Kris Bryant's behalf over the Cubs' manipulation of his service time. That was back on December 7, 2015, but it took until October of 2019 for actual hearings to take place. Initial belief at the time was that a decision could take months, but a subsequent report from Patrick Mooney of The Athletic said it could come prior to the Winter Meetings.
Ed. note: Skip to the end below the line for the tl;dr version.
In what has been perhaps the most prescient report on the matter, Evan Drellich of The Athletic tweeted that arbitrator Mark Irvings had received briefs on December 21 and that a decision would come in the new year. Drellich warned that it was "Unclear if it will be as soon as January — hundreds of pages need to be sorted through by arbitrator," so he set February as a reasonable goal.
David Haugh of the Chicago Tribune wrote on January 8 that the Cubs expected a decision in "the next week or so," which is still plausible with just a modicum of leeway. And now the latest from Jon Heyman, who was first with the timeline of months, tweeted Thursday that a decision is "expected by the end of the month, possibly next week."
A decision in the Kris Bryant case is expected by the end of the month, possibly next week. Bryant has 2 years to go before free agency but he is grieving that, claiming it should be 1 year based on service time. Ruling will affect his trade value.

— Jon Heyman (@JonHeyman) January 16, 2020
Other than the overly optimistic prediction that this would all be worked out by mid-December, which we now know was nothing but wishful thinking, nothing has changed since the time of the grievance itself. Bryant's camp seems to be just as much in the dark as everyone else, though a source with knowledge of the situation has told Cubs Insider that they don't expect to win the case once a decision comes down.
There's a mistaken belief among some Cubs fans that the grievance is a sign of Bryant's desire to hasten his free agency and get out of Chicago, but that simple isn't true. If it was, his side would have pushed for a much quicker resolution and would have made more noise about demanding a trade. Everything that's been said both on and off the record is that Bryant would like to remain with the Cubs, all things considered. Why, then, would they even proceed with the grievance at all?
As tedious as the process has been, particularly of late as the Cubs' offseason moves seem to be hinging on the outcome, this is as much a matter of principle as anything. Bryant has been the team's rep in the MLBPA since the start of the 2018, fueled by a desire to help other young players avoid what happened to him as a rookie. He's been outspoken on the topic of service-time manipulation, so it figures that he'd want to see his own case through as a matter of principle alone.
With the current CBA set to expire following the 2021 season, at which point Bryant figures to become a free agent, both sides are digging trenches and determining battle lines. In addition to some of the finer points of revenue-sharing allocation that may be driving the Cubs to get under the luxury tax threshold, service time figures to be one of the areas in which players will seek to take back some power. After being fleeced the last time out in exchange for added creature comforts, a more savvy union should be working to prepare a better strategy.
Like it or not, and I know there are a lot of people who just look at $18.6 million and label Bryant a prima donna, this matter is bigger than just his situation with the Cubs. It's not about a player holding a grudge or trying to stick it to his current team, it's about a professional athlete trying to do what he feels is best for himself and his sport. More the latter, really, since Bryant may not get anything out of this other than a headache and the unfortunate erosion of some fan support.
---
So there you go, no news on the timeline of the grievance decision. You almost wonder if they want to release it following the conclusion of Cubs Convention, maybe during the later of the two NFL conference title games. Better to do it after all those fans have dispersed back to various parts of the Midwest and can't ask about it. Of course, there will be plenty of questions as it stands because it's hanging out there like a giant booger in the nostril of the person sitting across from you on the train.
Fun times, I tell you.