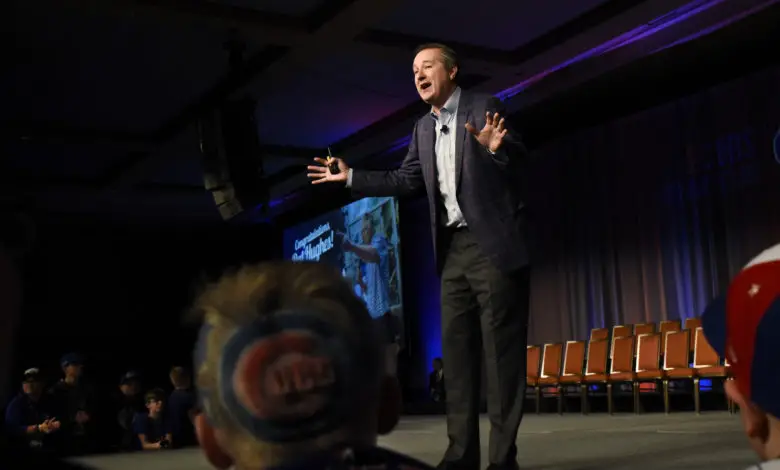 Ricketts Says Decisions on Bryant, Báez Will Come from 'Theo's Camp'
Tom Ricketts arrived at Sloan Park Monday to address the team in advance of the spring's first official workout, but the magnanimous magnate took a little time out for the assembled media as well. In what probably comes as a shock to you because it hasn't been the primary focus of every conversation since October, the Cubs chairman spent a good deal of time addressing the topic of team finances.
"Where we place our resources is a baseball decision, so that is Theo and Jed (Hoyer)," Ricketts told reporters Monday in Mesa. "Ultimately, we have to look at this from a bigger perspective. Just because you spend a lot of money doesn't mean you are going to win."
This is more or less the same thing he's been saying since the end of the season, when he indicated on 670 The Score that financial austerity would be the order of the offseason. He continued to lean heavily into the idea that you can't buy teams, specifically how spending doesn't correlate directly to winning, explaining once again how the escalating impact of the competitive balance tax handicaps teams like the Cubs.
"The competitive balance tax is a factor that every large-market GM at least has to put into their calculus when they create their teams," Ricketts said. "And I don't know how much fans know, but it's not just a financial penalty. It's a financial penalty that grows over time for the number of times you're above the threshold, and then it gets into a player penalty, which you have to be careful to avoid.
"Like I said, it's a factor. I don't think it's a defining factor, but it's definitely a factor that every team has to deal with. At least every large-market team has to deal with."
Ricketts reiterated that he puts full trust in the front office to utilize the Cubs' financial resources in the best possible way, though he warned that those resources were restricted this winter by the addition of Craig Kimbrel last June. Without coming right out and calling that dubious in light of other contracts falling off the books, notably the Ben Zobrist pact that unexpectedly opened the door to Kimbrel in the first place, we should note that the Cubs are currently around $25 million under last year's payroll total.
Even with Marquee Sports Network up and running, the Cubs are saying there will be a lag when it comes to the increased revenue streams impacting the baseball budget in a meaningful way. Could that mean trading a marquee player like Kris Bryant, who's still got two more years of contractual control remaining in Chicago?
"Obviously, we love KB," Ricketts said. "He is a great player. He is a great part of the team. Most of the things out there are just rumors, noise and a lot of it is just not true. If anything was going down that path, that would be a baseball decision. We love Kris, hope he stays healthy and has a great year."
But what if it comes down to a decision between Bryant and Javy Báez, something Patrick Mooney of The Athletic indicated could be the case ($) as the Cubs determine where and how much to spend? Javy is represented by Nick Chanock of the Wasserman Group, an agency that has long been viewed as more willing to ink team-friendly extensions like the one Kyle Hendricks agreed to a year ago. Bryant is represented by Scott Boras, who has a slightly different reputation.
"Once again, that's in Theo's camp," Ricketts said. "I mean, that's his decision. We'd have to take a look at what all that would mean for us financially."
All indications at this point are that the team will kick any really difficult choices down the road a ways, particularly if they're serious about the collective public belief that the Cubs can compete this season. Unless it's part of a highly unlikely deal for Nolan Arenado, the common logic behind moving Bryant would be to cut costs while restocking the farm system. That means taking a knee on 2020, if not 2021 as well, which goes against the oft-stated plan to be competitive every year.
Neither Bryant nor Báez wants to carry negotiations into the season, nor does the front office seem to feel any real urgency to get something done right now. Báez said recently that talks about a potential extension have been "up and down," while Bryant said during his presser that he's never seen any hard numbers on a new deal. Some of that might be owing to the current financial situation we've discussed ad nauseam, or maybe it's really a matter of seeing how the team responds to David Ross's leadership.
Scoff if you like, but Bryant said Monday he "wanted to run through a wall" after hearing the motivational speech that may or may not have won Ross the gig. Jon Lester has been pulling some of the younger pitchers aside to offer advice, something Ross said he'd never seen from the aging southpaw in the past. The positive impact could well be legit. Will it be enough?
The Cubs have put themselves in position to have to "thread the needle" when it comes to winning in spite of their winter of inactivity, but maybe everything breaks right and they find a way to duck the CBT. Though it seems damn near impossible at this point, there's a path to making it happen. Winning at a lower cost in 2020 might open up some financial doors, or at least whet ownership's appetite to free up more resources. That would be good for players and fans alike.
"There's certainly money out there," Bryant said during his Saturday press conference. "It's a very, very profitable game. It's just a matter of if they want to. I don't know, I really don't. But it would certainly be cool."