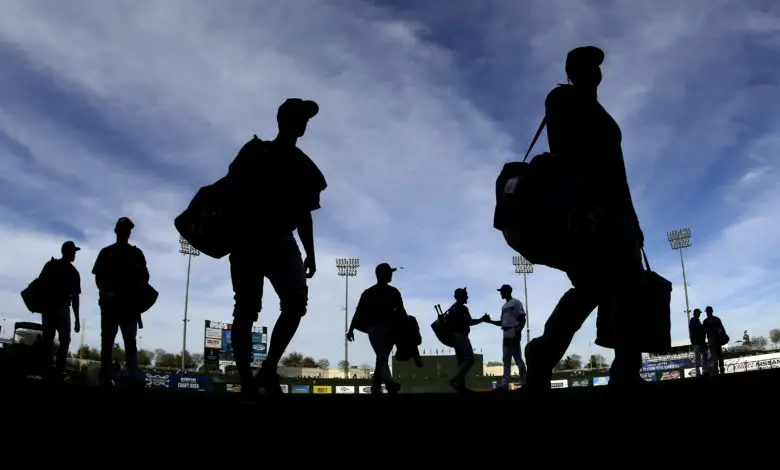 Spring Training Reboot Will Last at Least 2 Weeks, Probably Twice That
With life as we know it turned sideways and shaken, it's not been easy to find touchstones of normalcy. The moment you think you've found a little bit of hope to cling to, it's ripped free by fear of the unknown. Sports are often our safe harbor in troubled times, but they're now at one of the biggest contributing factors to the collective unease.
Perhaps the only reassuring aspect is that we're all a part of this together, even when we're intentionally keeping ourselves apart. And though we don't know when we'll be able to gather to cheer our teams as they play actual games again, maintaining the faith that we'll do so at some point this summer is what's keeping a lot of us going.
Baseball has a little more time than other sports that were already deep into their seasons, but it's not as simple as just setting a new date for Opening Day. In addition to myriad labor issues, headlined by service time negotiations, MLB will need to establish an appropriate timeline for its rebooted spring training.
The extended time off is one thing, but the inability to work out in group settings or access proper facilities may beget the need to basically reboot spring training altogether. Even the best offseason workout plans, which is exactly what these players are participating in right now, aren't an adequate substitute for live competition.
"I think we'll manage, and they've told us we'll have some sort of spring training build-up time again, so shouldn't be too much of a surprise," Cubs righty Alec Mills told Cubs Insider. "Although I plan on staying in pretty much the same shape arm-wise.
"You're never going to be able to replicate any sort of game environment. Bullpens are good, obviously, but there's nothing like pitching in a game. And I think it's just a matter of trying to stay in shape [since] that two, three, four week period — whatever we get — should be enough to get me back into game intensity, game shape, and be ready to go."
Blue Jays president Mark Shapiro leaned toward the longer end of that spectrum when addressing baseball's shutdown in a teleconference with Toronto reporters this past weekend.
"Knowing that so many players are not even having any access to throwing at all or hitting at all, but most importantly just throwing, and probably limited access to just training and exercise, it's hard to imagine we could get ready in less than four weeks," Shapiro explained.
Barring any changes to the CDC's recommendation of May 10 as the earliest possible date by which to resume gathering in groups of 50 or more, a four-week ramp-up puts the new opening day at or around June 7. As if the U.K.'s response to COVID-19 wasn't damning enough in and of itself, holding the London Series within a week of the season's start probably isn't wise.
The All-Star Game is likewise in jeopardy and there's even a rumor that MLB could cancel both the amateur draft and international free agency this summer. That's pretty depressing, even if it's somewhat justifiable from a logistical standpoint.
Rather than thinking about what isn't going to happen, though, let's just keep looking forward with hope for what is going to happen. As of right now, MLB is still planning to have a season of some sort, so that's what I'm focused on.