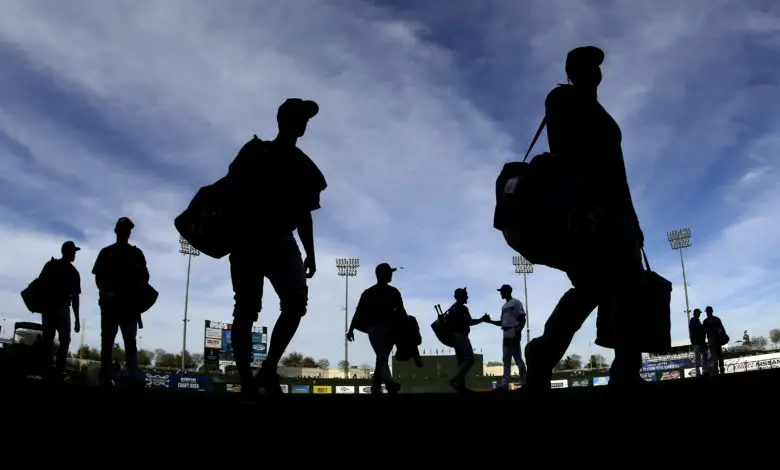 MLB Proposal Would Credit Service Time to Players if Season Cancelled
Service time has been at the heart of ongoing negotiations between MLB and the players union, specifically what would happen in the event that the 2020 season is cancelled. A shortened season is easy, since service can be credited in relation to the number of days actually played, but players would like to receive credit for a full season if no games are played. Owners had initially preferred that no time be granted, or that any credit be based on a set of stipulations.
While both sides remain hopeful for baseball's return as early as June and would like to squeeze in as many games as possible, the dynamic situation requires that all contingencies be addressed. However, perhaps because of a recent tide of optimism, the service-time hurdle may be getting quite a bit shorter than initially believed. As Ken Rosenthal of The Athletic tweeted Wednesday, MLB's latest proposal "includes service time for players if season is canceled; players would get same service for '20 they earned in '19."
Latest MLB proposal includes draft in 2020, likely later than current June dates, sources tell The Athletic. Also includes service time for players if season is canceled; players would get same service for '20 they earned in '19. Parties earlier had discussed tabling that issue.

— Ken Rosenthal (@Ken_Rosenthal) March 25, 2020
That does nothing for those players who would have been rookies, but it's a big deal for veterans  in their final year of contractual obligation one way or the other. For instance, Mookie Betts would hit free agency without ever having a chance to lose a World Series with the Dodgers. There's some debate over whether or not that's actually a good thing for him given baseball's uncertain financial picture in the wake of a forfeited season, but he's got a little more cachet than several other potential free agents.
One of those might be Jon Lester, who would be another year older and without the benefit of a potential bounce-back year to set his value. If, that is, he wants to continue playing. Or what about players who are still arbitration-eligible and can't argue for a raise based on production? That's a big win for owners.
Then there are the players like Ian Happ, who accrued very little service time after spending most of the season in the minors. Congrats, buddy, here's your 63 days or whatever. Another 46 and you'll have built up a whole year of time over three seasons!
It's impossible to find any perfect solutions in even the best conditions, let alone the unique circumstances under which baseball is now operating. As such, MLB offering to credit service time in the manner proposed above is a welcome olive branch. Unless, of course, it's really just a thorny stalk disguised with olive leaves. Guess we'll find out at some point.