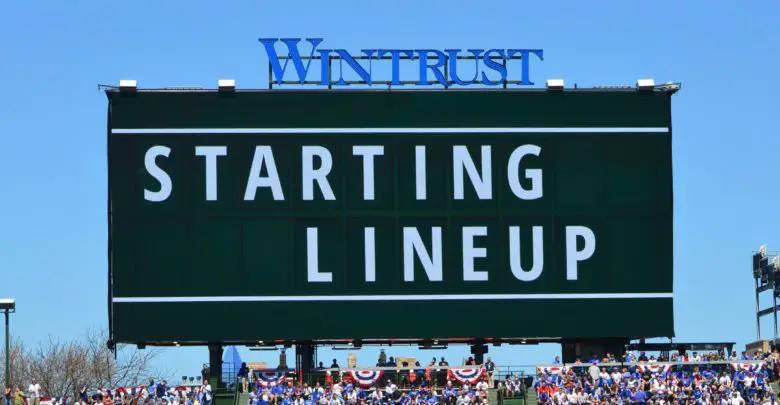 Chicago Cubs Lineup (8/11/20) – Happ in CF, Caratini DH, Kipnis 2B, Lester Takes Hill
The Cubs haven't played since being lambasted last Thursday in Kansas City, but they head into this series against the Indians boasting a 4.5-game division lead and the best record in baseball. As nice as it would have been to beat up on a depleted Cardinals team, let's hope the extra rest did the Cubs well.
Kris Bryant leads off at third, followed by Anthony Rizzo at first and Javy Báez at short. Kyle Schwarber cleans up in left, Willson Contreras catches, Ian Happ is in center, and Jason Heyward is in right. Victor Caratini handles the DH duties and Jason Kipnis rounds out the order at second.
Jon Lester hasn't pitched in nine days, so we'll see whether the unwanted time off added rust or made him even sharper than we've seen already. If the latter is true, Cleveland doesn't stand a chance. Lester's got a 0.82 ERA through two starts and has been hitting his spots to induce weak contact rather than simply trying to miss bats.
His counterpart for this one is 28-year-old Adam Plutko, who is making his first start in two weeks because Mike Clevinger violated team and league safety protocols over the weekend and is quarantining. Clevinger was with Zach Plesac, nephew of former Cubs pitcher and current MLB analyst Dan Plesac, who was sent home from Chicago Sunday after meeting friends for a night out.
While Plesac was given a rental car to drive back, Clevinger remained with the team and flew back to Cleveland with them Sunday evening. As we've seen with the Cardinals from their flights to and from Milwaukee, it's probably not a great idea to have players who've potentially been exposed to COVID climbing aboard a sealed tube with recirculated air.
Maybe nothing happens from this, but MLB needs to do something about players brazenly flouting the rules that have been set forth. This isn't just a victimless breach like staying out past curfew or showing up to a day game with a hangover. The wanton dumbassery of these two players could put several others at risk and cause all kinds of health and logistical problems for other teams.
Anywho, Plutko has been a very pedestrian pitcher over the course of his career and shouldn't pose much of a challenge to Cubs hitters. Famous last words, huh? His fastball is just 91 mph, but it sets up a slider that is easily his best pitch. The curve gets a little usage as well, then he's got a change that he'll throw on rare occasion.
The big thing with Plutko is that he's a strike-thrower who won't walk many batters. His MO is to get ahead early with a very high percentage of first-pitch strikes, then limit the damage by avoiding free passes before one of his pitches is inevitably tagged. He has allowed 46 homers over 196.2 career innings, with at least one in 24 of his 33 total starts.
Plutko has allowed multiple homers in 11 starts, including this season against the White Sox, and has only held opponents homer-less in 14 of 42 career MLB outings. If that slider isn't sliding very well tonight, this game could be fun to watch.
First pitch is set for 6:10pm CT on Marquee Sports Network and 670 The Score.
We're back in action tonight! pic.twitter.com/XtUhdcNl34

— Chicago Cubs (@Cubs) August 11, 2020