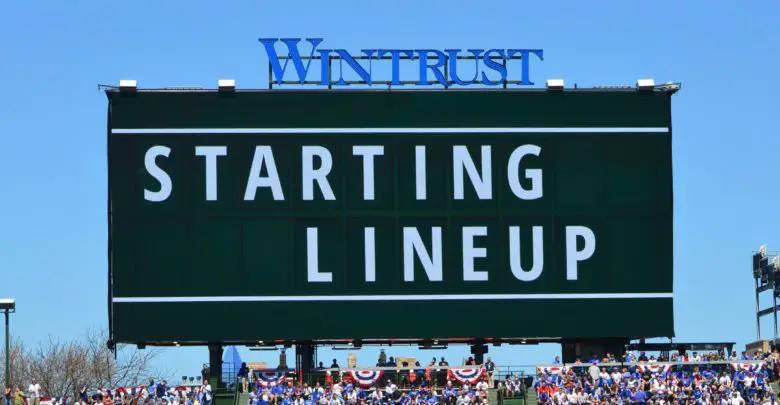 Chicago Cubs Lineup (8/19/20, Game 1): Happ Leads in CF, Hoerner at 3B, Mills Starting
Hey, how much you wanna bet the Cubs and Cardinals can play two 7-inning games in the time it took to play last night's affair? At 4 hours and 9 minutes, Tuesday's game was less than half an hour shy of the combined playing time from Monday (2:03 and 2:33, respectively). With both teams starting to run a little thin, however, that second contest could drag a little.
Ian Happ has been the Cubs' best hitter this season and he's back in the leadoff spot and playing center in this one. Anthony Rizzo, Javy Báez, Kyle Schwarber, and Willson Contreras follow in their usual spots. Jason Heyward has been swinging a hot bat lately and he'll be in right, followed by Jason Kipnis at second and Victor Caratini at DH. In an interesting twist, Nico Hoerner will play third base.
Alec Mills is on the mound for the matinee as he tries to replicate his early effort against Milwaukee the last time out. He doubled his strikeout total from the first two games, but a mistake to Christian Yelich on a hanging changeup sealed his fate. Mills has been the real deal throughout his Cubs tenure and he's earned the trust of his manager over three previous starts, but a strong effort in this one would really lock things in for him.
Cardinals ace Jack Flaherty is making just his second start of the season after taking the bump on Opening Day. He may not have faced the Cubs had their series taken place in St. Louis as originally scheduled because the Cards were looking to ease him back following a two-week layoff. Now he's been off for nearly four weeks, so you have to wonder whether and how he'll be affected.
Flaherty was on point against the Pirates in his lone previous start, striking out seven with no walks over seven innings. He did allow two runs on six hits, but he limited hard contact and kept the ball out of the air for the most part. He also worked with pretty much the same repertoire we've seen from him over the past two seasons.
His fastball sits around 95 mph and can touch higher when he needs it to, then he's got a wicked slider that induces lots of ugly swings. The sinker gets a little usage as well and it's interesting to note that Flaherty throws it a good 3 mph slower than his four-seam. While it's not at all uncommon to see velo differences, that's more of a gap than we see with most pitchers.
One other note of potential significance is that he threw the curveball a lot more in that first start, about 19% as compared to roughly 12% in the past. That could simply be a matter of feel or the scouting report, same for the changeup he didn't throw at all against the Pirates. Regardless, the fastball/slider combo is his bread and butter and that's what the Cubs need to watch for.
Flaherty has been equally good against all hitters, though lefties may have a very slight advantage. Though it's of very little significance, I will point out that righties have actually hit him better when he's on the road. They slug more and have a higher wOBA than their left-handed counterparts, so watch for that this afternoon just in case.
First pitch is set for 1:20pm CT on Marquee and 670 The Score, with Game 2 following 45 minutes later.
Here is our Game 1 lineup for today's doubleheader!#LetsPlayTwo pic.twitter.com/5PASfHqhze

— Chicago Cubs (@Cubs) August 19, 2020