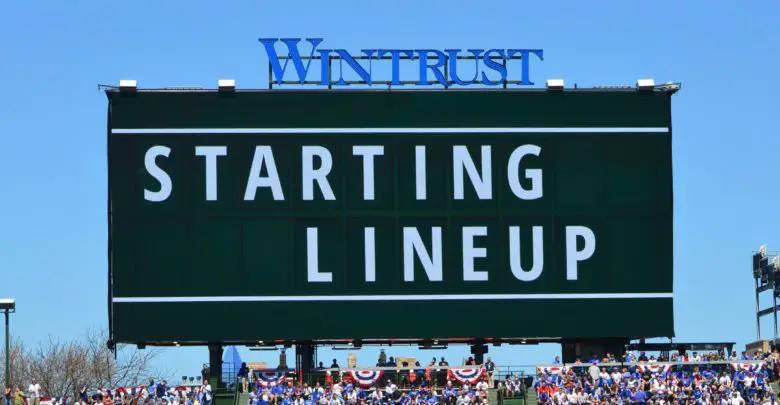 Chicago Cubs Lineup (8/28/20): Happ Leads Off, Heyward in RF, Hendricks Pitching
The Cubs didn't look good in Detroit, but the Reds did them a favor by rolling the Brewers in both ends of a doubleheader on Thursday. These two teams will have a twin bill of their own Saturday, but for now it's all about Kyle Hendricks Revenge SZN.
Hendricks pitched what was easily his worst game of the season in Cincy coming off of what was easily his worst game of the season on Opening Night. He allowed six earned runs on seven hits and two walks, striking out just three as he failed to make it out of the 5th inning. The hits are a fact of life for Hendricks, who's allowed seven knocks in four of six starts so far, but his trouble against the Reds was that he didn't get enough contact on the ground.
It's hard to imagine a repeat of that earlier performance, so here's to hoping The Professor has his syllabus at the ready in this one. Getting a few earlier runs of support might be nice too.
That starts with Ian Happ in center, Anthony Rizzo is at first, and Javy Báez is at short. Kyle Schwarber cleans up in left, followed by Willson Contreras at DH and Jason Heyward in right. David Bote is at third, Victor Caratini is catching, and Jason Kipnis is at second.
They'll be facing righty Tyler Mahle for the second time this season and seventh in his career, so maybe they'll finally figure him out. While he doesn't possess nearly the same ownership stake in them as Gio Gonzalez, Mahle has pitched much better against the Cubs than he has against other opponents. His 3.74 ERA against the Cubs is his lowest against any team he's faced more than three times, well below his career 4.86 mark.
A .647 team OPS against Mahle says the Cubs aren't getting to him very well at all, largely because Rizzo has just a .536 OPS in 12 at-bats. Heyward is at .467 in 15 ABS and Contreras is at .500 in 10. Ian Happ is 0-for-6 with three walks and three strikeouts, while Schwarber leads the team with four hits (one homer) against Mahle.
The righty's fastball is up a little this season to just over 94 mph and he's getting good results with it, particularly as it sets up his firm splitter. His cutter and slider haven't really done much despite being used more frequently after he scrapped the curveball.
Mahle's swinging strikes and strikeouts are up as well, but he's working much less in the zone and it shows in his increased walks. He's also giving up more hard contact, a lot more of which is in the air than in previous seasons. The main thing he's got going for him is a sudden ability to shut down left-handed hitters, which works well in that bandbox by the river.
By all accounts, the Cubs should be able to jump all over Mahle and force the Reds to go to their bullpen early. The way they've been hitting lately, though, hoping for an offensive explosion might not be in your best interest. Still, it's possible.
First pitch is at 6:10pm CT on Marquee Sports Network and 670 The Score.
Here is tonight's #Cubs starting lineup. pic.twitter.com/b3aTr623aQ

— Chicago Cubs (@Cubs) August 28, 2020