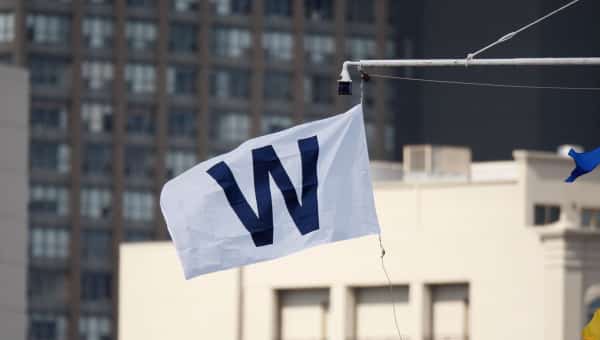 Chicago Cubs Score and Recap (9/18/20): Cubs 1, Twins 0 – Hendricks Strikes Out 10 to Make Early Run Stand Up
If you decided to run errands during the 1st inning of Friday's game, you probably missed all the scoring. The Cubs got on the board three batters in and Kyle Hendricks tore through the Twins order posthaste for eight innings en route to a 1-0 combined shutout over the Twins at Wrigley.
Hendricks has a way of working quickly, not running too many deep counts, and getting lots of weak contact. He was also missing a lot of bats against a lineup that tends to strike out quite a bit. His sinker, change, and curve were all sharp and, other than the 1st inning, Hendricks never dealt with more than one baserunner at a time.
The Cubs didn't produce much offense to back Hendricks as old pal Rich Hill them with that notorious hook of his. He was almost as good as Hendricks, working seven innings and yielding just three hits. However, Hill got off to a rough start that made all the difference. After a walk and stolen base by Anthony Rizzo, the Greatest Leadoff Hitter of All Time, Kris Bryant also walked to set up Willson Contreras to single home the game's only run.
There were only two moments of drama after that, the first of which involved home plate umpire Angel Hernandez. In the bottom of the 3rd, Kyle Schwarber took a Hill curve ball off his right triceps only to be called back to the plate by Hernandez for leaning into the pitch. It was an incredulous call and David Ross came out to protest, but to no avail.
Things got a little tense in the 9th as Jeremy Jeffress walked two of the first three batters he faced, but he was bailed out by some slick defense to help close things out. (Box score)
Key Moment
After a walk to start the 9th, Jeffress got a ground ball up the middle. Nico Hoerner fielded it and flipped to half man/all magician Javier Báez who executed a casual jump-throw to first for a double play.
Why the Cubs Won
Hendricks was spectacular and had everything working while Contreras provided just enough for the win.
Stats That Matter
Hendricks continues his fine year with another quality start: 8 IP, 3 H, 0 R, 10 K, 1 BB, W.
Contreras has been great in September and added a 2-for-3 night, including a walk and the game's lone RBI.
The Cubs are now 11 games over .500 at 31-20.
Bottom Line
Despite some drama in the 9th, Jeffress was able to buckle down and finish things off for the Cubs' fifth win in a row. Hendricks looks primed for the playoffs and provides as good a 1-2 punch as anyone in baseball when paired with Yu Darvish.
On Deck
The weekend set with the Twins continues Saturday night at 7:15pm CT, featuring Alec Mills against Michael Pineda. Game coverage is provided by Marquee and 670 The Score.