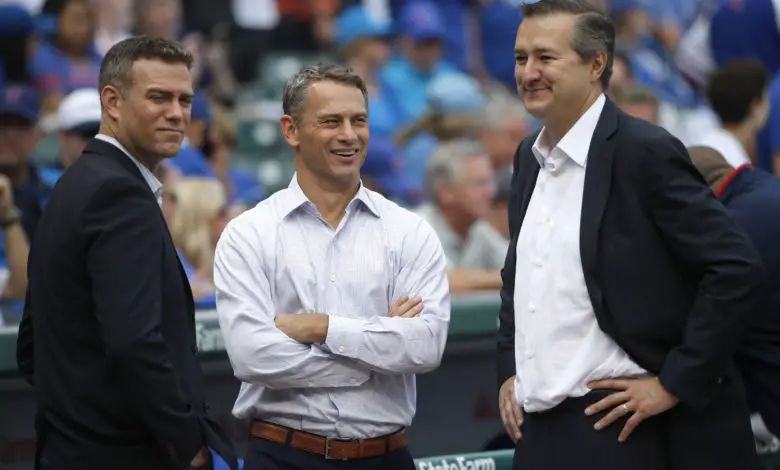 The Rundown: Theo Staying, Transition to Hoyer Likely, Lester Could Return, Yankees Go Off, Bregman Shines in October
"There are two fatal errors that keep great projects from coming to life: 1) A failure to start. 2) A failure to finish."
– Buddhist saying
I've been to about a half-dozen corporate retreats in my life and the phrase above is usually part and parcel of every speech delivered by each keynote speaker at every one of them. It appears Theo Epstein and Tom Ricketts share a common short-term goal for the future of the Chicago Cubs Baseball Club, and that is that Epstein will remain with the Cubs through the end of his contract, at which point the president of baseball operations will pass the torch to Jed Hoyer.
Don't have to read between the lines too much when it comes to Theo Epstein: He will be back for the final year of his contract and then most likely move on. Been trending that way for a while so no surprises to his comments today. He reinforced that idea just now

— Jesse Rogers (@JesseRogersESPN) October 5, 2020
"I don't think anything has changed from the perspective of what his responsibilities are," Ricketts told Marquee Sports Network yesterday. "[Theo] will continue to be the president of baseball operations and do the right things [in] the best interest of the ball club through the end of his contract."
Epstein concurred.
"Look, as I've said, we've only had general discussions about a potential transition, whenever that may be," he said. "Nothing specific. Obviously now is the time to be thoughtful about it. You do have to start getting more specific and making some more decisions.
"Jed is someone who has been a huge part of the success here with the Cubs and with the Red Sox before that. He's also someone who has already been a successful No. 1 in baseball operations when he served as general manager of the Padres. I recognize those qualities, and everything that he brings to the table, how much he has done for this organization, and Tom and the Ricketts family do too."
That should provide plenty of meat and potatoes for the rest of the month, as Epstein seems to be on a bit of a mission. It looks like, at least in his mind, he has some vision of what the team will look like next season and beyond. Some early housekeeping may include bringing Jon Lester back. The two are set to meet in "the next couple of days," and it seems some type of agreement to keep the veteran lefty in Chicago is likely.
Then there is the matter of fixing the team's broken offense, and Epstein didn't mince words there. Breaking up the team's core could be part of restructuring the roster, even if it means moving assets as part of an organizational short sale. Unless the league and the players union agree on a new CBA before the start of the 2021 season, any compensation for losing a free agent after next season is unknown at this time. There is also the matter of money available to potentially extend Kris Bryant, Javier Báez, Kyle Schwarber, and Anthony Rizzo. For a team self-anchored to the bottom of the financial pool, the Cubs may need to get particularly creative to keep some or all of those players beyond 2021.
As I said yesterday, Epstein isn't likely to hand Hoyer a box of rocks, so expect any loose strings to be secured before he rides off into the sunset. It doesn't seem possible, but Rizzo could be the first to go. He arguably holds as much trade value as anybody on that team and the Cubs hold a $16.5 million option for next season. If the first baseman really wants to be a Cub for life, he may have to accept a one-year detour and then try to negotiate his way back to the Friendly Confines as a free agent in 2022.
"We know what our losses were this year; we don't know what our revenues are going to be next year," Epstein succinctly added. "We don't know how many fans we're going to be able to have and at what different points in the season."
Whatever the front office has planned, this winter should be a lot more entertaining than the last two as some fans may be forced to say goodbye to their favorite players. I read on Twitter over the weekend that it's the fans' job to love the players, not Epstein's. His job is to put the team in the best position to win.
Cubs News & Notes
Odds & Sods
Giancarlo Stanton is a large man who hits baseballs very, very far.
Just another photo of Aaron Judge looking like an absolutely massive human being pic.twitter.com/fnLgPorVV7

— Danny Vietti (@DannyVietti) October 6, 2020
Postseason Potables
The Yankees hit four home runs, including a grand slam by Stanton, and Gerrit Cole got "nastier as the game wore on" as New York took the early lead in their best-of five series with Tampa Bay last night. Aaron Judge, Clint Frazier, and Kyle Higashioka also homered for the Bronx Bombers. The Rays will try to even the series tonight, sending Tyler Glasnow to the mound against rookie Deivi García. Glasnow has recorded eight or more strikeouts in nine of his 12 starts this year.
The Astros jumped on the A's yesterday, winning 10-5 in the opening game of their Division Series. Houston posted an abysmal .205/.259/.326 slash line and averaged just 2.5 runs per game against Oakland in the regular season, but they had 16 hits yesterday, the second most in a playoff game in club history. It could have been much worse, as Houston left 20 men on base. Carlos Correa led the offensive explosion with two home runs and four RBI. Oakland will turn to Sean Manaea to try to even the series this afternoon. The Astros will counter with Framber Valdéz.
The Braves and Marlins will kick off their NLDS matchup with a matinee matchup at Minute Maid Park in Houston. Sandy Alcantara, who pitched 6.2 innings of one-run ball against the Cubs in the Wild Card series, will take the bump for Miami. Atlanta will counter with Max Fried, who should draw strong consideration for the NL Cy Young.
The Dodgers and Padres will kick it at Globe Life Field in Arlington tonight in baseball's final matchup of the day. San Diego manager Jayce Tingler has yet to announce his starter, but it could be Mike Clevinger or Chris Paddack. Los Angeles will counter with Walker Buehler, who seems to have assumed the role as the team's ace.
Apropos of Nothing
Just for grits and shins, let me lay some Chris Berman-isms on you using some of today's starting pitchers:
Tyler "Walking on Broken" Glasnow
Sandy "Abra" Alcantara
Max "Little Bit of Chicken" Fried
Sean Manaea "From Heaven"
Framber "Exxon" Valdéz
Walker "Texas Ranger" Buehler
Chris "It Tastes Like Lobster" Paddack
How About That!
Alex Bregman has a penchant for hitting home runs on October 5. The Astros third baseman went yard yesterday for the fourth year in a row.
Devin Williams of the Brewers was named Baseball Digest's Relief Pitcher of the Year. Atlanta first baseman Freddie Freeman was named Player of the Year and Shane Bieber of the Indians was named Pitcher of the Year.
Red Sox television ratings tumbled more than 50% this year. That won't sit well with the team's owners and you can expect Boston to be very active this winter.
Phillies slugger Rhys Hoskins had elbow surgery and will be sidelined for 4-6 months.
Fernando Tatís Jr. expects to be an impact player in the NLDS, saying that "Real players make real history in the postseason." He sounds like he's aiming for a career in marketing after he retires.
The Supreme Court is allowing a class-action lawsuit to proceed from minor league baseball players who allege they are being paid less than minimum wage.
Veteran umpire Angel Hernandez has been assigned to work the Dodgers-Padres series.
The much-maligned Hernandez has an ongoing discrimination case against MLB, arguing his lack of involvement in high-profile games since 2005 is racially motivated.
Sliding Into Home
It seems like I never get a break from my doctors and I guess that's the new normal for me. This Friday I am having my pancreas examined thanks to some alarming results in my latest blood panels, and I have my first esophageal checkup since the procedure I had back in July. I realized yesterday that private insurance is truly a privilege. It's too bad we can't find an optimal way to offer all Americans the benefit of medical care. My out-of-pocket since last October has been only slightly north of $14,000 of the nearly $200,000 in medical charges I've incurred.
Extra Innings
May I add that betting is legal in many jurisdictions these days.
In the history of best-of-five postseason series, Game 1 winners have gone on to take the series 98 of 136 times (72 percent).

— Bryan Hoch (@BryanHoch) October 6, 2020
They Said It
"There are going to be certain fundamentals that are true of this winter and this market that have been true for decades, and one of those is that — especially relevant in our situation — a one-year deal for a really talented player is a valuable thing." – Theo Epstein
"I've definitely appreciated everything that this organization has done for me, and I hope it's not it. I hope we can figure something out for next year, and these conversations [about having pitched his last game as Cub] are kind of null and void." – Jon Lester
Tuesday Walk Up Song
It Ain't Over 'Til It's Over by Lenny Kravitz – Drive that bus home, Theo.