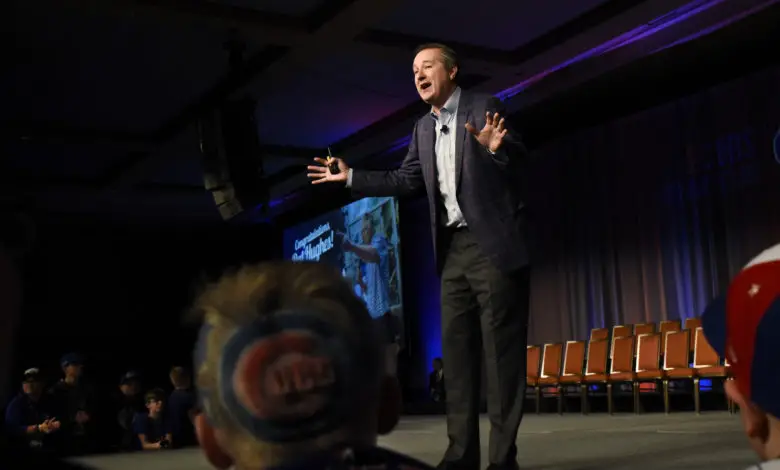 Cubs Organization Gutted by Sweeping Layoffs of Over 100 Employees, Roughly Half in Baseball Operations
The Ricketts family purchased the Chicago Cubs and related assets back in 2009 for around $900 million and quickly set about establishing the quaint notion that it would be a family business. Then they ruthlessly negotiated with rooftop owners, bought and developed every available property in the surrounding Wrigleyville neighborhood, and even supported campaigns to oust local alderman who didn't bend to their will.
That latter point was openly celebrated during Cubs Convention in 2019, though not by ownership since the family had opted against holding its annual panel at the event.
Much of this has been either forgiven or forgotten because they also brought home a World Series title for the first time in 108 years, celebrating with a lavish parade and bestowing some 1,908 championship rings for just about everyone who'd been a part of the organization. Their 1060 Project to refurbish and modernize Wrigley Field recently wrapped up after running "around 100%" over budget, which means it cost somewhere near $1 billion.
But a season without fans meant no one at the ballpark and more than a few vacancies at Hotel Zachary, not to mention far fewer patrons at the bars and restaurants dotting the campus. Tom Ricketts, the Cubs chairman and public face of ownership, has spoken both on and off the record about how owning a baseball team was not a money-making enterprise, then he lamented the "biblical losses" brought on by the COVID-19 pandemic.
That will most certainly lead to a tightening of the belt when it comes to player acquisitions, but it's already affected the organization behind the scenes. We heard back in August that the Cubs were slashing scouting and development staffers, though the grand total now reportedly includes over 100 employees from "almost every sector within Crane Kenney's business operations department, as well as the lifeblood of the baseball operations department run by Theo Epstein and Jed Hoyer."
That comes via Patrick Mooney and Sahadev Sharma ($) over at The Athletic, who name several of the individuals impacted by the cuts. Carl Rice, the former VP of Restoration and Expansion, oversaw the entire renovation project and had been with the Cubs for nearly 40 years before losing his job in September. Jim Benedict was hired as something of a secret weapon to help with pitching development, now he's gone as well.
The Athletic reports that the Cubs have trimmed 47 full-time positions from the baseball side, along with 13 part-timers let go at the start of the pandemic, which means close to 50 more jobs have been eliminated from the business side. This is all fallout from a reported $140 million revenue loss this season and a projected loss of $120 million loss next season, though it's important to note that failing to make as much as expected isn't the same as actually losing money.
That said, the Cubs invested heavily in Marquee Sports Network, which is a partnership with Sinclair Broadcasting and not just a contractual arrangement from which the Cubs net a pure profit. The short season and very public delay in inking a deal with Comcast meant far less money being generated by the new network. There's also the matter of the little family business that now includes dozens of satellite enterprises owned by the Ricketts' Marquee Development, formerly known as Hickory Street Capital.
While team ownership had previously maintained that HSC and the Cubs were separate, business operations president Crane Kenney told Cubs Insider and a panel of bloggers that external revenue can impact payroll. One has to imagine, then, that losses taken by those Cubs-adjacent business could likewise affect the liquidity required to cut checks to players.
I don't want to get too far into speculation on that front because I obviously have no proof of that and never will. Suffice to say this was something no one saw coming and Ricketts has said repeatedly that there isn't some big pile of cash just sitting there like Scrooge McDuck's vault. Whether and to what extent you believe that is up to you, all we know for sure is that the Cubs' baseball and business operations departments have been gutted over the last few months.
That's not a good thing for a team that's trying to "thread the needle" yet again by putting a competitive product on the field while also trying to produce young players for the future. Oh, and we haven't even talked about the inevitable loss of at least one minor league affiliate. The Cubs have done a terrible job of developing either pitchers in general or position players drafted outside the first round, now they'll have to figure out how to improve those fortunes with even fewer scouts and coaches.
If you want to feel better about all of this, I don't recommend watching the World Series. And no, I don't mean how the Rays made it on a small budget. The Dodgers have a big payroll and they signed Mookie Betts to a monster extension, but their roster also features a lot of homegrown talent in both the field and on the mound. Of course, they'll still only have as many titles since 1988 as the Cubs even if they win it all this season.