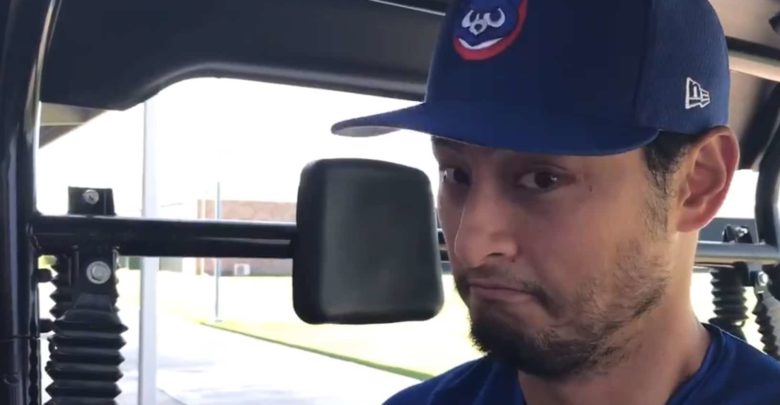 Yu Darvish a Trade Target Mets 'Can Pounce On,' Plus a Wild Cubs Trade Proposal That'll Make You Laugh Till You Pee Yourself
Everyone expects the Mets to spend big money this winter as new owner Steve Cohen attempts to rehabilitate the organization's reputation on and off the field. But free agency isn't the only way to acquire impact talent, so many also believe Queens will be a hotbed of trade activity involving some very big names. Joel Sherman of the New York Post recently listed five potential targets, among them Yu Darvish.
I'm not sure what the odds are of any of those actually coming to fruition, though I'm sure the odds are out there somewhere. If you're into prop wagers like that, you can actually use a betting calculator to figure out how much you'll win and profit from all kinds of formats. Not that Cohen needs to worry about such things when he's sitting on almost $15 billion of net worth.
"The Mets could take Darvish's whole contract, plus they have a deep reservoir of cost-effective positional pieces such as (Amed) Rosario, J.D. Davis, Jeff McNeil and Dom Smith whom the Cubs could peruse," Sherman wrote. "Like Price in the Red Sox-Dodgers trade, Cohen could even absorb the $17 million owed the faded Craig Kimbrel to lower the prospect return."
It's an interesting thought at the very least, but one that's almost completely predicated on the idea that the Cubs intend to punt on 2021. That's a very different strategy than simply cutting payroll, since they can still spend less without moving a Cy Young finalist. I mean, can you imagine how bad the rotation would look without Darvish?
The Cubs have already lost at least three starters to free agency if you count both Tyler Chatwood and José Quintana in addition to Jon Lester, so they're already facing a challenge when it comes to filling out the rotation. Even if they bring Lester back, trading Darvish leaves them far too thin and strips them of their only hard-throwing starter. As nice as it would be to see some prospects given a shot, and even though the Cubs still need to make good on a promise to be aggressive there, this would place far too much pressure on the farm.
Now, Sherman did note that the Mets could take on Craig Kimbrel as well in order to sweeten the deal for the Cubs from a cost-cutting standpoint. Such a move would slash $38 million in actual payroll and $35.3 in AAV from the luxury tax figure, plus another $76 million in total salary obligation over the next three seasons. Given the suppressed nature of the market this winter, the Cubs could add depth while still maintain a good deal of surplus.
I'm not saying I like that idea, mind you, just pointing out how the logic would go.
How the logic would go on a subsequent trade proposal Sherman presented, however, I really have no idea. He posits that the Yankees should try to send Giancarlo Stanton to the Cubs in exchange for Yu Darvish, Craig Kimbrel, and Jason Heyward. But that's not all.
"Should the Yanks try to widen the deal to figure out a way to get switch-hitting Ian Happ, a good athlete who has shown growth as a center fielder?" Sherman asks. "Yes."
No. Just no. Huh-uh. Again, this move is predicated entirely on the Cubs' desire to lower payroll. Sherman says there's "a sense in the game" that the Cubs want to cut spending a great deal, which, of course there is. When everyone in the organization has said it pretty explicitly and their past two winters have seen less than $10 million total spent on free agents, that's more than just a sense.
"This trade would save Chicago $40 million in 2021, $23 million in 2022 plus $18 million in 2023," reads the explanation of the trade. "Plus their underwhelming farm system could pick up a piece or two additionally as a reward for taking on Stanton from 2024-27."
I mean, okay, but it's very unlikely the Cubs would get any significant prospects in return because the Yankees would be taking on a ton of salary here. What's more, the outfield defense would take a significant hit and the offense wouldn't gain much in the way of dimension. Stanton does walk a lot, but he strikes out plenty as well.
Yes, but what about his prodigious power? That's absolutely an attractive part of his game, no doubt about it, but he's battled injuries the past couple of seasons and will be 31 in a few days with a contract that runs for seven more seasons. Is that something the Cubs want to take on in exchange for losing their No. 1 starter, presumed closer for next season, a Gold Glove right fielder who's gotten better at the plate every year, and a switch-hitting outfielder who was a dark-horse MVP candidate prior to fouling a ball off of his eye?
No, it's not. Though this makes no sense to me, it did bring a smile to my face because I find it pretty hilarious. But hey, maybe things have gotten so dire at 1060 West Addison that Theo Epstein would really spend his final year at the helm of baseball operations absolutely gutting the team to make it worse in 2021 without appreciably improving the farm.