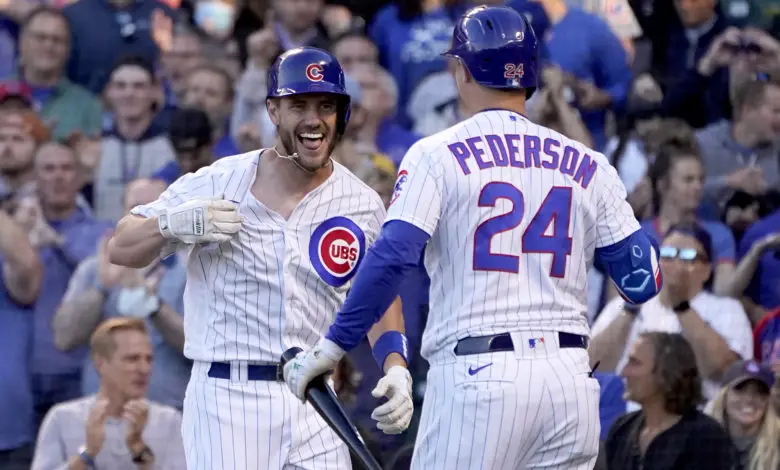 Patrick Wisdom Crushing All Types of Pitches
Patrick Wisdom is scorching hot, and it's not because of his dashing good looks or because he's pitchers don't have a book on him and they keep trying to beat him with a particular pitch. Many minor league call-ups, even the most handsome ones, will initially hit well due to success against only one pitch type (see David Bote against low fastballs in 2018). But Wisdom is literally crushing every type of pitch as he posts record-setting home run numbers.
According to Pitch Info's data, Wisdom is producing positive offensive value against all major pitch types. The numbers below represent how many additional runs he's generated for the Cubs against each pitch. Can he hit fastballs? Yes. Changeups? Oh yes. Sliders? Crushed.
| | | | | | |
| --- | --- | --- | --- | --- | --- |
| wFA | wFC | wSI | wCH | wSL | wCU |
| 4.2 | 0.2 | 1.9 | 2.8 | 1.4 | 0.1 |
A good deal of that value comes from hitting the ball over the fence. Of Wisdom's 15 hits in 2021, eight have been homers against either a changeup, slider, four-seam, and sinker.
| | |
| --- | --- |
| Pitch Type | Pitcher |
| CH | Diaz, Miguel |
| SL | Cueto, Johnny |
| FF | Cueto, Johnny |
| FF | Gausman, Kevin |
| FF | Weathers, Ryan |
| FF | Paddack, Chris |
| SI | Hill, Tim |
| CH | Anderson, Tyler |
My favorite Wisdom homer was his most recent blast against San Diego's Miguel Diaz. Facing a 2-0 count, which is typically a fastball count, Wisdom is thrown an 84 mph changeup on the low, outside portion of the zone. I imagine Diaz's intent was to surprise the batter, and he located his pitch exactly where his catcher set.
Instead of a called strike or a whiff, however, Wisdom torched the changeup for his eighth homer.
Patrick.
Wisdom. pic.twitter.com/bteLPdbJP7

— Brendan Miller (@CubsRelated) June 9, 2021
Watching Wisdom's blasts gives the Cubs and their fans energy, plus his energy makes him a blast to watch. In his first legit chance as a big leaguer, he's taking full advantage of every opportunity and has earned a spot in the lineup on a daily basis. One caveat, though, is Wisdom's <5th percentile contact rate. MLB pitchers will adjust to him and some point and time will tell if his tendency to whiff will become problematic as he adjusts back.
But Wisdom might well have the capacity to do just that because he's proving early on that he can do damage against pretty much anything thrown his way.