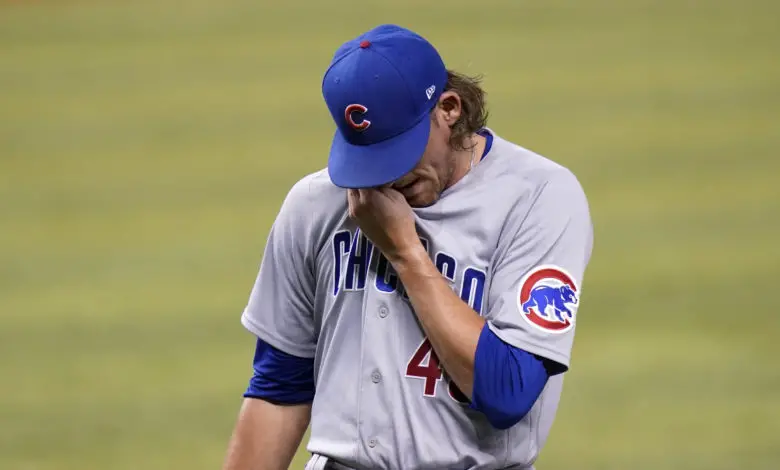 Dan Winkler's Stats Finally Match Eye Test, Time for Cubs to Change Direction
The first time I saw Dan Winkler pitch was as a member of the Braves when he came on in relief against the Cubs. Someone in the crowd at Wrigley was taunting him by calling him Henry Winkler, who famously played Arthur Fonzarelli in those Happy Days reruns that were a mainstay on the WGN of my youth. And just like his trollified namesake, Winkler appears to have jumped the shark.
Or maybe it's the regression monster Winkler had been trying to avoid. Either way, the razor-sharp teeth of reality have taken a big, wet bite out of his backside after he spent the first part of the season acing the stats quiz despite frequently flunking the eye test.
Through his first 23 appearances of 2021, Winkler boasted a 1-0 record with six holds and a sterling 0.44 ERA that would have you thinking he was an elite reliever. But he had also walked 11 batters, nine of which came in four separate multi-walk outings that made several of his outings a little more stressful than necessary. That's why his 3.42 FIP and 4.89 xFIP — a number inflated by the fact that he'd not allowed a homer — were at such odds with his ERA.
That was through June 4, just before MLB announced plans to enforce its rules on the use of sticky substances by pitchers. In four appearances from June 5-18, Winkler posted a 6.75 ERA with four walks and five strikeouts while also giving up his first homer of the year. His 6.93 FIP and 5.91 xFIP show that the results weren't all that flukey, small though the sample size may have been.
In 20 appearances since MLB's enforcement became official, Winkler has an 11.40 ERA with 15 walks and 15 strikeouts across 15 innings pitched. He has also given up four homers in that time. The numbers are inflated by the 12 runs he's allowed on nine hits and five walks over just 1.2 innings over his last three outings, but it sure looks like Winkler is having trouble adjusting to the stricter rules.
---
First 23 appearances: 20.2 IP, 0.44 ERA, 4.89 xFIP, 20 K, 11 BB, 12 H, 0 HR
Next 24 appearances: 19 IP, 10.42 ERA, 6.93 xFIP, 20 K, 19 BB, 20 H, 5 HR
---
That or he's just falling back to a more natural level of production after outperforming his projections across 18 appearances last season and then through the first half this year. Winkler is 31 years old and isn't under contract for next season, so regardless of the reason for his regression, it seems prudent for the Cubs to move in a new direction with the bullpen and get a little younger.
There really shouldn't be any concern for starting anyone's service-time clock early because pitchers, particularly relievers, are much more of a risk when it comes to health and consistency. As such, the Cubs should be looking to promote one of several players from Triple-A who could get a little seasoning in Chicago over the next few weeks.
Among the names that come to mind first are Ben Leeper and Dakota Mekkes, the latter of whom has been hanging out at the top of the system for a while now. Mekkes has been used somewhat sparingly because he's a multi-inning guy and he was shelved for nearly a month in June and July due to shoulder issues, but it might be time for the Cubs to see what they've got in him.
Leeper is only 24 and this is his first year of affiliated ball, but he's posted a 1.31 ERA with an .091 opponent batting average and he's struck out 31 batters to nine walks over 20.2 innings with Iowa. That will play.
Another very intriguing option is 27-year-old righty Scott Effross, who will be eligible for minor league free agency next season and should be under consideration for the 40-man roster. After plateauing at High-A Myrtle Beach in 2019, the Cubs sent Effross to Mesa mid-season to change to a sidearm delivery. He didn't get much of a chance to use it in competition due to the cancellation of the minor league season in 2020, but he's been great for Tennessee and Iowa this year.
Can I interest you in a multi-inning reliever that features these stats between Double-A and Triple-A?

0.99 WHIP
.204 opponent batting average
28.3% strikeout rate
5.9% walk rate
54.5% ground ball rate

That's Scott Effross.

— Greg Huss (@OutOfTheVines) August 17, 2021
Since two poor performances shortly after his promotion to Triple-A, one of which came in a brief run as a starter following other roster moves, Effross has really settled in. He has a total of 62 strikeouts to 13 walks over 55.1 innings this year and that sidearm delivery presents a different look from anything else the Cubs have. Jed Hoyer has talked before about liking guys with a little funk and he's mentioned several times that the Cubs need strike-throwers.
I am willing to guarantee Effross would be an upgrade in the middle innings and the Cubs would get a chance to see if he's got what it takes to play a role moving forward. Now is when the team needs to be figuring these things out, so might as well give a new guy some run. If nothing else, Effross gives fans a chance to tell the manager what they think about the job he's doing.
---
Update: Winkler has been DFA'd.