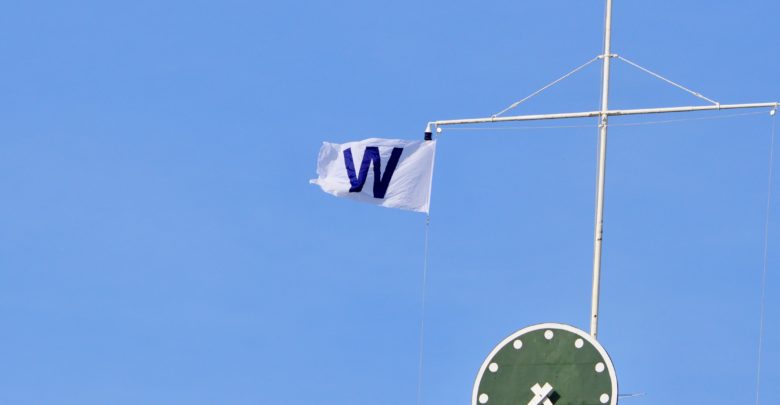 Chicago Cubs Score and Recap (10/2/21): Cubs 6, Cardinals 5 – Happ Bomb Gives Cubs Win in 9th
Ian Happ sent the Cards fans home unhappy with his two-out 9th inning blast to put the Cubs on top for good 6-5 on Saturday night at Busch Stadium.
The Cubs only scored on two hits, but boy oh boy were they big ones. Trayce Thompson went deep for the second night in a row as he started the Cubs scoring with a bang on a 5th inning grand slam off old buddy Jon Lester. While Lester had been rolling to that point, staked to a 1-0 lead in the 1st thanks to a Harrison Bader solo shot, Thompson basically spelled the end of his night as he got just one more out before departing.
The Cards got one back in the bottom of the 5th thanks to a Paul Goldschmidt double and Tyler O'Neill RBI triple to make things 4-2, but it was the 7th that almost did the Cubs in. In what would have been a 1-2-3 inning, Sergio Alcantara's throwing error opened the flood gates as the Cards got three straight singles and plated three runs to take a 5-4 lead that would last all the way until two outs in the top of the 9th.
Thankfully, that's when Happ decided to jump on a Luis García 98 mph heater, depositing it 451 feet away under the batter's eye in center for a two-run home run that put the Cubs up 6-5. Charged with locking things down after giving up the game-winning hit the previous night, Rowan Wick was able to slam the door on the hot O'Neill by blowing it past the slugger with a heater of his own. (Box Score)
Why the Cubs Won
How often do you lose when you hit a grand slam, right? The pitchers were good and two big hits did the trick.
Key Moment
Happ's absolute bomb to centerfield was the deciding factor in the top of the 9th.
Stats That Matter

The Cubs tied an MLB record by using 67 players during this 2021 season.
Don't look now, but Frank Schwindel may have hit that wall everyone was expecting; he's just 1-for-15 in his last three games and 6-for-33 in his last seven.
Happ was slashing a putrid .175/.284/.318 on August 11; he's now slashing .227/.323/.436 on the season. He's been the 13th most valuable (1.9 fWAR) player in the bigs (Schwindel is 12th with almost identical numbers, coincidentally) and hit his career-high 25th home run tonight.
Bottom Line
Let's be honest, this team has had some fun moments and plenty of big hits since Jed Hoyer ran up the white flag at the trade deadline. Sure, there's been lots of losing, but that was the case before the deadline too. Some of these young and not-so-young guys have been a breath of fresh air and have been so easy to root for. Here's hoping that some of them can join forces with a few meaningful free agent signings over the winter to produce a competitive team next season. Oh, and let's hope Willson Contreras is okay after exiting with hip tightness in the 3rd inning.
On Deck
It's strange to say, but there's only one more game left in this 2021 Cub season. They can't spoil anything or affect their draft position, so they'll be doing what they've been doing the past two months: being scrappy and having fun. To that end, they'll send Alec Mills to the bump to take on young Cardinals righty Jake Woodford. Game time is almost uniform across baseball on the last day of the season, with game time coming at 2:15pm CT in St. Louis. As usual, Marquee and 670 The Score will be carrying Game 162.