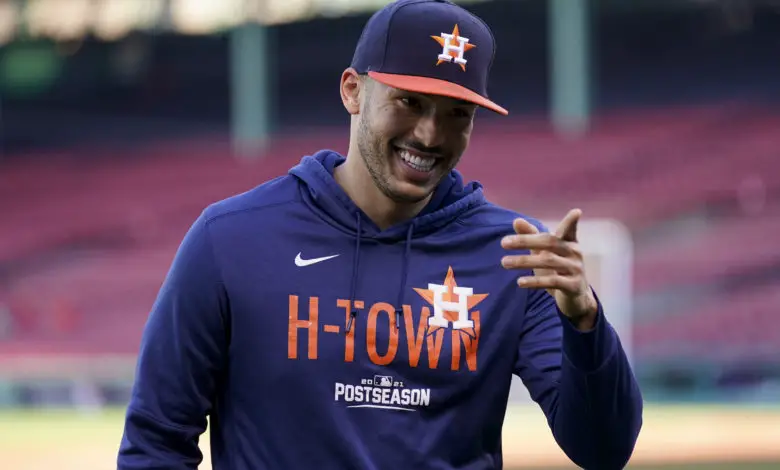 Carlos Correa Changes Agencies, Now Scott Boras Client
Any slim hope that Carlos Correa would be amenable to some form of a seven-year deal with the Cubs may have vanished Tuesday with the news that the shortstop has hired Scott Boras to represent him moving forward. I have had to correct myself more than once in the past for listing Correa as a Boras client, so this at least does me the favor of saving on editing time.
"I have made the decision to hire Boras Corporation to represent me moving forward. Boras Corporation offers the highest level of baseball expertise and proven experience," Correa said in a statement tweeted by Mark Berman of FOX 26 in Houston.
Correa had previously been a client of William Morris Endeavor, which was more known for its clout in Hollywood than in baseball prior to a big purchase in December. In a move criticized by the MLBPA, Endeavor's Diamond Baseball Holdings venture purchased nine minor league teams — including the Iowa Cubs — and created what the union felt was a serious conflict of interest.
It's actually more than simply feeling that way, as the union explicitly prohibits agents from even seeking to hold "ownership or financial interest in any Major League, Minor League or other professional baseball club or in any related business, firm or venture." While this isn't the only thing that spurred Correa's switch, it may well have been the deciding factor.
Boras isn't known for making sweetheart deals, though he's not opposed to working out extensions or bounceback contracts with hometown discounts when it's in his clients' best interests. That said, Correa is a free agent and has said he's looking for at least 10 years from his next team. A cursory glance at the tea leaves tells us he'd like to surpass Francisco Lindor's $341 million pact to land the largest ever for a shortstop, so it's hard to imagine how the Cubs could make anything work at just seven years.
There is, however, the potential for some kind of "swellopt" deal that allows Correa to cash in on a bigger AAV over a shorter period before getting at least one chance to opt-in for longer or hit the market again. That's a longshot when you look at the risk-reward of guaranteeing record-setting value upfront, but it's not entirely out of the question. Hell, it might even be more of a possibility given Boras is the person who coined the term.
Not that any of this really matters in light of the current lockout that doesn't appear to be nearing a conclusion in the near future. Believe me, I'd very much prefer not to be writing about a potential Cubs free agent target changing agents in January, but here we are.