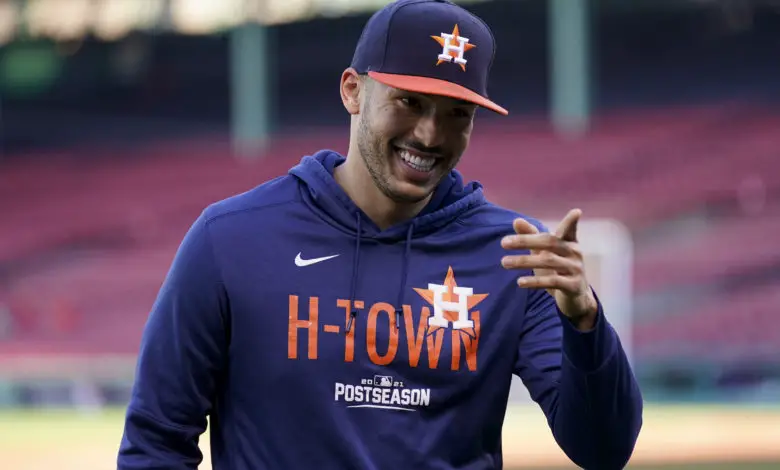 Astros' Pending New Offer for Carlos Correa 'Creating Buzz in Camp'
I'm not sure whether Dave Wasserman has seen enough to call it, but the latest news from Ken Rosenthal seems to indicate a reunion between Carlos Correa and the Astros is nigh. Rosenthal tweeted that Houston will "make a new offer…shortly" and that it's "creating a buzz in camp."
Astros plan to make new offer to free-agent shortstop Carlos Correa shortly, source tells @TheAthletic. His potential return is creating buzz in camp. "Players can't stop talking about it," one source said.

— Ken Rosenthal (@Ken_Rosenthal) March 15, 2022
You may recall that the Astros initially offered a deal that was never meant to be accepted, after which Correa likewise turned down a 10-year, $275 million offer from the Tigers. The Yankees bowed out of the race, leaving just the Cubs and Astros — along with any potential mystery teams — as the most oft-reported suitors.
The Cubs were rumored to have been trying to get Correa to accept a seven-year deal, which seemed dubious, though recent reports had him indeed looking for something shorter. That could have something to do with circumventing the need to hand over most of the commission for a massive deal to his old agency, though it'd be highly irresponsible for Scott Boras to guide his client to a one-year deal just to get paid more.
Perhaps the end result will be a hybrid of sorts in which Correa takes a deal with opt-out after a year, and maybe with subsequent opt-outs that allow him to max out his value with little risk.