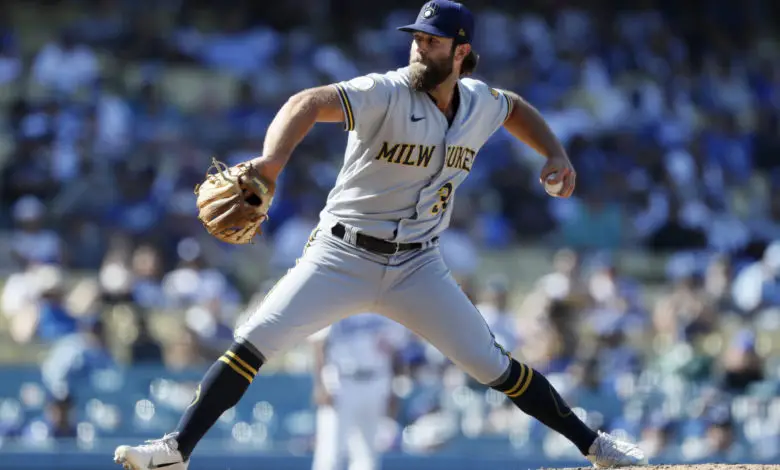 Cubs Signing LHP Daniel Norris to MLB Deal
According to ESPN's Jesse Rogers, the Cubs are adding lefty reliever Daniel Norris to the pitching staff with a major league deal. Norris, who will turn 29 in late April, spent last season with the Tigers and Brewers after beginning his career with the Blue Jays and spending parts of seven seasons in Detroit. He had worked primarily as a starter through his first six seasons, then converted to a relief role full-time after his first appearance in 2020.
The Cubs are signing another pitcher, lefty Daniel Norris, to a ML deal, per source. Was with Detroit and Milwaukee last year.

— Jesse Rogers (@JesseRogersESPN) March 17, 2022
Scouting the box score doesn't give you much to get excited about here, as Norris posted a 6.16 ERA over 57 innings in 56 last year. He walked more than half as many batters (58) as he struck out (60) and gave up nine homers (1.42 K/9), but he may have been the victim of a little bad luck. As difficult as that is to truly quantify, Norris's 4.87 FIP, 4.33 xERA, and 4.27 xFIP all suggest his numbers should have been better than they were.
Some of that may have stemmed from adjusting after the trade as his numbers shot up across the board in Milwaukee. Notably, his 0.98 HR/9, 3.80 FIP, and 3.53 xFIP with the Tigers respectively ballooned to 2.21, 6.81, and 5.61 with the Brewers. Hey, maybe Norris was a Cubs plant the whole time. Or maybe the way they mess with the lighting at AmFam Field hampered his performance.
The southpaw's struggles were largely due to an inexplicable drop in his performance against left-handed hitters, an area that has never necessarily been a strong suit. Norris has posted nearly even splits throughout his MLB career, holding lefties to a lower average but allowing them to slug higher to create a .331 wOBA that's only three points lower than right-handed hitters have produced against him.
While he was stifling lefties in Detroit to the tune of a .200 average with a measly .277 slugging percentage and .253 wOBA, the wheels fell off in Milwaukee. A .222 average might not seem too bad, but things start to look really ugly when you see the .556 slugging percentage and .401 wOBA. A lefty reliever who can't get lefties out isn't going to have much value.
That seems like too big a shift to be purely coincidental and the Cubs may have identified something in Norris's performance they feel they can correct. Were I a guessing man, I'd say it was something in his pitch mix and/or sequencing, the former of which changed dramatically following the trade. Whether the Brewers recommended the adjustment or Norris simply lost a feel for his breaking ball, his slider usage plummeted from 29.3% to 12.1% with his new team.
His velo numbers remained almost unchanged, but he started throwing his fastball and changeup much more frequently. That might have worked if the changeup was a plus pitch, but it had been pretty meh prior to the trade. Becoming almost a two-pitch reliever when neither of those two pitches is much of a weapon is a recipe for disaster. And when one of those pitches is a lefty-on-lefty change, well, there's very little margin for error.
But there is some hope in that Brewers performance if we put on our rose-colored glasses and drill down a little further. Norris's slider looked much better over the final month of the season, even though it was down to less than 8% of his pitches by then. The change was even worse and was being thrown even more, so either something was way off with his feel or the Crew really didn't know what they were doing with him.
Fair or not, you have to wonder whether reliance on an incredible starting rotation and a couple of elite receivers had them sort of forgetting about Norris.
I'm very interested to hear from Norris and Tommy Hottovy about what they might be looking to tweak to get more out of him than he was able to produce for their division rivals. The changeup has been a real weapon for him in the past and the slider, while inconsistent, has typically been at least a show-me pitch that can keep hitters honest. I'd like to see him find a way to get a little more bite to it so it generates more whiffs, but I guess we'll see.