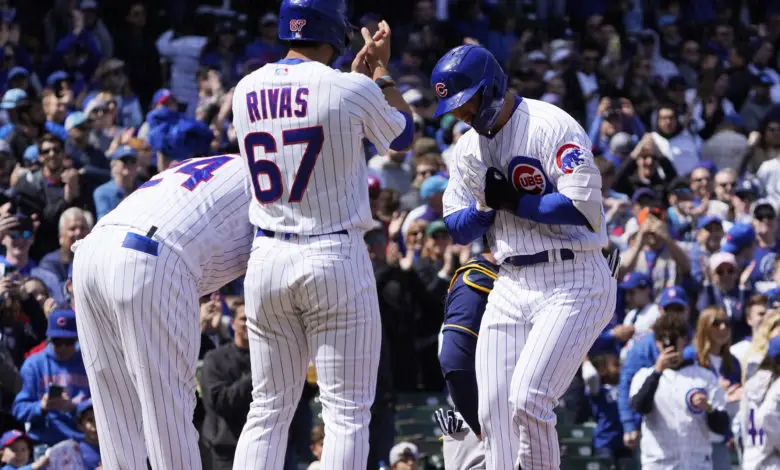 The Rundown: Patience Key as Cubs Take Two, Stroman Loves Fans' Big Energy, Ohtani Launches Rocket, Manfred Reaches Out to Players
"Watched by empty silhouettes who close their eyes but still can see. No one taught them etiquette. I will show another me." – Peter Gabriel, Solsbury Hill
A sample size of three games isn't a lot to bank on, but you have to admit the Cubs' approach to selectivity and contact sure is a lot more fun to watch than a crap \-ton of strikeouts with runners in scoring position. In the two wins against the Brewers, Chicago's hitters managed to avoid double-digit strikeouts, a change from the past two seasons in which that ugly stat was a given. Though they were victimized 13 times yesterday, the North Siders still drew six walks and hung in there for approximately 4.5 pitches per at-bat. On Saturday, 19 Cubs batters saw five pitches or more.
The Cubs also got to three starters who gave them a boatload of trouble last season. Chicago batters dinged Corbin Burnes, Brandon Woodruff, and Freddy Peralta for 13 earned runs in 12.2 innings with 10 walks and 12 strikeouts. That's how you take a series against one of your toughest rivals. Ian Happ and Seiya Suzuki were Chicago's offensive stars, but the real story was the Cubs' ability to grind out at-bats and frustrate Milwaukee's starters.
Nine times. pic.twitter.com/W1cHVlhe6v

— Chicago Cubs (@Cubs) April 9, 2022
Suzuki shows more patience at the plate than any Cub we've seen in a long time. Those types of at-bats are usually infectious, and if his teammates can follow suit all season, the Cubs may continue to surprise opponents. In the 9-0 win against the Brewers on Saturday, Chicago scored twice on bases-loaded walks, once on a wild pitch, once on a sacrifice fly, three times by single — including one of the infield variety by Patrick Wisdom — and once on a fielder's choice. Of their 16 RBI all series, only five came via the home run: A two-run shot by Nico Hoerner and a three-run homer by Suzuki.
Obviously, there is little reliability in these numbers after three cold and windy games at Wrigley Field following a spring training where few pitchers completed even 3-4 innings. Then again, it's the patient approach that matters. Making good decisions in the batter's box portends great things, and weaker offensive teams have done well with a similar philosophy. Good teams consistently put men on base, pressure the pitcher, and find ways to score in the absence of power.
As the weather warms, the power will come. In the meantime, the pesky type of baseball the Cubs played against the Brewers is a refreshing change. Those boom-or-bust at-bats certainly provide some majestic home runs, but it's a lot of fun to see a consistent flow of runners playing station-to-station baseball, too. The North Siders are still developing their identity and it's going to be a work in progress. The results are encouraging so far.
Cubs News & Notes
Odds & Sods
"The average time between pitches is around 20 seconds. Managing that time with calmness and quietness takes practice. Hitters will see an average of five pitches per at-bat. Keep it real. Practice paying attention at actual game-time intervals and with the eyes of a quiet hawk for five consecutive pitches." – Baseball America, The Anatomy of a Great At-Bat
Climbing the Ladder
"Said 'sugar make it slow and we'll come together fine, all we need is just a little patience.'" – Guns 'N' Roses, Patience
Happ has made just two outs in nine plate appearances to start the season. Suzuki has a home run, six RBI, and four bases on balls in 13 times to the plate. Though he has just one hit in six at-bats, Rafael Ortega has also walked four times. On the flip side, Wisdom is still striking out about once every 2.5 trips to the plate.
Games Played: 3
Total Plate Appearances: 115
Total Strikeouts: 28
Strikeout Rate: 24.3%
Team Batting Average: .239
MLB News & Notes
Shohei Ohtani hit a home run with an exit velocity of 119.1 mph and it's almost a surprise he didn't tear the cover off of the ball.
Not to be outdone, Vladimir Guerrero Jr. hit a 467-foot blast on Saturday that left the stadium at 117.9 MPH.
Commissioner Rob Manfred gifted Bose headphones to MLB players as a peace offering after this winter's 99-day lockout.
20-year-old Japanese pitcher Roki Sasaki tossed a perfect game over the weekend with a mind-blowing 19 strikeouts.
Reds rookie starter Hunter Greene reached triple-digits on 20 separate offerings in his big league debut.
Apropos of Nothing
Is it just me, or are the "let's overreact" articles that indubitably follow the first weekend of baseball an overreaction themselves?
Sunday's Three Stars
Steven Kwan – The Guardians rookie was 5-for-5 and scored four times in Cleveland's 17-3 win over the Royals.
Michael Chavis – The all-purpose infielder enjoyed a 3-for-4 day with four RBI, all coming on a grand slam, as the Pirates bested the Cardinals 9-5.
Bud Black – Congratulations are in order as the Rockies manager won his 1,000th game yesterday.
Extra Innings
Yes, Keegan Thompson threw at Andrew McCutchen no matter how many denials are issued, and the Brewers have little room to talk after years of going after Cubs hitters. As David Ross said, "sometimes the game has a way of policing itself."
Andrew McCutchen gets plunked and benches clear at Wrigley Field pic.twitter.com/wn2mLVVcRB

— Jomboy Media (@JomboyMedia) April 9, 2022
They Said It
"Knowing the wind at Wrigley, I think the team approach was sharp line drives and go from there. We saw Wisdom get hold of one, 103 [MPH] at 30 [degree of launch angle] that stayed in the yard. That changes the game plan a little bit where you can't just go up there and go for homers. We put together some great at-bats and it was cool to see the line keep moving."– Scwhindel
"I don't know that power is going to be our strongest suit, but the good at-bats and turning it over to the next guy seems to be a trend already that I love. If we continue to put these guys in the right spots, that's the kind of offense I hope we can have." – Ross
"Times change too. Listen, nobody likes getting hit, right? So whether you did it on the first pitch or the last pitch, I don't know that it ever feels good or everybody's happy with it. I'm sure [McCutchen] has a take on it maybe, or maybe sometimes quotes that you read can be misleading, for me at least. So I don't know what's inside his brain. But, yeah, I'm sure he was upset about it." – Ross
"Obviously the reason why I'm here right now and the reason why I'm going to be able to adjust like this is because of the staff and my coaches, my teammates. Give credit to them." – Suzuki
Monday Walk-Up Song
Wild, Wild Life by Talking Heads – It's very early and most starting pitchers are still tuning up, but it was a heckuva lot of fun to see the Cubs beat up on Burnes and Woodruff.