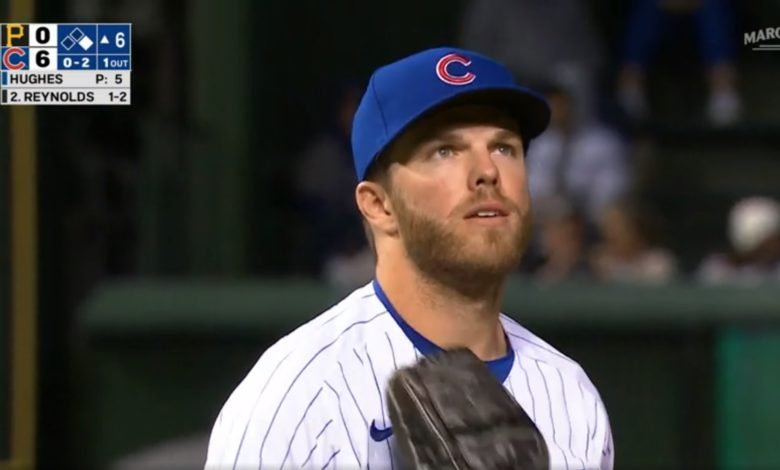 Brandon Hughes Sets Record in Debut as Latest Pitching Project to Join Cubs Bullpen
Brandon Hughes has only been pitching for a little over three years, but he looked every bit like a dominant veteran when he entered Tuesday night's game in less-than-ideal circumstances. Hughes inherited a 2-0 count with one out after being called upon to replace Daniel Norris, who left with an injury. An eventual walk, which was charged to Norris, was followed by two strikeouts on seven pitches.
Hughes came back out for the 7th inning and struck out the next two batters on nine pitches, then walked Michael Chavis before coming back to K Rodolfo Garcia. That performance made Hughes the first pitcher in modern history to debut by recording five or more outs, all via strikeout. His sinker/slider combo coming from something of a crossfire delivery has been fooling hitters ever since he was converted from the outfield and it looks like it'll still play at the highest level.
Even the walk Hughes issued to Chavis came on a very competitive full count pitch that might have gone his way if his name was Max Scherzer.
It's been a rapid ascension for the lefty, who was drafted out of Michigan State as an outfielder in the 16th round of the 2017 draft. The Cubs didn't see a future for him as a position player, though, and they came to him in the spring of 2019 with a choice: Convert to the mound or be released. The decision was obvious, so Hughes stayed in Arizona to work on learning how to pitch.
It might be more accurate to say he had to re-learn how to pitch, since he'd logged 6.1 innings as a freshman for the Spartans. But putting up a 7.11 ERA with two strikeouts and three walks in that time didn't exactly scream that he was a future reliever in training, so kudos to the Cubs for seeing something they felt would translate.
Just before he was ready to start throwing in live competition, Hughes was joined by another prospect who'd been given a suggestion on how he could continue his Cubs career. Scott Effross had just finished up the first half of the season with Double-A Tennessee when the Cubs suggested he drop his arm angle to a sidearm delivery, so he and Hughes worked together in Mesa for a few weeks before heading out to dominate elsewhere.
Less than three years later, both are in Chicago carving up opponents with vastly different styles. It's wild enough that the Cubs had success with one of those pitchers, let alone both.
"It's an insane kind of timeline for him," Effross said Tuesday night. "He's done it so quickly and been so dominant, that it's hard to kind of put into words for watching from afar. I'm super impressed and really happy for him."
If I didn't know better, I'd say this organization is onto something when it comes to developing pitchers. I mean, yeah, we'll need to see more of Hughes to know for sure what he's going to be at this level, but he's done nothing but shove from the moment he stepped onto the mound and there's reason to believe he can continue to do so.
The bigger picture includes starters Justin Steele and Keegan Thompson, who played key roles in two of the Cubs' last three wins, and a whole host of prospects waiting to come up. As I look around the big club and the farm, what I like best is the variation. Some of the pitchers were drafted by the organization, some came over in trades, most have undergone changes to mechanics or repertoire. There are righties, lefties, different arm angles, and funky deliveries.
Simply put, the Cubs have gotten outside of their restrictive box when it comes to pitching development and the results, unnecessarily delayed though they are, have begun to show. Now I just hope Hughes and other young pitchers continue to get chances to prove themselves as the season wears on.