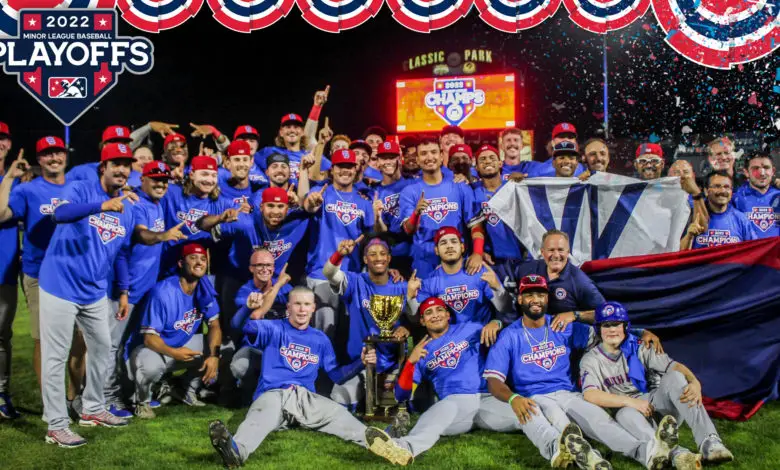 The Rundown: Cubs Down Marlins, Shopping Season Approaching, South Bend Cubs Take Title, White Sox Fading Fast
"A cigarette lighter that says I'm a quitter and a fish that sings 'Take Me to the River.'" – Shinyribs, Poor People's Store
Have you started making your free agent wish list for this winter? With chilly winter hitting the Midwest overnight, now is the perfect time to get cracking. On the one hand, I'm wondering how owners will use out-of-control inflation to temper hot stove expectations. At the same time, I can't wait to see how much Aaron Judge will be paid. Judge would be at the top of my Cubs wish list, but it's never going to happen.
I'm sure the front office will want to see where the Cubs are drafting in 2023 before making any big moves. The draft lottery will be held at the end of November and Tankathon has Chicago with a 3.9% chance of winning the top selection as things stand after yesterday's games. If the Cubs sign a free agent saddled with a qualifying offer, they'll forfeit their second-round pick plus $500,000 from their international bonus pool for the upcoming signing period.
Of course, they would earn a compensatory pick in Competitive Balance Round B if they present Willson Contreras with a qualifying offer and he signs elsewhere. I don't think Contreras will want to enter free agency with that tag attached to his services, so I'd expect he'd sign almost immediately.
And what will the Cubs be looking for this offseason? I'd say two starters, a closer, an infielder, and an outfielder. Rather than signing five premium free agents, the front office could opt to move a couple of tradeable pieces. Additionally, some minor league players, including Brennen Davis and Ben Brown, could be targeted for the bigs as soon as Opening Day. Hayden Wesneski has certainly made a strong case for a rotation spot next year.
But the Cubs need an ace so that they can slide Justin Steele to number two. The expectation is that Justin Verlander and Jacob deGrom will exercise their opt-outs to enter the market. The Cubs should target either or both, especially if they can front-load their offers. Carlos Rodón is also a top-of-the-rotation starter. Once you get past those three, there is a plethora of Nos. 3-5 starters available, including Jameson Taillon and Noah Syndergaard.
As far as closer is concerned, the Cubs should try to reunite with David Robertson. He likes it there, pitches well at Wrigley Field, and he'd probably sign another one-year deal unless a longer deal from a competitive team presents itself. Zach Britton is another option. Internal options include Brandon Hughes, Rowan Wick, Adbert Alzolay, and maybe even Brailyn Márquez. At the same time, Wick and Márquez might not be in Chicago's plans beyond this season.
The status of Ian Happ will determine if the Cubs shop for another outfielder. The best option might be to keep Happ and seek a trade at the deadline. That buys some extra time for Pete Crow-Armstrong and Kevin Alcántara, both of whom are targeted for 2024 MLB debuts but are talented enough to challenge that timeline. The Cubs will also have Davis and Seiya Suzuki among a group that looks like it will get a bit crowded after next season. In other words, outfield help isn't a priority.
The multi-million dollar question concerns Chicago's middle infield. Nico Hoerner might be better suited for second base once shift restrictions are implemented next season. One would think that the front office will target one of Xander Bogaerts, Dansby Swanson, Trea Turner, or Carlos Correa. If David Ross is more comfortable with Hoerner at shortstop, Turner should be the target. If a shift to the keystone is preferred, then Bogaerts should be the favored option. Based on comments attributed to Ross that I posted in yesterday's Rundown, I believe he prefers Hoerner at second base.
That means Nick Madrigal could be the odd man out. I don't think anybody will trade for him and he's arbitration-eligible for the first time in 2023. The Cubs are facing a 40-man roster crunch and it wouldn't shock me if Madrigal was non-tendered, making him a free agent. I'm sure Jed Hoyer will make every attempt to trade the second baseman before making that decision.
Cubs News & Notes
Odds & Sods
Albert Pujols is not going to get to 700 dingers if this keeps up.
The Cardinals have scored one run in their last 43 innings.

That one run came in extra innings, when an automatic runner was placed on second base.

— Kyle Glaser (@KyleAGlaser) September 22, 2022
Climbing the Ladder
"See them trying every way they know how to make their spirit fly. Can't you see him? And if you fall I'll pick you up, pick you up." – Rickie Lee Jones, Horses
Patrick Wisdom blasted his 23rd homer of the year yesterday, a game-tying three-run blast in the 7th inning off of Jesus Luzardo. The Cubs managed just four hits on Wednesday while striking out 15 times. Christopher Morel fanned three times and just looks gassed. With the series win, the Cubs managed to avoid finishing the season with 100 losses.
Games Played: 149
Total Plate Appearances: 5,557
Total Strikeouts: 1,312
Strikeout Rate: 23.61%
Team Batting Average: .240
Runs Scored: 598
Runs Allowed: 701
How About That!
In case you forgot, there will be no tie-breaker games this year due to the expanded postseason. "It's going to become a big deal when everyone [the fans] wakes up and realizes what's going on," Brewers manager Craig Counsell said last month. So yeah, good morning.
Things look pretty bleak for the White Sox after an 8-2 loss to the first-place Guardians at Guaranteed Rate Field.
The Royals have fired former president of baseball operations Drayton Moore.
Buster Posey is now part of the Giants' ownership group.
The Mets set a major league record with 106 hit batters this season when Mark Canha was plunked twice and Luis Guillorme once in Wednesday's 6-0 loss to the Milwaukee Brewers.
The Dodgers lead all of baseball in runs scored and also in fewest runs allowed.
Wednesday's Three Stars
Gleyber Torres – The former Cub homered twice in the same inning and plated five runners as the Yankees sunk the Pirates 14-2. Aaron Judge did not homer last night and is sitting on 60 with 14 games remaining. The MLB record is 73 by Barry Bonds, and that's out of reach.
Blake Snell – The former Cy Young Award winner was brilliant last night, striking out 13 Cardinals hitters in seven innings of shutout baseball. The red-hot Padres have won five straight and their magic number to earn a Wild Card berth is down to 10.
Jordan Lyles – The veteran righty tossed a complete game three-hitter at the Tigers Thursday night. The Orioles gained a game on the slumping mariners with the win. Baltimore trails Seatt;e by four games for the final AL Wild Card spot.
Extra Innings
Pop the champagne and fire up the barbecue!
PUMP IT UP 💪🏼💪🏼 WE ARE MIDWEST LEAGUE CHAMPS🏆🏆 pic.twitter.com/KACsKZJWxQ

— South Bend Cubs (@SBCubs) September 22, 2022
Thursday Morning Six-Pack
They Said It
"[Jed and I] talk pretty regularly. I think we're all on the same page with what kind of holes we want to try to fill, [and] who are the pieces we believe in moving forward. There [are] a lot of those guys in here. And you know, there's also stuff in the offseason that's unpredictable and things that you can have one plan. But … having a plan and actually executing that plan is difficult at times. Because it's also the choice of free-agent players and teams if you plan on making trades. You're at the mercy of others. I know they've got nice plans in place, and we talk about putting in the processes that we believe in and trusting those. I think everybody is excited to finish the season as strong as we can and move on to next season, where we'll be competing at a higher level." – Ross
Thursday Walk Up Song
Something to get the blood pumping on a cool first day of Fall in the Midwest.