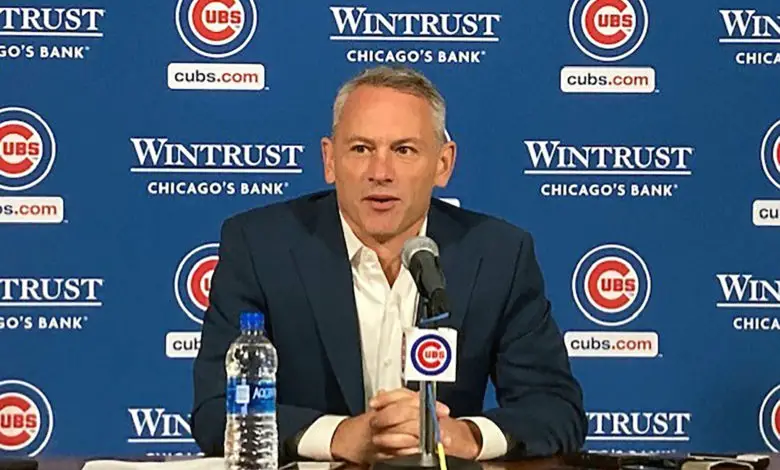 Jed Hoyer Hopes Long Winning Streak Answers Trade Deadline Questions
Picture, if you will, a time in recent memory when a surprisingly competitive Cubs team was playing well on the West Coast and had everyone talking about how they'd actually be buyers at the deadline in spite of an uncertain future. They were in first place for 22 days in June, the last of which came on the evening they put together a combined no-hitter against the Dodgers in LA. They would not win another game for nearly two weeks and had fallen to fourth place by July 6.
"I've always said you try not to look at the standings too much," Jed Hoyer said before his team finally halted its skid. "I think you have to look at what kind of baseball you're playing, and we came off an 11-game losing streak. So listen, we've believed in these guys since 2015. They've had a ton of success and I would never count these guys out.
"But 11 days ago we were certainly fully on the buy-side of this transaction and everyone was calling about that. Obviously, now people are calling to see which players are available, so it's a very different scenario than we expected and, you know, life comes at you fast. You know, 11 days ago that's not where we were mentally and obviously, 11 games certainly changes a lot of things."
It sure does. As you're all well aware, the Cubs limped into the trade deadline and ended up selling off several World Series heroes to kick off a rebuild that could be headed for its third season if something doesn't change soon. Unlike in '21, however, this year is all about hoping a reversal of fortunes can push the Cubs high enough in a bad division to avoid another garage sale.
The beleaguered president of baseball operations sounds like he just wants something new to talk about by the time July rolls around.
"I'd love to rattle off a long winning streak and feel like all these questions are not going to be asked anymore, that'd be the hope," Hoyer told the media in Anaheim on Tuesday. "Certainly we're not going to make any decisions early. We had a really good month and a really bad month. We need to play well, and the frustrating thing is we haven't been able to rattle off win streaks.
"If you're going to get swept, like we have a few times, you're going to have to do the same thing to opponents. Our focus is we need to be consistent as a team and claw our way back into the race. It's not that far of a climb. We just need to play consistent baseball, and my hope is we do that."
It almost sounds like he's trying to convince himself as much as anyone else, but he's right about the climb not being that far. Even at eight games under .500 and with a negative run differential on the season, the Cubs are only 6.5 games out in the NL Central with six games against the Pirates remaining this month and 13 against the Brewers, Cardinals, and Reds in July.
The London Series later this month is setting up to be a battle of the two worst teams in the division, as the Cards are two games behind the Cubs right now. Yikes.
Though the schedule certainly doesn't appear to be conducive to a winning streak, especially for a team that can't score runs on a consistent basis, the Cubs could just keep winning two of every three or three of every five. Incremental growth is their best shot at allowing Hoyer to make a buy-trade or two in July rather than fielding calls and questions about moving everyone who's not nailed down.
Finding a little success over the next few weeks could also spur the team to engage Marcus Stroman in extension talks. The righty has placed himself in the Cy Young conversation and has said he wants to remain in Chicago rather than being traded ahead of likely opting out of the third year of his deal, but the Cubs may not want to pay what he is looking to secure in free agency. I guess we'll find out soon enough.
In the meantime, Hoyer had better get all his answers in order because he may have to address more than just when and who they're trading away. Not that many people believe ownership is truly interested in spending what it takes to put a winner on the field, but there comes a point when the strategies being employed by the baseball ops unit have to be questioned by someone with a little more authority than a mediocre blogger.
I just want this team to be fun again, and I'm really not looking forward to the possibility of another garage sale punctuated by chestnuts about spending intelligently and building from within.