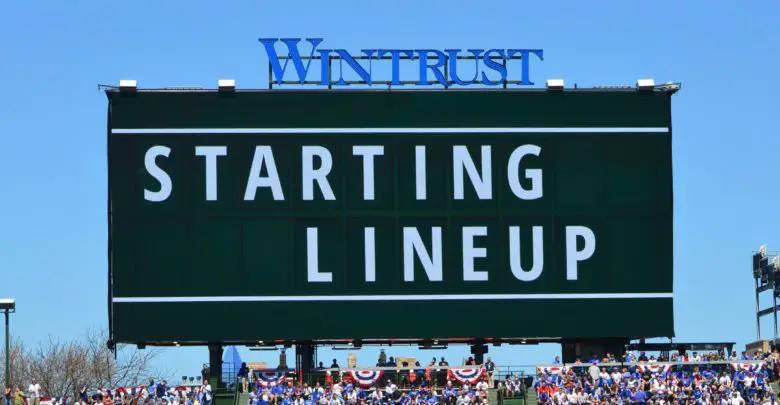 Chicago Cubs Lineup (6/15/23): Tauchman Leads Off, Bellinger at 1B, Stroman Going for Sweep
The Cubs have been incredibly awful this year in the third game of a series when they've won the first two, but perhaps tonight will give them a win for a rare sweep. It helps that they've got Marcus Stroman on the mound in this one, but it'll be even better if they provide him with serious run support. Having two straight games of double-digit scoring is either a sign of momentum or a harbinger of doom in that regard.
How do you view the Cubs' glass?
Mike Tauchman has been a revelation in the leadoff spot and he's back there playing center field Thursday night, followed by Nico Hoerner at second and Seiya Suzuki in right. Ian Happ is in left again after DH'ing last night to rest his balky calf, then it's Dansby Swanson at short and Cody Bellinger at first. The former (and future?) center fielder was just activated after nearly a month on the IL with a bad left knee, so he may need time to get back up to speed.
Christopher Morel is the DH, Nick Madrigal is at third, and Tucker Barnhart is catching. That's four left-handed batters in the lineup, but none of them are batting back-to-back, which is a nice change. Well, I guess Barnhart and Tauchman would be the exception, but that's better than having four in a row from 6-9.
They'll be facing big righty Johan Oviedo, whose numbers so far this season are not the least bit intimidating. He's striking out less than a batter per inning and has walked multiple batters in all but two of his 13 starts, but he offsets the free passes by keeping the ball in the park. Opponents have hit just five homers against him, and three of those came in his first outing.
Oviedo has a big fastball that sits around 96 with a little arm-side action, but he'll fill up the zone with it and often comes too far inside on righties. His slider makes up over 40% of his pitches and is a little different from the norm in that it also fills up the zone. He'll start it up and land it middle rather than sweeping it away, though he'll still carry it down to the glove side from time to time.
His curveball is very good as well and it will also find the zone quite frequently. Given the effectiveness of his breaking stuff, he should probably be finding a lot more success. The failure of the fastball to properly set everything up has been Oviedo's downfall thus far, though he can absolutely pitch better than his performance has shown.
His splits this season favor lefties, but they're almost identical for his career and don't really signal much of a platoon advantage. The Cubs have been succeeding lately with small ball, however, and may be able to capitalize on his lack of control rather than trying to power themselves to victory. I think they come out of this with the sweep to reignite the talk of being a legit division contender.
First pitch is at 7:05pm CT on Marquee and 670 The Score.
Stro Show tonight! 🍿 Here's who is backing him up.

Tune in: https://t.co/Gs2hZXyTjH pic.twitter.com/ndVI4P298u

— Chicago Cubs (@Cubs) June 15, 2023