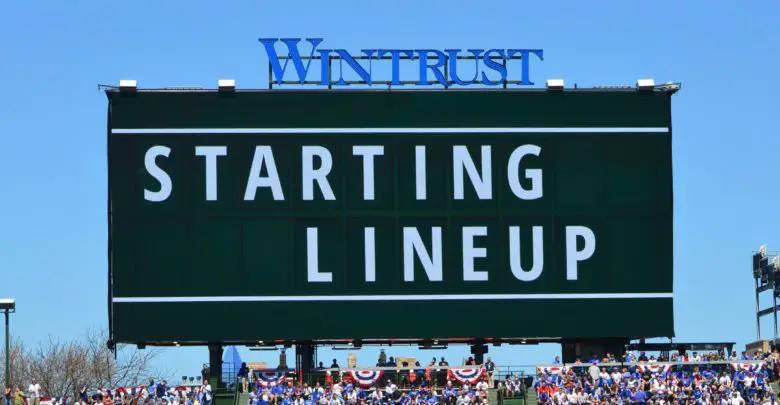 Chicago Cubs Lineup (8/8/23): Same Lineup from Monday, Taillon Starting on DMB Bus Poop & Wrigley Lights Ann'y
The Cubs completely crapped the bed last night in Queens, which is fitting given today's anniversary, but they also looked awful in their first game against the Braves and look how that turned out. Monday's loss added plenty of evidence in favor of Drew Smyly's removal from the rotation, which could be about more than just performance. Another 33 innings over the course of the season will earn the lefty $3 million in bonuses while inflating his 2024 salary by the same amount.
It's wild that the conversation has completely flipped when it comes to Smyly and tonight's starter, Jameson Taillon. If the big righty keeps pitching like he has over the last few outings, the Cubs will be in a good spot. Of course, they'll need to score more than two runs for that to work out. This is the second night in a row with the same lineup, which I didn't believe David Ross was even able to do.
Mike Tauchman is leading off in right again as Seiya Suzuki continues to work through issues with his swing, then it's Nico Hoerner at second base and Ian Happ in left. Cody Bellinger is in center, Dansby Swanson is at short, and Jeimer Candelario is at first. Christopher Morel is the DH, Yan Gomes is behind the plate, and Nick Madrigal is at third.
The Mets will counter with Carlos Carrasco, who is mired in the worst season of his career as he struggles with control and hard contact. He has given up 21 earned runs in his last four starts, over which he's managed just 15.1 innings. On the season, Carrasco has allowed 92 hits with 33 walks and has struck out just 52 batters in 76.1 innings.
However, he managed to shut the Cubs down at Wrigley back in late May in what looks like his second-best start in 2023. Carrasco earned the win by tossing nearly seven innings of one-run ball with four strikeouts and two walks. The Cubs' only run came on a Dansby Swanson homer and the eventual 10-1 score resulted in Tucker Barnhart's first pitching appearance of the season.
There's no excuse for more of the same tonight, as Carrasco is more washed than Monday's rain-soaked field. His 93 mph fastball often lands middle-middle, resulting in some of the worst batted-ball results in the majors. Carrasco is in the 9th percentile for barrel rate, the 7th for exit velocity allowed, the 5th for hard-hit and strikeout percentages, and the 3rd for expected batting average and slugging.
The only thing he's really got working for him is the changeup, which is a very firm offering at 87-88 mph. That's why he's pitching to reverse splits, though left-handed batters are still slashing a robust .274/.380/.422 against him. Righties are at .318/.372/.572 with 10 of the 15 homers he's surrendered, but a lot of that is based on better road performance.
Carrasco has been terrible in seven home starts, pitching to an 8.51 ERA with a .950 OPS and .403 wOBA allowed. Time to get right, Cubs. First pitch is at 6:10pm CT on Marquee and 670 The Score.
And hey, this is quite the electric date in Chicago history. Not only is it the 35th anniversary of Wrigley Field's first scheduled night game, but it's the 19th anniversary of the rolling brownout on the Chicago River that saw the Dave Matthews Band's bus dump nearly a half-ton of human waste onto cruise patrons.
Here is tonight's #Cubs starting lineup in New York!

Tune in: https://t.co/Gs2hZXzr9f pic.twitter.com/g5g8Lhx2LX

— Chicago Cubs (@Cubs) August 8, 2023