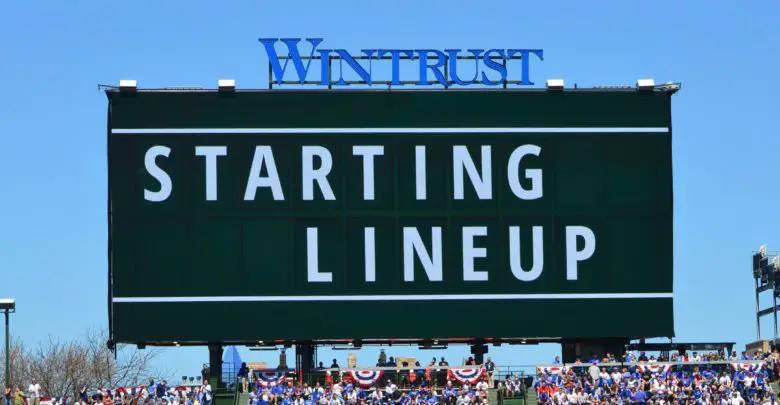 Chicago Cubs Lineup (8/11/23): Tauchman in CF, Bellinger at 1B, Assad Starting
This series should be the Cubs' toughest test over the next two-plus weeks, as the Jays are the only winning team on the schedule until the Brewers come to Chicago at the end of the month. Having two more off days coming up helps David Ross manage his pitching staff, which is already taxed with Marcus Stroman still out and neither Drew Smyly nor Hayden Wesneski pitching reliably.
Smyly has been relegated to the bullpen for the time being and will likely be used very judiciously, if at all, as the Cubs try to get him right. They may also be trying to limit his outings in order to avoid the worst of a potential $6 million hit if he reaches 150 innings this season. The light upcoming schedule allows the team to treat this almost like an IL stint for the lefty, who may need a little time to regroup.
Javier Assad has been outstanding since being recalled in late June and he's taking Stroman's place in the rotation for the time being. Another strong performance could see him retain that role even after Stroman returns, as the Cubs may not want to put Smyly back into a starting spot. That will require Assad to stretch out a bit more, which should be evident tonight as long as he's pitching well.
He only managed to record 11 outs against Atlanta, but his 83 pitches were a sign that he can work much deeper if he's more efficient. This Toronto lineup isn't nearly as dangerous as the Atlanta squad Assad just had to face, but there are still some mashers who can make life difficult.
The Cubs have actually out-homered the Blue Jays on the season thanks to a second-half power surge, and racking up some big flies north of the border would be a good way to start the series. Mike Tauchman has been a revelation so far and he'll be leading off in center tonight, followed by Nico Hoerner at second and Ian Happ in left. Cody Bellinger is at first, Dansby Swanson is at short, Christopher Morel is the DH, and Jeimer Candelario is at third. Seiya Suzuki is the right fielder and Yan Gomes handles the catching.
With the exception of Happ remaining so high in the order, this is the best collection of hitters Ross can roll out there. They'll try to get it done against 29-year-old righty José Berrios, who is having arguably the best year of his career in his second season with the Jays. That is due largely to his offseason work with world-famous throwing coach Tom House, who helped Berrios to be more athletic with his energy angle at max leg lift to be faster down the mound.
That shows up in his extension, which is in the 62nd percentile this season after being in the 55th last season. Though his fastball velocity and spin rate are actually down very slightly from last year, that pitch's performance has improved dramatically due to better deception and location. A change in pitch mix has also helped, as Berrios is throwing fewer four-seams in favor of more sinkers and changeups.
His favorite pitch is the slurve he throws about 30% of the time with very good depth and sweep, but what really makes it stand out is how it differs from the change. The offspeed is actually thrown a little harder than the slurve — 84 mph vs 83 mph — and fades to the lower arm-side corner, opposite from where the breaking ball ends up. Likewise, Berrios busts righties middle-in with the four-seam and prefers to throw his sinker to the opposite edge of the zone.
He's aggressive with first-pitch strikes to get ahead early, but he has a tendency to nibble and can walk batters in bunches when that happens. That's particularly true when facing left-handed hitters, who get a better look at spin and can spit on the slurve. The platoon splits are pretty stark as a result, and Berrios is even tougher on righties at home.
He'll give up hits, as evidenced by 28 allowed in as many innings over his last five starts, but he does a good job of limiting homers. After underwhelming results against very mediocre pitchers in New York, I have a feeling the Cubs will do well against Berrios in this one.
First pitch is at 6:07pm CT with Apple TV+ on the broadcast and 670 The Score carrying the radio call.
Here is tonight's #Cubs starting lineup for the series opener in Toronto!

Tune in: https://t.co/si1AUw7ZwY pic.twitter.com/LL6bQ1bOoV

— Chicago Cubs (@Cubs) August 11, 2023