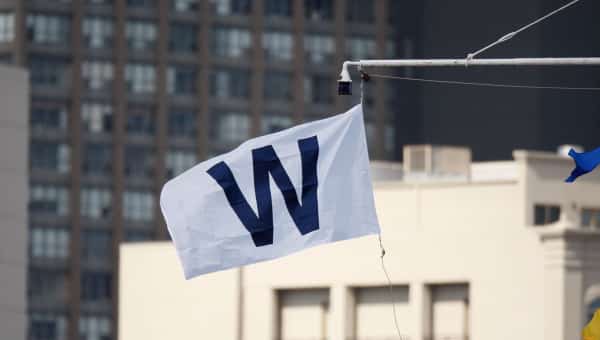 A Tip of the Recap – October 1st
The Cubs were powered to their 5th win in a row with a 3-run HR from Austin Jackson in their 5-3 victory over the Reds today.
The Good
Jason Hammel was decent today, not great, but good enough against a team like the Reds. He went 5 scoreless innings giving up 5 hits with 0 walks and 5 Ks. He did give up some hard contact, especially early, but settled in and got through 5. He improved to 10-7 and lowered his ERA to 3.74 and it will remain to be seen how he is used should the Cubs make it past the Wild Card game.
Austin Jackson followed up his big 5 RBI game yesterday with a 1 for 3 day, but the hit was a big one. His 3-run HR in the 3rd inning gave the Cubs the lead. It was his 9th HR and gave him 8 RBI over the past 2 games, pushing his RBI total to 48 on the year.
Anthony Rizzo had an RBI ground rule double in the 5th inning, scoring Dexter Fowler from 2nd. It was Rizzo's 38th double and 96th RBI, so he still has a shot at 100 RBI. He will need a big game this weekend in Milwaukee to get there though.
Chris Denorfia got the start in LF today and responded with an RBI single in the 5th to give the Cubs their final run of the day. It was his 18th RBI to go along with his .271 AVG.
Hector Rondon came into the game in the bottom of the 9th and shut the door on the victory with his 29th save. He gave up a 2-out hit, but worked around that without any issue.
The Bad
Fernando Rodney struggled with his command and was charged with 3 runs during his appearance today. He gave up back-to-back singles to start the inning and actually probably should have gotten out of the inning with limited damage, if not for a big error from Addison Russell. He still has an 0.87 ERA as a Cub and has been mostly solid, but commanding his changeup is key and he wasn't overly sharp today.
On Deck
The Cubs will finish the regular season with a 3 game series in Milwaukee against the Brewers. Game 1 is tomorrow night at 7:10 PM (CST) on CSN.  Jake Arrieta (21-6, 1.82) will make his final start of the regular season as he tunes up for the Wild Card game against the Pirates. The Brewers will start Ariel Pena (2-0, 3.91) in the game who will be making his 5th start as a big leaguer.