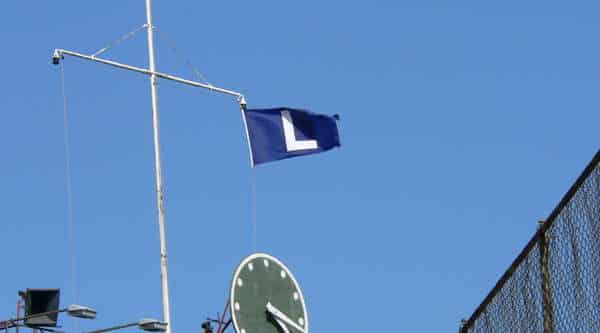 A Tip of the Recap — 09/13 (Cubs 2, Cardinals 4)
Cubs record: 92-52, 1st NL Central, (16.0 games up)
Cubs Magic Number: 3
W: Alex Reyes
L: Jason Hammel
S: Kevin Siegrist (2)
MVP: Brandon Moss
The Chicago Cubs tried to knock two more games off their magic number and push the Cardinals further out of the playoff picture, but couldn't get that timely hit as they fell 4-2.
The game wasn't without its moments as Dexter "You Go, We Go" Fowler crushed one to straight-away center to lead things off and give the Cubs a 1-0 lead.
In the top of the 2nd, Ben Zobrist singled and Addison Russell laced a double down the left field line to collect his 91st RBI on the season. Jason Hammel reached on an error with two outs and Dexter Fowler walked to load the bases, and that was the end of Garcia's short night.
Alex Reyes came into the game and struck out Kris Bryant to end the threat. In the bottom of the inning, the Cardinals got to Hammel when Brandon Moss singled and Aledmys Diaz homered to tie the game at two.
After Anthony Rizzo popped out in the top of the 3rd, Jorge Soler and Ben Zobrist had back-to-back walks and they advanced to second and third on a wild pitch. The Cubs couldn't capitalize, though, as Russell popped out and Jason Heyward fouled out to end the inning.
In the top of the 4th, the Cubs' patience at the plate continued as Willson Contreras, Fowler, and Rizzo all walked in the inning, but again they couldn't add to their score.
Hammel was cruising until the bottom of the 6th, when Yadier Molina singled and Brandon Moss homered with two outs to make it 4-2. Diaz reached on an infield single and Hammel's night was done.
Kevin Siegrist came in to close out the game, and Fowler, Bryant, and Rizzo went 1-2-3 to go down without a fight. That was all she wrote for the Cubs in this one.
The good
Outside of two pitches, Jason Hammel actually had a pretty good night. With nine K's over 5.2 innings pitched, Hammel set his season-high for strikeouts and lowered his hits/9 and BB/9 on the year as well. While the result isn't what you want to see, Hammel was better than his stat line.
The bad
Entering tonight, Kris Bryant was in the midst of a mini-slump, hitting .160/.192/.320 with seven strikeouts over his previous six games, and he couldn't break out of it tonight. While he did collect a single, he only went 1-5 with two strikeouts and just didn't have his best bat tonight. At least this is happening now and not in October, as I'm sure Bryant just needs a couple games to get out of this funk.
The Ugly
Through the first four innings, the Cubs had seven (!) walks and three hits, but could only plate two runs. From that point on, they would only add one hit and one more walk. Their opportunities came early on, but they just couldn't capitalize. One extra hit in the early going, and this game is completely different.
Coming attractions
The Cubs have a quick turnaround in St. Louis as Jon Lester looks to close out the series against Carlos Martinez at 12:45 CST. While the Cubs can't clinch the division, they can make their magic number one with a win. Lester has been fantastic over his last eight starts, posting a 1.17 ERA while striking out 53. Martinez is on a streak of his own, winning his last four starts. What happens when two near-immovable objects collide? A pitcher's duel might be on deck at Busch Stadium. There's a lot on the line, it's going to be fun.