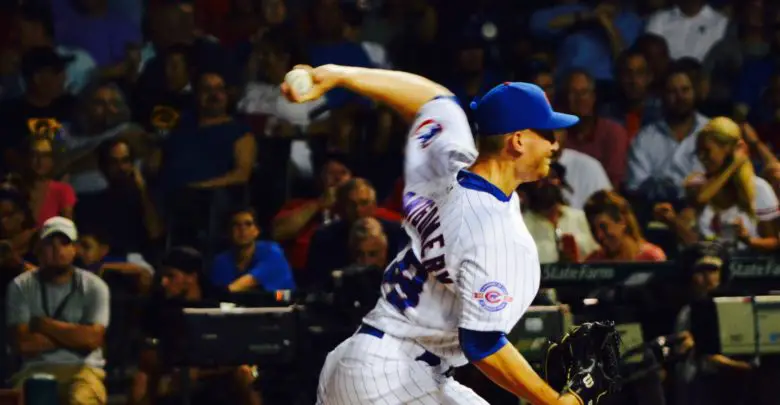 The Rundown: Anderson and Montgomery Discuss Roles, Schwarber Catches First Live Game
Hey, who wants to talk more about Kyle Hendricks in the fifth spot of the rotation and how it's not about his ability? If your hand is up, I'm sure there are a few hundred Facebook conversations that could use your input right about now.
For the purposes of this exercise, though, we're going to look at the Cubs' true fifth starter, Brett Anderson, and the guy he sort of beat out for the job. I say "sort of" because the decision on who'd begin the season as a starter was really more about the comfort level of the individuals in question.
Anderson is much more accustomed to starting, which he's done pretty well when healthy. And that's going to be the key to his season, staying on the field.
"Baseball's a weird game and playing sports for a living causes weird things to happen sometimes," the soft-spoken southpaw said Friday. "But you think that all the hard work can pay off and all the monotonous, tedious exercises you're doing are gonna pay off in the long run.
"I've always been a starter for the most part and that's what I feel comfortable doing."
Watching the video Mark Gonzales took, I'm struck by just how quiet and reserved the big lefty is, especially for someone who's so colorful on Twitter. But as he noted a few weeks back, that's pretty much the way he carries on.
Mike Montgomery is another guy who kinda flies under the radar, personality-wise. A longtime minor leaguer and sub-par starter for the Mariners, Montgomery is used to toiling in obscurity. That's not going to be easy in Chicago, not for the guy who was immortalized when he threw the final pitch in the World Series win.
Montgomery was back in the limelight, to an extent anyway, as part of the lone high-profile position battle in camp. To hear him talk about it, he would have been good with whatever Joe Maddon decided.
"I feel good about it. I'm here to get outs and it doesn't matter where or when that is. I'm just focusing on what I need to get ready for the year in the bullpen and, having done this before, it's something I'm a little more familiar with.
"It's a different mentality you gotta have for each one (bullpen and starting roles). I like the bullpen a lot and I love starting, so it's like either way is a win-win for me."
Despite Maddon's earlier claims that the pair of aforementioned lefties would serve as a "hybrid starter," I think we'll see them in more defined roles throughout the season. I continue to maintain that Montgomery will actually be more valuable coming out of the pen, but he'll certainly make a few spot starts here and there.
As for the core of the rotation, it really doesn't matter who's throwing in what spot. Not according to John Lackey, anyway.
"If you're not first, it doesn't much matter after that," the big Texan said after his start Friday.
War Bear catches minor league game
While the Cubs were busy with the Indians at Sloan Park, Kyle Schwarber was crouching behind the plate during a minor league contest. It was his first live action at catcher since 2015 and he came away feeling pretty good about the experience.
"I love catching," War Bear said afterwards. "I was always a catcher. For me to be able to do that today and feel pretty good about myself walking away from the day, it was a good step."
He didn't get a chance to throw to any bases and admitted that his timing was a little off, but this was a nice step forward for both Schwarber and the Cubs. If he's able to serve even as an emergency backstop, it helps to open the roster up that much more in case of an injury.
The most likely candidate to come up lame is Miguel Montero, who's not all that spry these days. But the real fear is that Willson Contreras could get dinged up, leaving the Cubs pretty thin at catcher.
It is my steadfast belief that Schwarber could eventually become a decent catcher if allowed the time to focus on it. Thing is, he's never going to get that time. As it is, he'll just have to silence the critics who bring up those faceplants in the 2015 NLCS as evidence that he's a DH.
So go ahead, talk about what Schwarber can't do. Good luck having your voice heard over the ear-splitting sound of his bat and the accompanying gasps.
More news and notes
Derek Norris signed with Rays for $1.2 million
Chronic drunk-driver Jung Ho Kang still has not been granted permission to travel to the US on a work visa
Albert Almora left Friday's game early with "neck tightness" after a diving play in center but is expected to travel to Vegas with the split squad and play Saturday
Shelby Miller is reportedly working in mid/upper 90's this spring, continuing upward velo trend