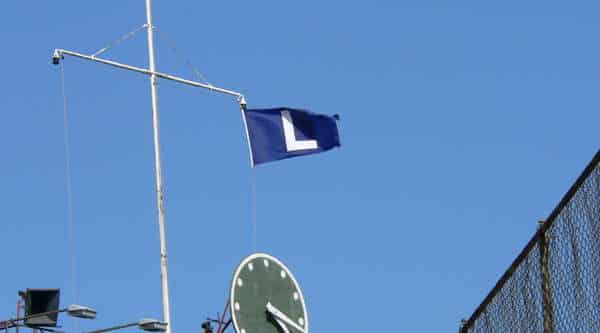 CI Recap (8/9/17) – Giants 2, Cubs 1: Contreras Injury Overshadows Cubs Loss
The Cubs dropped the final game of their three-game series Wednesday in San Francisco, but an injury to one of their key starters is the big story for the Northsiders.
The Cubs threatened early, getting two hits off Madison Bumgarner in the 1st inning, but failed to score. The Giants took an early lead on singles by Pablo Sandoval, Brandon Crawford, and Joe Panik in the 2nd.
Chicago responded immediately in the top of the 3rd inning, when Albert Almora continued his success against left-handed starters taking Bumgarner deep to left for a solo homer.
Kyle Hendricks allowed a bunch of traffic on the bases, but kept the score at 1-1 in his time on mound. Mike Montgomery relieved him in the 5th and pitched through the 6th.
The Giants used more small-ball to rally against Brian Duensing in the bottom of the 7th. Denard Span reached on an infield single to short and Ryder Jones blooped a single into no-man's land in right. Jarrett Parker punched a single to left to give San Francisco the 2-1 lead.
By far the worst news of the game happened in the 8th. Willson Contreras appeared to injure his leg running to first on a ground out and had to leave the game.
Eleventh-year earner Hunter Pence took Pedro Strop out deep to right for home run to pad the Giants lead in the 8th and Sam Dyson easily closed out the 3-1 victory in the 9th.
Stats That Matter
Kyle Hendricks had some control battles on Wednesday: 4.2 IP, 1 R, 5 H, 5 K, and 3 BB. While not great, he did keep the Cubs in the game.
Albert Almora Jr. had another nice offensive day against a lefty with a single in addition to the homer.
Bottom Line
The Cubs look like the same lifeless team they were for most of the first half. If Contreras has to miss significant time, the Northsiders could be in danger of falling out of the playoffs.
On Deck
The Cubs look to rebound from a rough series loss in Arizona on Friday. John Lackey goes against Taijuan Walker at 8:40 CT in a game that airs on CSN-C.