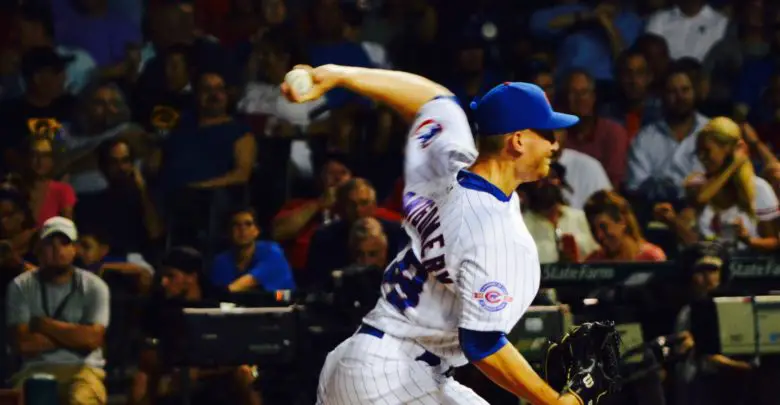 So, Uh, Maybe Mike Montgomery's a Decent Starter After All
The title is admittedly a little facetious, as I'm poking fun at my own oft-stated assertion that Mike Montgomery is better suited for the bullpen than the rotation. And while I'm still riding that train, the fortitude of my conviction has been shaken a little bit after these last two starts. Really three, if you count his piggyback effort after Jon Lester gave up nine runs to the Reds on August 17.
Or four if you go back to the start in Atlanta in which he homered and surrendered only two hits over six innings.
Prior to allowing a leadoff home run in the 8th inning of Monday night's game — which he probably should not have been out for in the first place — Monty was working on a stretch of 16.2 scoreless innings. In that time, he gave up only 13 hits and handed out two free passes (0.900 WHIP; 1.08 BB/9) while striking out 12 (6.48 K/9). All of those numbers are down from his season averages, which is precisely what I like about them.
Yes, even the reduced strikeout numbers are a good thing. While he's got a number of plus offerings at his fingertips, Montgomery is at his best when he's not missing bats. If he can remain comfortable with getting opposing batters out via contact, I believe he'll be able to hold down a spot in the rotation on a more permanent basis.
The man who earned a save in Game 7 of the World Series spoke recently about the differences between starting and relieving and he really seems to have embraced those disparate philosophies over these last few outings. I don't have access to the quotes so I'll have to paraphrase, but Montgomery talked of not being afraid to give up runs as a starter. A reliever, on the other hand, has to be more diligent about keeping the score exactly where it was when he came in.
One role involves limiting damage, the other avoiding it altogether, with the latter strategy often leading to missing the zone in an effort to keep hitters from barreling up pitches. But Montgomery's strength isn't missing bats, never has been. The key, then, is getting hitters to make the kind of contact that only damages their batting averages and chances of reaching base.
Over his last three appearances, roughly 85 percent of the contact Montgomery has allowed has fallen in either the soft or medium range and nearly 60 percent of it has been on the ground. That, my friends, is a winning formula. So how's he doing it?
While it's always dangerous to look at only a couple games, there are some obvious differences that jump out when reviewing the way Montgomery is locating. For the sake of this post, I looked specifically at the sinker and change, offerings that account for nearly 40 percent of his overall pitch mix.
The first heat map displays where Monty was throwing those pitches prior to August 23 and the second shows us where he's been in his last two starts. Take a look and we'll discuss on the other side.
Now, I know some of you might be saying: Uh, Evan, what about the four-seam and curve? Those make up almost half of his pitches. Okay, fine, let's look at those too while we're at it.
Do you see what what he's doing? Where Monty had been working to either side of the plate with his respective pitches, he's now staying over the middle and working down, down, down. His swinging-strike rates are down as well, and the contact against him is up as a result, but the walks have essentially disappeared. So, too, have the runs scored against him.
I love this, probably to an irrational degree. No joke, I actually got a little giddy just thinking about what this means for the lanky lefty. It's one thing to maybe fool a guy or get him guessing, to nibble around the corners and hope you get a favorable call from a wide zone or a great frame job. But to have the confidence to throw your pitches over the plate and know that you'll still generate outs…hoo, buddy, that's all kinds of sexy to me.
A Mike Montgomery who isn't afraid to locate in the middle with the sinker, four-seam, curve, and change is a guy who could easily hold down a spot in the rotation for years to come. Years, I might add, that will cost the Cubs next to nothing since the 28-year-old won't be arbitration-eligible until 2019 and is under control for two more years after that. And to think, the Cubs only had to give up Dan Vogelbach to get him.
Whether he slots in as a full-time starter or remains in the bullpen next season, Montgomery provides the Cubs with an insane amount of value and will go down as one of the best moves this front office has made.