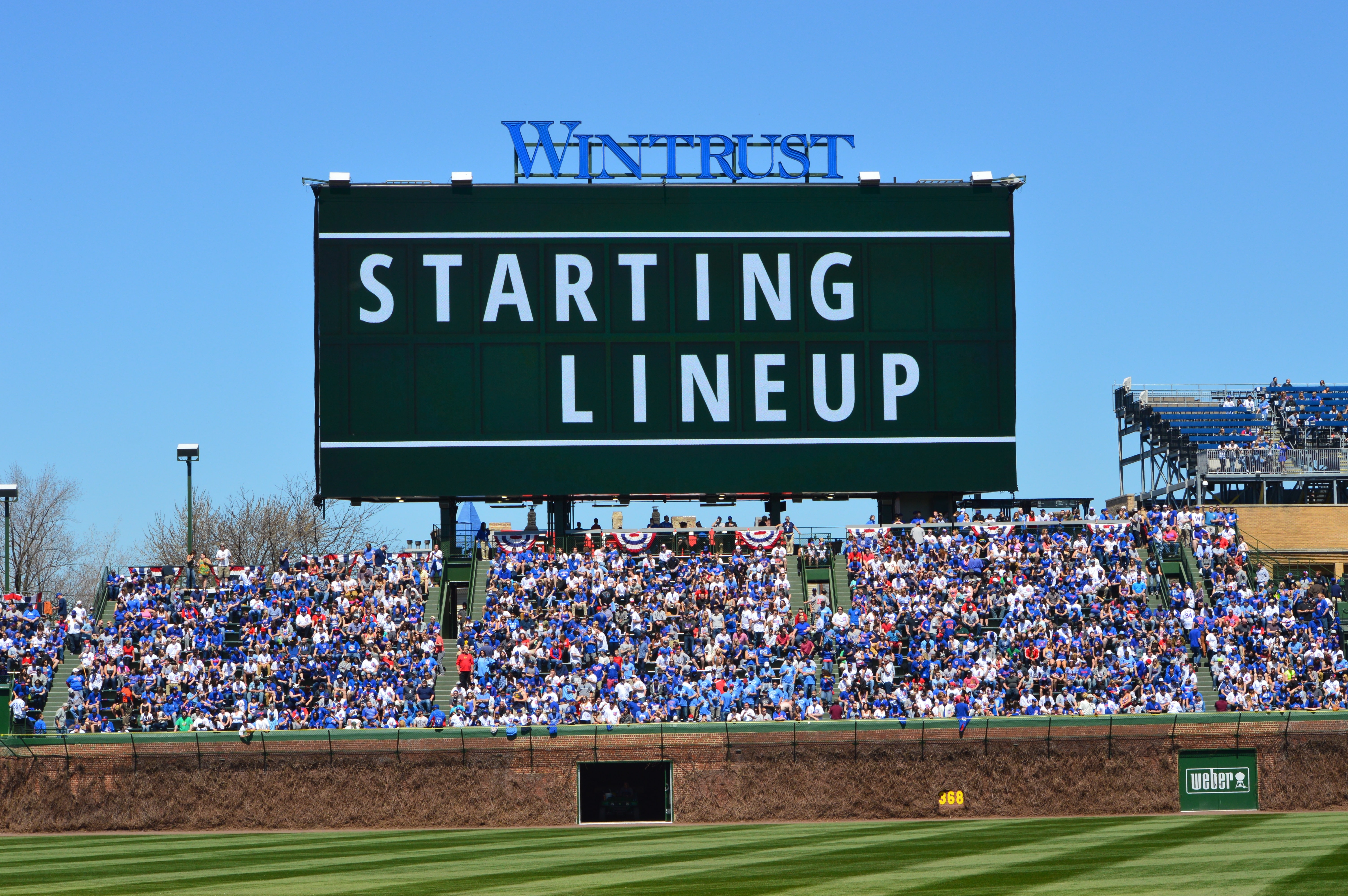 Chicago Cubs Lineup: Jay Leads Off in CF, Zobrist Fifth in LF as Matchup with Weaver Looms
Okay, I'm going to try to carefully extricate myself from the karmic conundrum that is my criticism of Jon Jay batting leadoff. Dude' been really good lately, notching five straight multi-hit games. It's disingenuous to act upset about him batting leadoff, but because my criticism has clearly spurred this production, I fear what'll happen if I give my blessing.
So I'll just say I'm meh on it. The next three spots may as well be etched in stone, but Ben Zobrist batting fifth and playing left is something. Maybe something good, like when he smacked a two-run homer Sunday to provide some breathing room.
Addison Russell, Jason Heyward, and Javy Baez round out what looks like a really tough matchup for Cubs hitters.
Jon Lester assured everyone that he was neither hurt nor tired in the wake of the kind of poor outing that has been a little too commonplace for him this season. Not that he's giving up seven runs all the time, though twice in the last five starts is sub-optimal, to say the least.
The numbers from his poor showing in Tampa were reminiscent of the outing against Cincy that led to his DL stint, though the underlying data doesn't offer any dirtect correlation. That's the good news. The bad news is that Lester has walked 11 men and has only struck out 10 in his last three starts. He had only given up three runs combined in two of those, though, so he's still capable of putting up solid results.
The Cubs can clinch the division with a pair of victories in St. Louis, so while this isn't a must-win for the veteran lefty, it's going to have a playoff atmosphere. As much as anything else, I'm interested to see how he reacts in the face of that and his most recent showing.
Opposing Lester will be Luke Weaver, a 24-year-old whose emergence made Mike Leake even more expendable than Leake's performance did on its own. Weaver is 7-1 with a 2.05 ERA and 2.36 FIP over eight starts with the Cardinals and he does it mainly with a fastball/changeup combo that relies on command and deception.
Much of that comes from a pitch he learned from Leake, Lance Lynn, and Seth Maness: the one-seamer. This isn't a pitch that is actually classified yet, but FanGraphs' Eno Sarris spoke to Weaver about that and his more traditional offerings.
Once people swing at Weaver's four-seamer, they miss nearly a quarter of the time. That's the 19th-best rate among starting pitchers who've thrown 200 four-seamers this year — this, despite a fastball that's average in nearly every respect — horizontal movement, vertical movement, velocity and spin.
Weaver is in the bottom 9% of release points this year, surrounded mostly by pitchers who either feature lower arm slots (Sean Manaea and Carlos Martinez) or who are four or five inches shorter (like Ryan Dull and Kirby Yates).
"I get really low. When I throw it, the ball seems kind of like it's rising because I get underneath it [unlike] guys that throw on a downward plane," Weaver explained. "It's an illusion. I'm coming from the ground up."
Having multiple fastballs is great, and Weaver has that good change — 36th in whiff rates (100 min) and second overall in ground-ball rate (78%) — but every additional pitch counts.
So Weaver's been working on a curve to pair with his high fastball. "That pitch is something that's new to me," he said. "It's a pitch that I've struggled with because I'm kind of three-quarters. My body sometimes wants to release that ball too early and then it kind of pops up and spins. You just have to make sure to stay over it with your body."
As Sarris notes, Weaver will use that one-seam fastball more often to lefties and in ground-ball situations. He throws that one in the upper 80's, while his four-seamer sits 93 or so. The change is in the mid-80's and represents a very nice contrast to the hard stuff. Weaver's breaking ball isn't much to speak of at this point, but he'll still throw the curve pretty often.
With his repertoire, Weaver has been much tougher against lefties this season, though it's not as if righties have fared well. He's given up a combined .230 wOBA and has allowed just a single home run at home this season. This one is going to be all about pitch recognition for the Cubs, trying to discern the difference between the fastball and change.
That is a tall task and may take a while to accomplish as they get used to seeing the young righty for the first time. Weaver is a strike-thrower and only walks 1.88 men per nine innings, so this isn't a time to go up there trying to draw free passes. Expect a lot of swings and misses too, as he has put up 11.11 K/9.
I'd love to say I have a feeling that the Cubs are going to be the first team to really get to Weaver this season — his worst start saw him give up four earned to Arizona — but I think this could be a grind-fest. We'll find out when he cuts loose his first offering at 7:15 CT on CSN Chicago.
Here is tonight's #Cubs starting lineup.

Game preview: https://t.co/6YenSbHkGJ pic.twitter.com/2eEcx8hYpe

— Chicago Cubs (@Cubs) September 25, 2017