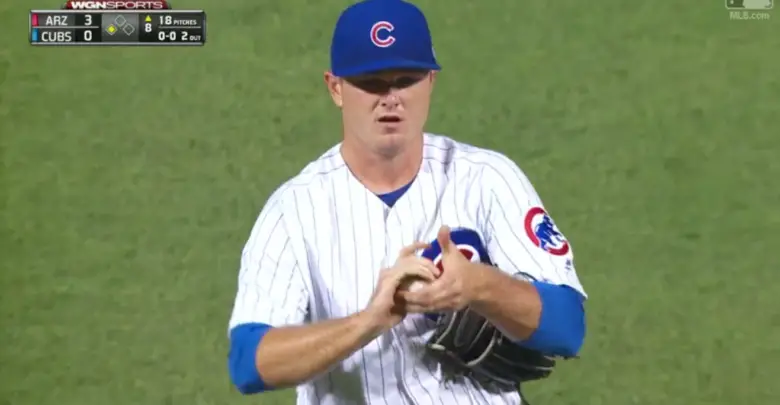 Best Bullpen Addition for Cubs Might Already Be on Roster
We've heard a lot of relievers associated with the Cubs so far this offseason, from Brandon Morrow to Mike Minor to that Wade Davis guy, but the defending NL Central champs might actually get the most value out of a pitcher they've already got on the roster. I'm talking about Justin Wilson, the key component of an ill-fated (for now) trade that sent Jeimer Candelario and Isaac Paredes to Detroit.
While the full story of the deal has yet to be written, the early chapters aren't too pretty. I mean, when the rental backup catcher you picked up as a throw-in sweetener provides significantly greater impact than the lights-out southpaw reliever, that's a problem. And while Alex Avila's contribution was skewed by his increased role following Willson Contreras's hamstring injury, he'd have been more valuable than Wilson even if he'd never logged a single at-bat with the Cubs.
So poor was Wilson's performance down the stretch following the trade that he was left off the NLCS roster. Think about that. Even though the bullpen was a known weakness, the Cubs couldn't afford to roster a pitcher for whom they'd traded two top prospects just a couple months earlier. That's, like, very bad and not good.
If there is any good news in Wilson's implosion, however, it's that he should be able to bounce back in 2018 to provide the Cubs with a great high-leverage option. That's assuming he can remember how to throw strikes. After averaging an acceptable 3.57 walks per nine innings with Detroit, Wilson's BB/9 spiked to 9.68 with the Cubs. That isn't nice at all, and I'm not just talking about the hundredth of a point it's missing.
Think about that, dude walked more than one batter per inning of work in 17.2 innings pitched after being shipped to Chicago. Of all MLB pitchers with a minimum of 10 innings of work last season, only Brad Goldberg of the White Sox (10.50) posted a higher BB/9 than what Wilson did with the Cubs. Ah, but very few posted a higher mark than Wilson's 12.74 K/9 following the trade, either.
The key to a Wilson rebound, other than having a Dennis Rodman-like sense of where the ball is going to bounce, is going to be settling in and regaining command of his fastball and cutter. While he was with the Tigers, those pitches combined for a weighted (per 100-pitch) value of 3.82 runs saved. With the Cubs, on the other hand, that number was an atrocious -3.12. Yes, negative.
Wilson't cutter was the primary culprit, going from 2.22 runs saved per 100 pitches as a Tiger to -3.31 runs with the Cubs. Those numbers would rank eighth best and eighth worst, respectively, among all 112 MLB pitchers who threw a cutter (according to FanGraphs) and logged at least 50 innings in 2017. You don't even have really understand what that means to know that it represents a seismic shift in Wilson's performance. And I'm talking Teton mountains, out-of-nowhere changes.
It may be too easy to chalk the cliff-diving numbers up to psychology and confidence, but I can find little explanation for them otherwise. Wilson was fired up to join a new team and be part of a playoff race, but he got rolling downhill and the wheels started wobbling before simply falling off altogether. Given time to piece his wagon back together this winter, I believe he could once more become the pitcher the Cubs thought they were getting.
Wilson has one of the best fastballs in the business and there's no reason to believe he can't display that again in the future. Well, I suppose there's always room for doubt, especially if we're talking about injury or a case of insurmountable confidence problems. But Wilson's issues may have been mechanical in nature, which may have been the result of overthrowing or simply falling into some poor habits.
Given a greater comfort level and a chance to start the season fresh with his new team, Wilson could be that go-to bullpen option the Cubs have been looking for. And at a projected arbitration salary of only $4 million or so, he'd represent an excellent value relative to other arms on the market.
Gosh, it sounds pretty easy when you look at it like that.