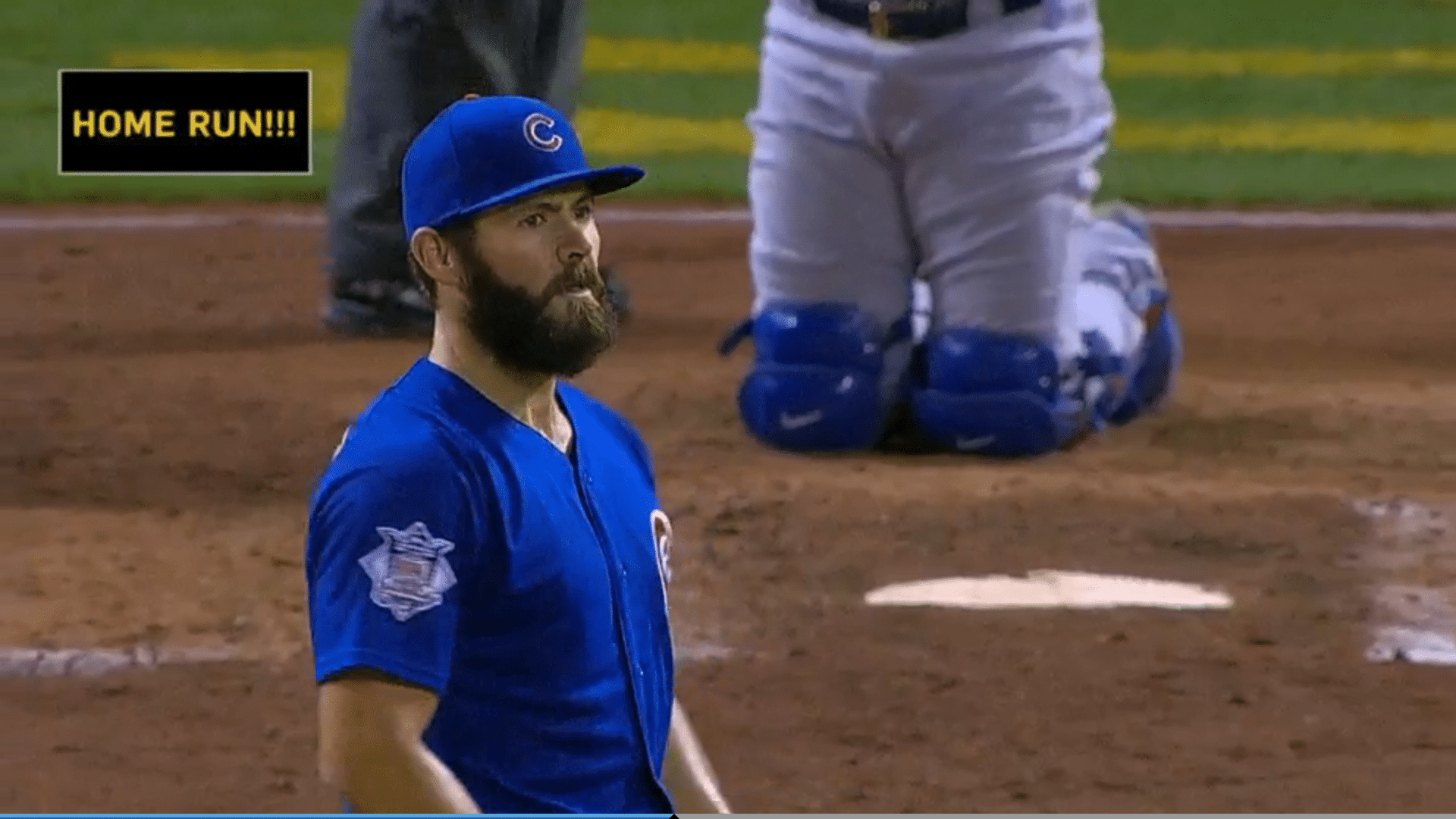 Levine: Cubs and Cards Could Compete for Arrieta and a Closer, Yelich and Cain Real Possibilities as Well
Bruce Levine requested an appearance on Wednesday's Spiegel and Parkins Show on 670 The Score and the hosts were happy to accommodate him. While much of what he shared was simply repetition of what we heard Tuesday, he clarified and fleshed out several points. The conversation began with and focused on the market for Jake Arrieta before turning to relief pitchers and center fielders/leadoff hitters.
We already knew via reports from from Levine and Bob Nightengale that the Cubs had shown a renewed interest in Arrieta and that they were willing to go up to four years and $110 million to get him. What was really interesting, at least to me, was the information about what the Cubs had offered two years ago when Arrieta was coming off of his Cy Young campaign.
I had actually gone through some extension scenarios back in October of 2015, concluding that an offer of five or six years for $115-130 million ($21.6-23M AAV) might get it done but that four years was really the sweet spot for the Cubs. Sounds like I may have been pretty darn accurate for once.
"I can tell you this much: two years ago almost to this date, the Cubs were talking to Boras about a four-year, $88 million deal," Levine said. "So the price of poker in their mind has gone up significantly in terms of AAV – the average annual value – of the contract, but not years.
"So that's why when you hear Bob reporting four years and $27 million, that is two years short of what I was told that the Arrieta group was asking the Cubs for in November. I was told six years times 27 at that point."
That ask of six years and $160 million seemed like a pipe dream at the time, though the AAV of what the Cubs are reportedly offering now is right in line. And that seems to be the trend in an offseason that has seen teams hand out higher average value that what has been projected for some guys, just over shorter periods of time.
"And the fascinating thing about this offseason, guys…is that nobody has gotten a contract for more than three years," Levine said. "In one way, you look at the markets and you say, '[Are] there people that are conversing about how many years they want to give?' which is called collusion, which is to [face a] penalty of about a billion dollars if found guilty.
"The other side is that they're offering high contracts to people as far as money. So you can't say there's a colluded effort by ownership or general managers when it comes to price because you just saw Wade Davis get a three-year deal for the highest average salary of any relief pitcher in history, that includes (Aroldis) Chapman and (Kenley) Jansen last year. Yeah, they got five-year contracts, but his average is a little more than $17 million a year. So the money that's being offered is fair market value, the amount of years is different."
Whether or not there's a concerted effort on the part of the owners and GMs to artificially suppress salaries is a topic best left unvisited here and now, so I'll let you debate that amongst yourselves if you like. What we can say without a doubt is that there's a disparity in what the Cubs have been willing to pay Arrieta and what he wants to earn. Same for Yu Darvish and Alex Cobb.
It makes sense that meeting somewhere in the middle gets a deal done, and Levine concluded that a five-year offer probably locks up one of the top two pitchers on the market. A little competition might push the Cubs to reach further, particularly with the Cardinals competing for Arrieta's services. Scott Boras could play the rivals against one another, arguing that whoever wins the bidding for Arrieta wins the division.
And it's not just the market for starters in which the two teams have similar needs, either.
"You also might be fighting the Cardinals for that closer at the end, whether it's (Greg) Holland or (Addison) Reed, because [the Cardinals] don't have a real closer at this point," Levine explained. "The Cubs are kind of guessing at who their closer will be, although they made some really good moves as far as bringing in veteran pitchers like Morrow and Cishek.
"But, again, is Carl Edwards ready to take that spot from June, July on? Those are question marks that you don't know. So Holland and Reed might be guys that the Cardinals and Cubs are both going at here later after one of these starting pitchers does sign."
As Brendan Miller posted earlier regarding the Cubs' financial situation moving into 2018 and beyond, signing Arrieta would leave very little room for further moves. Adding a marquee late reliever would eat that up and then some, putting them in a precarious position with the luxury tax after this coming season. And they may be just fine with that, as Levine believes they're going to pursue a big bat for the top of the order.
"I think they really need a center fielder. I don't believe that Joe (Maddon) believes that (Albert) Almora is an everyday center fielder. He's a good outfielder, he's a good hitter against left-handers, but he didn't have quite enough at-bats against right-handers and I don't think Joe trusts him against right handers. Can he get better? I don't know, but I just believe that they're gonna trade for either a guy like (Christian) Yelich or sign a free agent like (Lorenzo) Cain.
Whoa, that'd be a bold move. Levine actually mentioned both names in his report about the Cubs' interest in Arrieta, but that was really just in passing. This is a much more definitive statement and isn't being thrown out there haphazardly. If the Cubs were to make such a move, particularly for Cain, they'd probably be out of the running for Bryce Harper next winter.
A trade for Yelich would make a lot more sense from a payroll standpoint and would also give them a younger player who is still conceivably entering his prime. The cost would be steep and would likely include one of their middle infielders and/or Almora, but could leave the team more flexible to pursue other options in the future because of Yelich's reasonable cost ($7.081 AAV).
Yeah, that's a lot to chew on. What are your thoughts on the Cubs bringing Arrieta back and/or going after one of those two relievers? And would you rather trade for Yelich or sign Cain? Or none of the above?