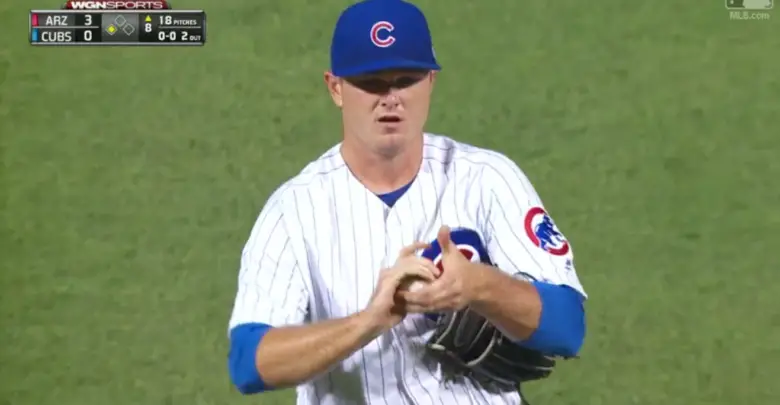 If Justin Wilson Can Bounce Back from Disastrous 2017 with Cubs…Whoa
Justin Wilson's 2017 campaign was like watching 8 Mile in reverse. He started out as an incredible strikeout artist spitting fire from his left arm and ended it spitting up mom's spaghetti all over his uniform. Maybe it was leaving Detroit for the new world of Chicago and being thrust into the thick of a playoff race with all manner of expectations thrust upon his back. After all, things had worked out well for the Cubs the last time they traded top prospects for a lights-out lefty reliever.
But what started out as a case of the hiccups quickly turned into projectile vomiting as Wilson looked like a completely different pitcher with his new team. The good numbers went down and the bad ones went up, with walks and hits both allowed with alarming frequency. Wilson's walk rate more than doubled, from 10.2 to 20.9 percent, and his WHIP jumped even further, from 0.94 to 2.09. I can't blame you if you've forgotten about all that, either by choice or trauma.
Maybe that's a good thing.
Like a crumpled up $20 bill you just found in the jeans you're now able to wear after sticking to your New Year's resolution for a solid week, Wilson could prove to be an unexpected revelation in the Cubs bullpen. After experiencing inconsistent results and and downright collapses — THE 8TH INNING OF DEATH — from the relief corps throughout the season, the Cubs sought to overhaul the maligned unit with experienced high-leverage arms.
Brandon Morrow figures to assume most of Wade Davis's duties, while Steve Cishek brings both a funky delivery and plenty of experience as a closer to the table. Health is an issue for both, but help from the likes of Carl Edwards Jr., Pedro Strop, and maybe even Dario Alvarez and Dillon Maples will allow Joe Maddon to ease back on the throttle with his regular back-end guys. And as we saw from the World Series, it's probably not a great idea to throw Morrow in seven straight games.
Then you've got Wilson. Can you imagine how good that 'pen could be if he gets back to being the guy with 3.44 K/BB instead of the one with 1.32 K/BB. Wanna hear something really crazy about that stat? Wilson actually had more strikeouts as a Cub, relatively speaking, than he did as a Tiger (12.74 vs 12.27 K/9). Oof, I guess walking nearly 10 men per nine innings isn't good.
Things deteriorated to the point that he missed out on the NLCS roster and probably made the cut for DS based solely on his performance in six plate appearances against Daniel Murphy. It didn't hurt that he'd posted a staggering 17.5 K/9 against lefty hitters as a Cub, though the 11.1 BB/9 made him pretty OOGY.
As bad as Wilson looked in blue pinstripes, there's plenty of reason to believe that he can regain the form that made him such a sought-after commodity last July. Part of it is a simple matter of regression and knowing that it's unlikely the southpaw could possibly be as abjectly awful again in 2018. Then you've got the "onboarding" issue (subscription required/recommended) Sahadev Sharma pointed out recently for The Athletic.
It's an odd situation that pops up only occasionally, so it must be difficult to identify the exact causes and how to correct them. But make no doubt, it's something the Cubs are intent on correcting.
The Cubs have identified something they believe to be an issue. How they go about correcting it will be interesting to see. But whether the corrections they make to the onboarding process — and whatever else they believe to be part of the problem — actually works may not truly be answerable, especially from the outside.
What's more, and this could be a result of the aforementioned troubles, Wilson displayed a good deal more inconsistency in his mechanics during his time in Chicago. Not only was there greater fluctuation in his game-to-game release point data, but he was letting go of the ball higher in general than he did at any point with the Tigers.
Was that a product of personal tweaks or perhaps something based on the advice of a pitching coach who's no longer with the Cubs? Wilson himself may not even know the answer to that, as it may also have been entirely subconscious. We can only hope that greater comfort with a city and team that are no longer new, not to mention a different coaching voice in his ear, will lead to improved consistency and performance.
And if that happens, we could be looking at the best bullpen in baseball. No joke, not hyperbole. That 'pen will boast more filth than a free weekend preview of Cinemax, or whatever purveyor of smut you'd prefer for the purposes of this analogy.